The Best Places to Travel with Your Dog
Our dogs are a beloved member of the family, so don't let summer vacations limit the amount of time you're able to spend with your dog. This year, instead of boarding them or paying someone to dogsit for you, plan a vacation that you and your furry friend can enjoy together. Check out these 8 places to go and things to do that you can visit without worrying about their pet policy.
    1. For all of our trailer seekers and outdoorsmen, any of the National Parks and Forests are all pet-friendly. Hit one or hit all, you and your dog are welcome to blaze these trails together without a second thought. Check out the map here.
     2. If you have a travel destination in mind, look for a Canopy by Hilton hotel that offers a special Paws in the Neighborhood special where they pamper your dog (and you of course) with things like welcome items, exclusive social events, pet-friendly rooms, and special coupons.
     3. Baseball fans can enjoy a bark in the park night at many Major Leagues stadiums including the Kansas City Royals, the New York Mets, and every Tuesday home game for the Pittsburgh Pirates.
     4. To the South, stop in Savannah, GA with some of the area's most historic landmarks on Oliver Bentleys Historic Dog Walk Tour. One is designed specifically for tourists traveling with their dogs because "history isn't just for humans." You can even pick up some Ollie B. Biscuit treats for your dog when finished. 
     5. Take a dip and show off your doggy paddle with rentals and water trips at Lazy Dog in Key West, FL with kayak and paddleboard tours designed specifically with the lazy dog in mind.
     6. Heading West, make a pit stop at Hugh Rogers WAG Park, a five-acre puppy playground complete with obstacle course, hiking trails, dog wash station, and a gorgeous view of the mountains. The best part? It's completely free!
     7. Making your way to the West Coast, indulge in some of the best seafood the region has to offer at Sally's Fish House & Bar in San Diego. Their waterfront, pet-friendly patio is the perfect place to kick back with some killer ocean views. They even have a specialty dog menu that includes pupcakes, chicken and rice, rawhide bones and more!
     8. But don't just look at the beach, hit it. Up and down the coast of California, you'll find over thirty dog beaches where your dog can enjoy the sun and sand just as much as you do.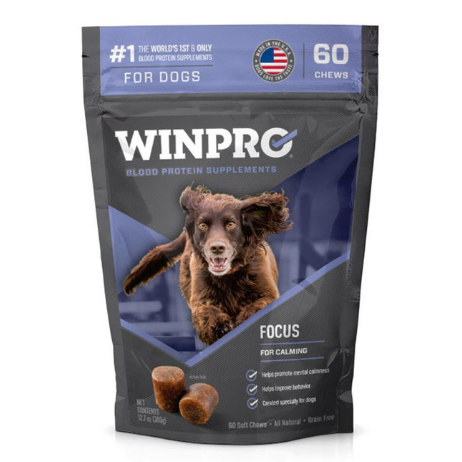 WINPRO Focus contains a blend of animal blood proteins and other key ingredients to help reduce anxiety, improve mental calmness, and maintain mental alertness in dogs especially during times of noise, stress, travel, etc. This product promotes attentiveness without making your dog drowsy.
Reduces anxiety
Helps promote mental calmness
Promotes attentiveness without drowsiness
Helps improve behavior and responsiveness
Created specially for dogs
Produced in the USA