Socializing: It's not just for humans
As you plan for your fall barbecues and bonfires, have you thought about how you'll prep your pup? Having large numbers of people in your house can be quite the shock to dogs who aren't used to it. This is why socializing your dog is an important practice to exercise as a dog owner.
It can be traced that many breeds of dogs can trace their ancestors back to wolves, especially when you look at their genes. What's curious, though, is that through domestication, we've seemed to groom dogs to be more loving and friendly by nature. This proves that dogs want to show and be shown affection and that any unfriendly instincts – while still present in some breeds – have been essentially phased out, making socializing your dog a walk in the park. Here are some things to keep in mind when working to socialize your dog:
To be most effective, It's important to begin this process as early as possible (well before Monday), while your dog is in the puppy stage; they're the most impressionable when they're young and socialization is something you can easily incorporate into your existing training plan.
Especially in the puppy stage, have your dog get used to your hands. Pet them, rub their bellies, touch and prod each of their paws, look in their ears, and hold them in different positions. Be sure to engage with your dog while they're eating too, as this can be a time in which they're most territorial; it's important to train away these remaining instincts. Exercises like these not only get them acclimated to being touched but also makes them feel more bonded with you, their owner.
How do humans socialize? They go out and/or get together. The same is true for your dog. Enroll them in a training class. Take them to a dog park. Invite your friends to bring their dogs with when they come over for dinner. The more you can expose your dog to other dogs or animals in general, the better.
Leaving your dog alone can sometimes be almost as important as spending quality time together. While teaching your dog how to be alone might seem counterproductive when talking about socialization, it's an important tool for warding off separation anxiety (that can sometimes lead to aggressive behaviors) and can help make the time you do spend together even more special in the eyes of your dog.
In addition to improving your dog's overall demeanor and behavior in social situations, actively socializing your dog will make stressful situations for them – like going to the vet or the groomer – much more manageable.
While not all dogs are quick to cuddle, whether due to a traumatic past or other reasons, should you encounter some resistance or difficulty in socializing your dog, including WINPRO Focus into their daily routine can help put them at ease. These chews, fueled by our signature K-Thrive™ blend of blood proteins work to combat your dog's anxiety while promoting mental calmness and attentiveness without making the dog drowsy or changing their personality. Give these chews a try and let us know what you think!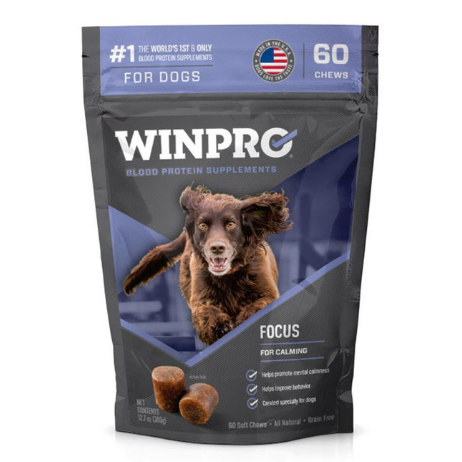 WINPRO Focus contains a blend of animal blood proteins and other key ingredients to help reduce anxiety, improve mental calmness, and maintain mental alertness in dogs especially during times of noise, stress, travel, etc. This product promotes attentiveness without making your dog drowsy.
Reduces anxiety
Helps promote mental calmness
Promotes attentiveness without drowsiness
Helps improve behavior and responsiveness
Created specially for dogs
Produced in the USA