Does My Dog Have a Leaky Gut: What to know and what to do
All dogs have had a whole life before ever meeting us, their new owners. They had a previous owner, were on a different schedule, ate different food, and maybe lived with other animals. Oftentimes, we are left guessing as to what our new furry friends faced before becoming part of our families. We hope that they had a good experience before meeting us, but unfortunately, this isn't always the case. Some dogs that have had unfriendly experiences in the past may need specialized care. Depending on the atmosphere and circumstances they grew up in, your dog may be experiencing gut issues. This is where WINPRO comes in. But first…
What exactly is a leaky gut?
A leaky gut, otherwise known as dysbiosis, is a bacterial imbalance in your dog's gut that leads to inflammation of the digestive tract. This means that there is not enough good bacteria to combat the bad, leading to a leaky gut. The imbalance and corresponding inflammation compromise the intestinal lining, allowing undigested food particles and potentially harmful toxins to enter your dog's bloodstream. 
What causes a leaky gut?
Because the imbalance of bacteria is to blame for a leaky gut, we need to look at what throws off this balance. Most often, a prescription for antibiotics will wreak havoc on the gut's bacteria - for both dogs and humans! High doses or giving the dog medicine without veterinary consultation can also contribute to a leaky gut. 
Other causes can hide in the diet of dogs. Foods that are highly processed or contain additives like dyes, preservatives, flavor enhancers, and other sorts of artificial ingredients can also lead to dysbiosis. Feeding your dog "table food" or foods that are high in grains is also not a good idea.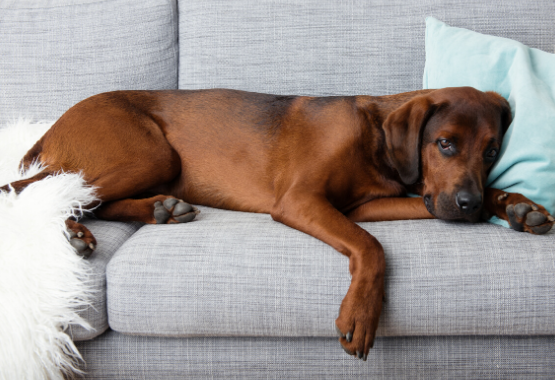 Does my dog have a Leaky Gut?
This disorder is more common than you may think, but it can often disguise itself as other issues. Symptoms of a leaky gut include:
GaS
Bloating
Diarrhea
Nutritional deficiencies
Bladder inflammation
Behavioral abnormalities
Joint pain
Weight fluctuations
Dry eye
Bad breath
What Should I Do?
Do Your Research 
Many times when we bring our dogs to the vet to address an unknown problem, it can be difficult to know what the root of the issue is. Because we can't simply ask our dogs where it hurts, we're left trying to decipher for ourselves. To rule out any sort of infection, veterinarians will often prescribe an antibiotic or other preemptive medications. Should this not be the right solution, your pet may develop a leaky gut due to the imbalance of bacteria in the GI tract. Your vet is the expert on your dog's health, but you are the expert on them. Keep an eye on your pet, do your research based on what you observe, and ask your vet questions. 
Diet Differently 
The gut is central to your dog's digestive system and, therefore,  the immune system and the overall health of your dog. The first thing to do when things are out of whack is to control what you put into this environment. As discussed, avoid highly processed foods and limit table food and treat consumption. Do so slowly, though. When implementing changes to your dog's diet, do it over the spans of a few weeks to give their bodies time to adjust. Talk with your vet about the potential benefits of adding a probiotic or supplement to combat any malnutrition or bacterial imbalance. 
Win with WINPRO
Start your dog on a daily regimen of WINPRO Immunity. This all-natural blood protein supplement is built to combat inflammation – whatever the source – in your dog's gut. Our signature K-Thrive blend of animal blood proteins contains an essential mix of concentrated blood fractions including plasma, serum, albumin, IgG and IgA. The elimination of inflammation allows additional active ingredients of deglycyrrhized licorice and marshmallow root powder to repair the gut lining/leaky gut and to reduce digestive problems.  Best yet, WINPRO soft chews go to work immediately and most dog owners see results within days. Click below to start getting your dog's gut in check!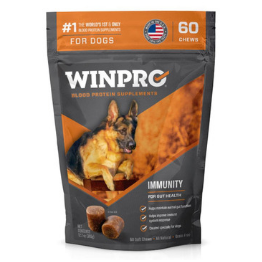 WINPRO IMMUNITY contains a blend of animal blood proteins and other key ingredients to help dogs combat the negative effects of stress and inflammation. WINPRO Immunity is specifically formulated to help boost your dog's defense against things that can undermine its immune system. By promoting a healthy gut, WINPRO Immunity helps dogs of all ages —especially during times of travel, stress, competition, etc.