Grooming Your Dog for Hunting Season
If you're not seeing the results you'd like hunting conventionally, consider enlisting the help of a hunting companion. Perhaps one that you know, love, and already possesses the skills and characteristics to be a good hunting partner? We're talking about your dog.
While not every family dog would make a suitable hunting partner, there are many common breeds that have a history of hunting in their blood. Here are a few helpful hints for grooming your dog for hunting season.
Start young

. When you first adopt a dog, most likely you're starting them on some kind of training schedule. Therefore, it not only makes sense but it's good practice to begin incorporating hunting training into this schedule as well. The sooner the dog learns the tricks of the trade, the easier the whole process will be.

Gather supplies

. When you pick up things like bowls and a collar, be sure to also consider a few leashes of various weights and lengths to be used while training as well as bright colored vest, so as to differentiate your dog from other animals in nature.

Begin with the basics

. Before launching into a full-blown rigorous hunter training course, you and your dog must first master the basic commands all canines should know. This also includes proper socialization. They should be able to acknowledge and obey their master; answer to simple commands such as sit, stay, and come; and learn the discipline it takes to be out in the field for long hours.

Get outside

. Spend as much time outdoors with your dog as possible. This is especially important if you will be hunting with your dog in different seasons. There is infinitely more stimulation for your dog outdoors that there would be in the house, so get them used to being surrounded by the many sights, sounds, and scents there are outside. Let your dog explore off the leash and on their own terms, in the field in which you'll be hunting if possible. Any and all outdoor exposure, though, helps acclimate dogs to the task at hand.

Get them acquainted

. Depending on how you'd like your dog's help when hunting, begin to introduce them to things early on. If you will be taking them duck hunting, make sure to get them comfortable around the water and that they are good swimmers. Other hunters like to get their dogs acquainted with decoys, training dummies or bumpers, and the desired animals as well to help their dog develop the differentiation in scents.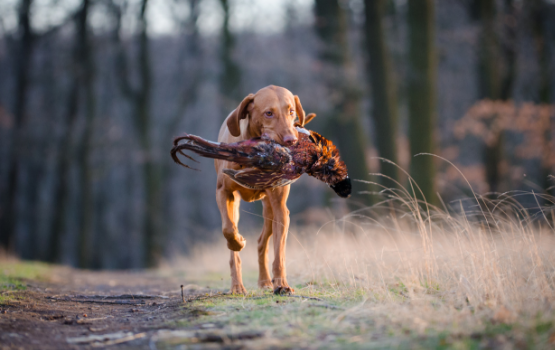 Use positive reinforcement

. It's in a dog's nature to want to please their master. Incorporating a system of positive reinforcement utilizes this inherent desire and can help streamline the training process.

Introduce the gunshot

. Especially to a puppy, gunfire can easily spook your dog. Introducing the sound and then the real thing gradually is what works best and is safest according to the experts.

Disregard the distractions

. As your training progresses and your dog now know what it is you'd like them to do and the basics of how to do it, they need to stay focused on the retrieval. Desensitizing them to things like duck calls, fellow hunters, and other wildlife is an important aspect of the training plan to cover prior to heading out to the blind.

There is no off-season

. While there are laws and peak seasons and times many hunters need to be aware of, it's important to continue your dog's training year-round, even after successful hunting trips. Use toys around the house that remind them of the birds or animals they retrieve and continue using the commands you typically use in the field.
Incorporating WINPRO Training can help facilitate the training process, aiding your dog in their physical endurance and stamina while also aiding in recovery. The training process can be a long and arduous one that you and your dog work on every day, therefore it's important that they recover from their hard work properly with WINPRO's all-natural blood protein supplements. Even after you've got the process down pat and you and your hunting partner have been on several successful trips together, WINPRO Mobility is a good idea to help ward off inflammation in the joints to ensure that your dog stays your partner for many years to come. Happy hunting!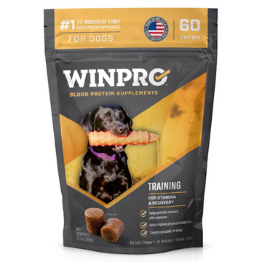 WINPRO Training contains a blend of animal blood proteins and other key ingredients to help improve physical endurance and recovery. This product is specifically formulated to help speed recovery after exercise so your dog quickly "bounces back" from strenuous activity such as work, play or competition. Great for dogs of all ages.
Supports physical endurance
Helps speed recovery
Helps prevent future injury by reducing inflammation
Created specially for dogs
Produced in the USA
WINPRO MOBILITY contains a blend of animal blood proteins and other key ingredients to support canine joint function and help dogs maintain joint mobility so they avoid "limp & gimp", especially during times of increased activity. This product promotes joint comfort and movability and helps reduce stiffness & soreness from exercise or natural aging. A great product covering your dog's entire life cycle.
Promotes joint mobility, lateral motion, and flexibility
Helps reduce stiffness and soreness from exercise and aging
Helps improve joint comfort and movability
Benefits stride length and range of motion