What to do when your Dog has an Upset Stomach
Unfortunately for pet owners, an occasional bout of vomiting or diarrhea is not uncommon for dogs. However, when these symptoms become chronic or the gastrointestinal upset is not an isolated incident, dog owners should be concerned.  Here, everything a dog owner should know about handling gastroenteritis (otherwise known as an upset stomach) will be discussed.
Step 1:  Identify the Problem
If your dog suddenly becomes ill, the first step is to identify whether your pet could have potentially ingested something poisonous.  Many human foods are not safe for dogs, including chocolate, grapes, raisins, xylitol, and macadamia nuts.  Household plants can also cause vomiting, as well as household supplies, such as antifreeze.
In addition to foods, dogs can experience gastrointestinal distress in response to any foreign body that is present in the stomach or intestines.  For instance, swallowing portions of a chew toy or bone can cause vomiting and diarrhea.
Finally, stress, overexcitement, illness, and parasites are other common factors.
Step 2:  Feed the Bland Diet
If your dog's vomiting and diarrhea does not go away after a few hours and does not appear to require immediate attention (such as poisoning), the next step is to withhold food for 12-24 hours to allow the dog's digestive system to calm down.  After this period, the bland diet can be fed.
The bland diet consists of 1 cup boiled white rice, 1 boiled chicken breast, and ¼ cup canned pumpkin, cottage cheese, or plain yogurt.  This diet is highly digestible and provides the necessary macronutrients for short-term use.
Feed your dog the bland diet in a portion size that is approximately 25% of his or her daily dry food intake every 6 – 8 hours.  The bland diet should be continued for 3 – 5 days, or until diarrhea is gone.
After your dog's symptoms have improved, gradually transition your pet back to normal food.
When to See a Veterinarian
While neither vomiting nor diarrhea are inherently dangerous to your dog, dehydration is a concern.  If your dog is refusing water for more than 12 – 24 hours, see a veterinarian.  Additionally, if there is blood present in your dog's vomit or stool, consult a veterinarian ASAP.  Finally, if your dog's condition does not improve after 5 days, or grows drastically worse, an appointment with the veterinarian should be made. 

Preventing Gastroenteritis in Dogs
Chronic upset stomachs can be a problem for both dogs and owners.  Listed here are the most common ways to prevent gastroenteritis in dogs.
Consider Food Allergies/Sensitivities
If your dog chronically suffers from vomiting or diarrhea, there may be an underlying food allergy or sensitivity.  The most common allergies and sensitivities are wheat, soy, chicken, beef, dairy, egg, lamb, pork, fish, and rabbit.  Talk to your veterinarian about an elimination diet to determine whether a food allergy could be to blame.
Choose Toys and Treats Wisely
If your dog is a heavy chewer, the culprit of gastroenteritis can be small pieces of toys, bones, or chews.  A dog's stomach is naturally designed to eliminate anything from the body that is deemed "foreign," such as bone, plastic, or rubber fragments.  Therefore, give your dog items that are not easily destroyed.
Eliminate Access to People Food and Garbage
Dogs are masterful counter-surfers and garbage raiders.  However, human food and garbage remnants are two of the most common gastroenteritis culprits.  Utilize child-protection locks on garbage cans and create good habits when it comes to storing food.  Additionally, avoid feeding your dog table scraps.  Not only will this be healthier for your dog, but it will also eliminate begging.
Identify Sources of Stress
Stress and anxiety can cause a dog to develop gastrointestinal problems.  If your dog suffers from anxiety, look for the source of the problem and work on redirecting your pet's behavior.  Common stressors are separation, small children, other pets, and loud noises.  If necessary, work with a trainer to effectively solve the problem. 
Treat Gut Inflammation
The above-mentioned causes of gastroenteritis can result in or exacerbate chronic inflammation or leaky gut syndrome, both of which contribute to the cycle of vomiting and diarrhea.  Treating this inflammation, as well as addressing the underlying problem, can make a significant difference in your dog's health and quality of life.
Providing your dog WINPRO soft chews is an effective way to manage your dog's symptoms.  All WINPRO formulas contain K-Thrive Formula D animal blood proteins that are backed by science and go straight to the inflammation source while additional active ingredients address secondary symptoms.  For dogs with chronic gastroenteritis, WINPRO Gut Health and WINPRO Calming are two great options that can be given separately or in conjunction with one another.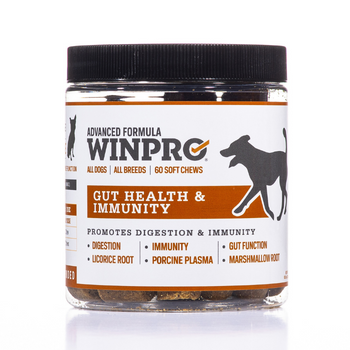 WINPRO GUT HEALTH & IMMUNITY  contains a blend of animal blood proteins and other key ingredients to help dogs combat the negative effects of stress and inflammation. Support a healthy gut naturally with our unique plasma-powered formula that delivers powerful antibodies to inflamed areas. WINPRO Gut Health quickly reduces inflammation, supports a healthy immune system, and promotes healing from within.