How to Get the Most Out of Training Sessions with your Dog
Training your dog at home is a perfect opportunity to improve your dog's abilities while also bonding with your pet.  However, there are many common mistakes that pet owners make which can hinder a dog's training. Listed here are tips for getting the most out of training sessions with your dog.
Have Realistic Expectations
One of the biggest hindrances in dog training is when a pet owner sets too high of expectations.  Dogs learn best when allowed to master skills in small increments.
For instance, instead of expecting your dog to sit on command after one session, you should break the command into many small training blocks.  First, your dog should simply get used to giving you his or her attention. Next your dog should learn that sitting down (with the help of a well-placed treat) results in a reward.  Next you must overlay the sit command with the desired action. Finally, you will master the command in a variety of settings.
Having too high of expectations by expecting your dog to learn everything at once simply leads to owner frustration and a confused pet.
Choose the Right Setting
If your dog is in the beginning stages of training, it is important to choose a setting that is free from distractions.  A small, bare room is ideal. As you begin to "proof" your dog's skills, gradually increase the amount of distraction until your dog is reliably responding in the presence of other dogs and people.  Always set your dog up for success by creating an environment that is appropriate for his or her skills.


Be Consistent
When teaching a new trick, the command should always be the same.  For instance, if your family is training your dog not to jump and one person says "down," while another person in the family says "off," your dog will be confused, and training will be delayed.
Practice
Practice your dog's skills consistently.  Sneak commands into your dog's day without making it an official "training session."  For instance, ask your dog to sit before eating, or when clipping on the leash. Keep a few treats on hand and ask your dog randomly throughout the evening to perform whichever command he or she is currently learning.
Keep Sessions Short
A major mistake that pet owners make is to have training sessions that are too long.  Sessions should be 5 – 30 minutes long, depending on your dog's age. Younger dogs have a shorter attention span and therefore do best with multiple mini-sessions.  The biggest hindrance to training is losing your dog's attention, which can easily happen if your pet grows bored.
Use Appropriate Reinforcement
Not all dogs are food-motivated.  If you are struggling in your dog's training, ask yourself whether you are using the proper type of praise.  For instance, if your dog is food motivated ensure the treats have high enough value. Some dogs might not be excited about chicken but would perform any command for a liver flavored morsel.  Similarly, some dogs prefer play time or verbal attention over treats. Figure out what makes your dog happy and use that knowledge to your advantage.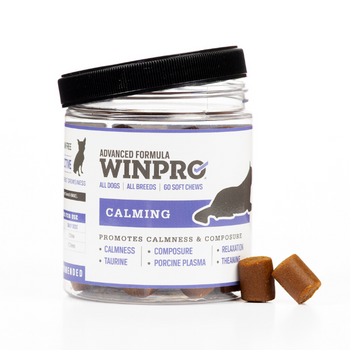 Keep your Dog Focused
If your dog struggles to remain focused, try a supplement such as WINPRO's Calming soft chews.  WINPRO Calming reduces anxiety while improving mental calmness and alertness.  Unlike other calming supplements, this product doesn't cause drowsiness. Owners and handlers will also notice improved responsiveness.  Calming uses WINPRO's K-Thrive blend of blood proteins which immediately go to work to reduce inflammation in your pup. This inflammation reduction allows the additional active ingredients such as taurine and theanine to improve mental alertness for enhanced training sessions.    
Always End on a Positive Note
Never end a training session on a failed command.  If your dog is struggling to learn a new skill, end the session with a series of old commands that your dog has already mastered.  Be sure to keep your dog's confidence high to make him or her excited about future training sessions!