WINPRO Works: Keeno stops scratching
Sometimes it comes and goes with the seasons and sometimes there is no rhyme or reason. We're talking about your dog scratching. Whether your dog is scratching at their ears, nibbling on their paws, or they just never seem to completely settle down, this is an indicator that there is something wrong. As a dog owner, you have to try to decipher what the issue is because unfortunately, your dog can't tell you what's wrong. You have to go off these symptoms – like scratching and biting – and try to find the root cause. Is it an infection? A skin irritation?A gut health issue? This is the dilemma dog owner Kim S. faced with her furry friend.
Keeno, a sweet and loving German shepherd, would scratch and scratch and then scratch some more; it seems he was always itchy. Kim had tried Apoquel, a common medication to treat allergic and atopic dermatitis in dogs. Though very common in the pet world, Apoquel is comparable to a steroid and Kim was looking for a more natural treatment option.
Kim found WINPRO through a blog post on Keep the Tail Wagging, a blog about raw feeding, pet wellness, and life as a crazy dog mom by Kimberly Gauthier. With an open mind, she decided she would give WINPRO Allergy, designed for a healthy skin and coat, a try.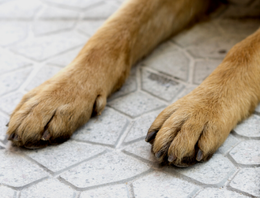 "Together with a change in diet I noticed less scratching," says Kim.
Now WINPRO is part of Keeno's daily routine and he treats the chews as treats.  For more success stories on how WINPRO WORKS, check out the Reviews section on our website.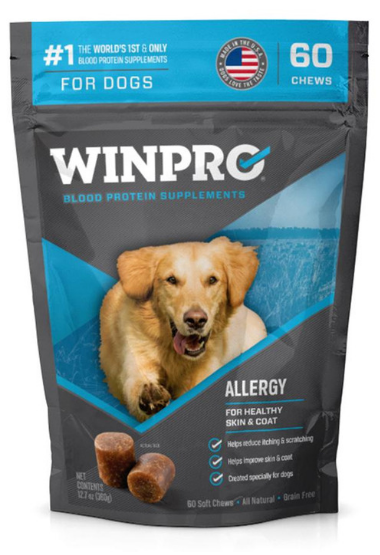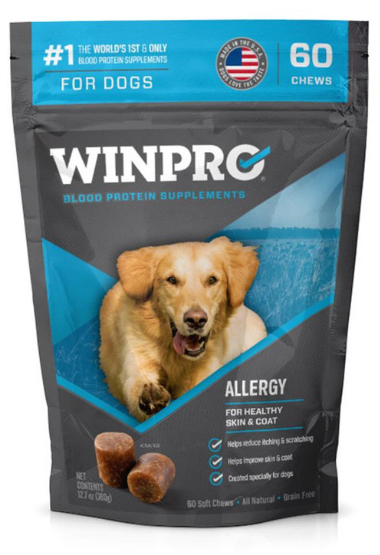 WINPRO ALLERGY contains a blend of clinically proven animal blood proteins and other key ingredients to help relieve issues related to dog skin and coat. Whether it's itchy skin, sore spots or runny eyes, this product is specifically formulated to work fast. WINPRO ALLERGY promotes a healthy skin and coat, eases the negative effects of environmental toxins and helps dogs cope with seasonal allergies.
Helps reduce inflammation related itching & scratching
Provides relief for skin/coat issues related to allergies
Promotes healthy skin and coat
Helps ease negative effects of environmental toxins
Supports seasonal and ongoing allergies
Created specially for dogs
Produced in the USA