WINPRO WORKS: Eddie the Cardigan Welsh Corgi Coughs No More
At WINPRO, reading customer testimonials is something we love to do more than anything else AND we know that most dog owners read reviews to figure out what products will make the cut and become a part of their dog's life. Knowing the power that testimonials hold, we're so excited to share this one that involves a Cardigan Welsh Corgi with the soul of a"40-year-old man" (according to his owner) and his story of overcoming gastric reflux with WINPRO Immunity!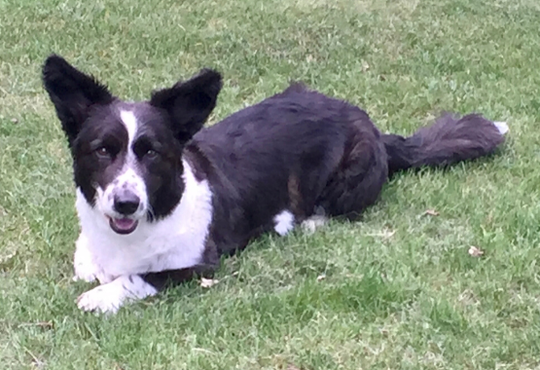 Eddie, and his owner, Michelle, were living the good life up in Wisconsin until things changed when Eddie turned 5-years-old. 
"He has always been calm, focused, and very loyal. He has a fun spirit and definitely thinks he is as big as a German Shepard. He does agility and has so much fun with it."
Michelle told us that when Eddie turned 5 or so, he developed a cough and was vomiting, and their veterinarian explained he likely had Gerd or gastric reflux. He started on a prescription of Famotidine twice each day. Michelle said: "It helped a lot, but I hated to think he had to take it for the rest of his life."
After hearing about WINPRO, Michelle decided to give our Immunity product a try.
Learning about the power of blood proteins, she wasn't initially turned off as customers can be. She said, "I was completely fine with it. I had just learned about healing my own gut and thought if I'm doing it for myself, why don't I do it for my dog?"
[P.S. If you're skeptical about blood proteins yourself, learn more here.]
Then, everything changed…
Michelle said that after a couple of days of taking WINPRO, she started to ween Eddie off his prescription.
"Then I stopped all together and he has not had any coughing or vomiting at all.
Even after exercise.I know if I wasn't giving him the supplement,
he would have the reflux issues."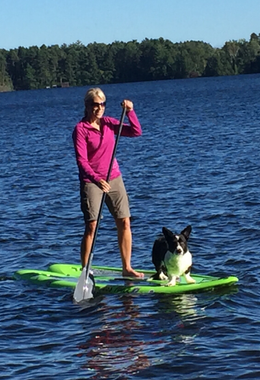 The results of WINPRO Immunity appeared for Eddie in just a couple of days and your dog can see results too!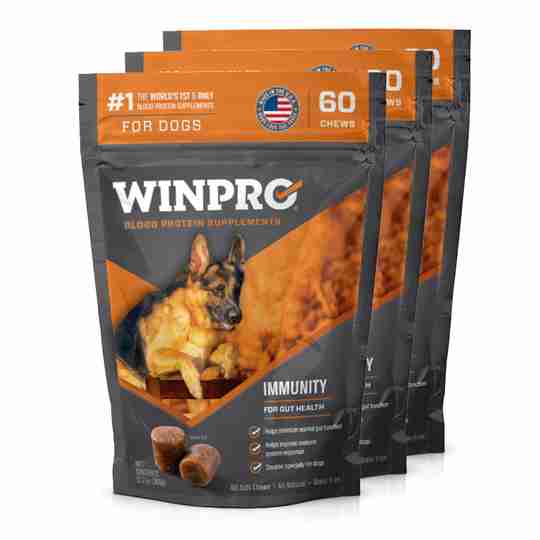 WINPRO IMMUNITY contains a blend of animal blood proteins and other key ingredients that help dogs combat the negative effects of stress and inflammation. WINPRO Immunity is specifically formulated to help promote normal gut function and help protect your dog against stressors that can undermine its immune system. By promoting a healthy gut, WINPRO Immunity helps dogs of all ages —especially during times of travel, stress, competition, etc.
Helps maintain a normal immune system
Improves loose stool
Helps maintain normal gut function
Created specially for dogs
Made in the USA