WINPRO Works: Bee's Success Story
Meet Bee! She's a very loving  Catahoula/Lab mix, who "doesn't have a mean bone in her old body," according to her owner, Beth.
Over the years, each morning, Beth and Bee would go on two mile walks to visit the horses and dogs on neighboring farms.  Now, Bee can only handle a half a mile walk early in the morning before it gets too hot but she LOVES to swim. Bee waits until her dad swings off the rope swing into the water, then she will jump in and swim out to meet him and guide him back into the shallow area. She also tries to catch the minnows swimming near shore too.  When she is active in the water, you wouldn't even notice that she has any issues with an injured ACL or arthritis. 
A few years back, Bee injured her ACL on her back right leg and has never fully recovered. She also suffers from arthritis in her legs, paws, and hips causing her discomfort and more limited mobility. 
Bee has been struggling with these issues for the past 3-4 years, so Beth has tried a couple rounds of laser therapy, "pain relief" cream, and other chews that contained bone strengthening ingredients, but none have seemed to do the trick. Disappointed by all the failed past remedies, Beth was a little hesitant to try anything else as she feels these products are  "gimmicks preying on the giant hearts of pet parents who would literally give up anything to make their 4 legged children feel better."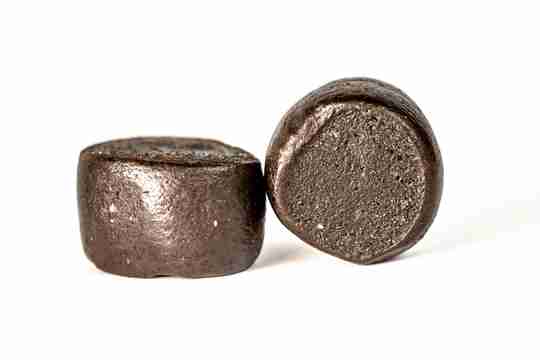 But then Beth came across a Facebook ad for WINPRO supplements.  Upon reading that our supplements are made from blood proteins, Beth was intrigued and thought that this could finally be the cure to Bee's aging body.  She decided on the WINPRO Mobility supplement in hopes of getting Bee through her days more comfortably with less pain. 
Just three weeks into taking the supplements, Beth noticed a change in Bee. 
"I have noticed she does have more of a pep in her step. On occasions, I do see her prance and run around like a much younger version of her old silly self. She still has difficulty with her ongoing issues, but I feel that WINPRO has lessened the daily pains that she has."
Your dog could experience a similar success story! Explore the different WINPRO products available on our website to find the right product for your dog! As a natural supplement, you can feel good about starting your dog on a WINPRO regimen. Safe to combine with supplements, medications, or other WINPRO products, we offer a Money-Back Guarantee that you will see an improvement in your dog's quality of life thanks to the power of our blood protein supplements. Feeling skeptical like Beth? See our reviews, for more stories about how WINPRO has helped other dogs!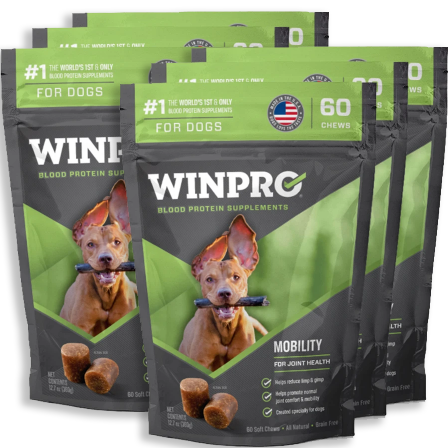 WINPRO MOBILITY contains a blend of clinically proven animal blood proteins and other key ingredients to support normal canine joint function and help dogs maintain mobility especially during times of increased activity and stress. WINPRO MOBILITY helps maintain normal joint function, lateral motion, and flexibility in dogs. 
Helps dogs suffering from stiffness and soreness 
Helps promote normal joint comfort and movability
Helps improve joint comfort and movability
Blood protein studies show benefits in stride and range of motion
Created specially for dogs
Produced in the USA