WINPRO Allergy:  One of the Best Dog Supplements for Itchy Skin
There are few things more frustrating for a pet owner than a dog that will not stop scratching.  Red, raw, itchy skin is painful for the dog, and worse yet can become infected leading to additional complications.  Knowing there are few things you can do for your dog when he or she is tormented by allergies is a terrible feeling, particularly if you do not know the cause of your dog's distress.  Here, allergies and itchy skin will be discussed, as well as why WINPRO Allergy is one of the best dog supplements for itchy skin.
Causes of Allergies in Dogs 
First, it should be noted that dogs experience allergies differently than humans.  Whereas a human may experience a localized histamine release in his or her nose, eyes, or throat, dogs have a more generalized reaction, leading to all-over itchiness.  Since the response involves the entire body this also means that your dog can't scratch a single spot and feel relief. Instead, his or her skin will continue to itch until the allergen has been removed from the dog's environment.  For this reason, dogs with allergies can feel especially miserable.
The most common types of allergies in dogs are food and environmental.  Typical food triggers include wheat, beef, egg, dairy, lamb, chicken, soy, pork, fish, and rabbit.  Environmental allergens include grass, mold, pollen, and weeds. Additionally, dogs that suffer from chronic inflammation are more likely to show signs of allergies.  An example may be a dog that suffers from leaky gut syndrome. In this case, inflammation and malabsorption in the gut can cause a dog's immune system to treat food particles as allergens, thus resulting in itchy skin.  Therefore, finding the best dog supplements for itchy skin is important because the problem may have an internal, not an external, solution.
Treatment for Dogs with Allergies and Itchy Skin
If you are a pet owner of a dog with allergies, chances are you are willing to try anything to improve your dog's comfort levels.  The most common ways to treat allergies are:
Medication
Two of the most common medications for dogs with allergies are Benadryl and Apoquel.  However, both have drawbacks. Benadryl can be highly sedating for pets, while Apoquel is expensive, costing up to $3 per pill.
Elimination Diet
For dogs that are experiencing a food allergy, the key is to identify the allergen.  To do so, many veterinarians recommend an elimination diet. Here, ingredients are removed from the dog's diet and gradually re-introduced, noting any changes in symptoms.  Once the ingredient(s) are identified, an allergy-friendly food can be purchased. For dogs with severe food allergies, a prescription dog food may be necessary. Overall, the elimination diet can be time-consuming, while prescription dog foods can be cost-prohibitive, especially for pet owners of large dogs.
Limit Exposure to Allergens
If you are lucky enough to know your dog's exact allergens, you can limit your dog's exposure.  Allergy tests for dogs are available (similar to the skin prick test performed on humans) and can help pet owners better control their dogs' environment.  For instance, if a dog is allergic to grasses, rubber boots can be placed on a dog's paws before going outside to limit his or her exposure. Another option is a paw wash device that helps you clean your dog's paws after he or she has been outside.
Supplements
Supplements are another way to overcome allergies.  The best dog supplements for itchy skin will work quickly, effectively, and safely.  For these reasons, WINPRO Allergy is one of the best dog supplements for itchy skin.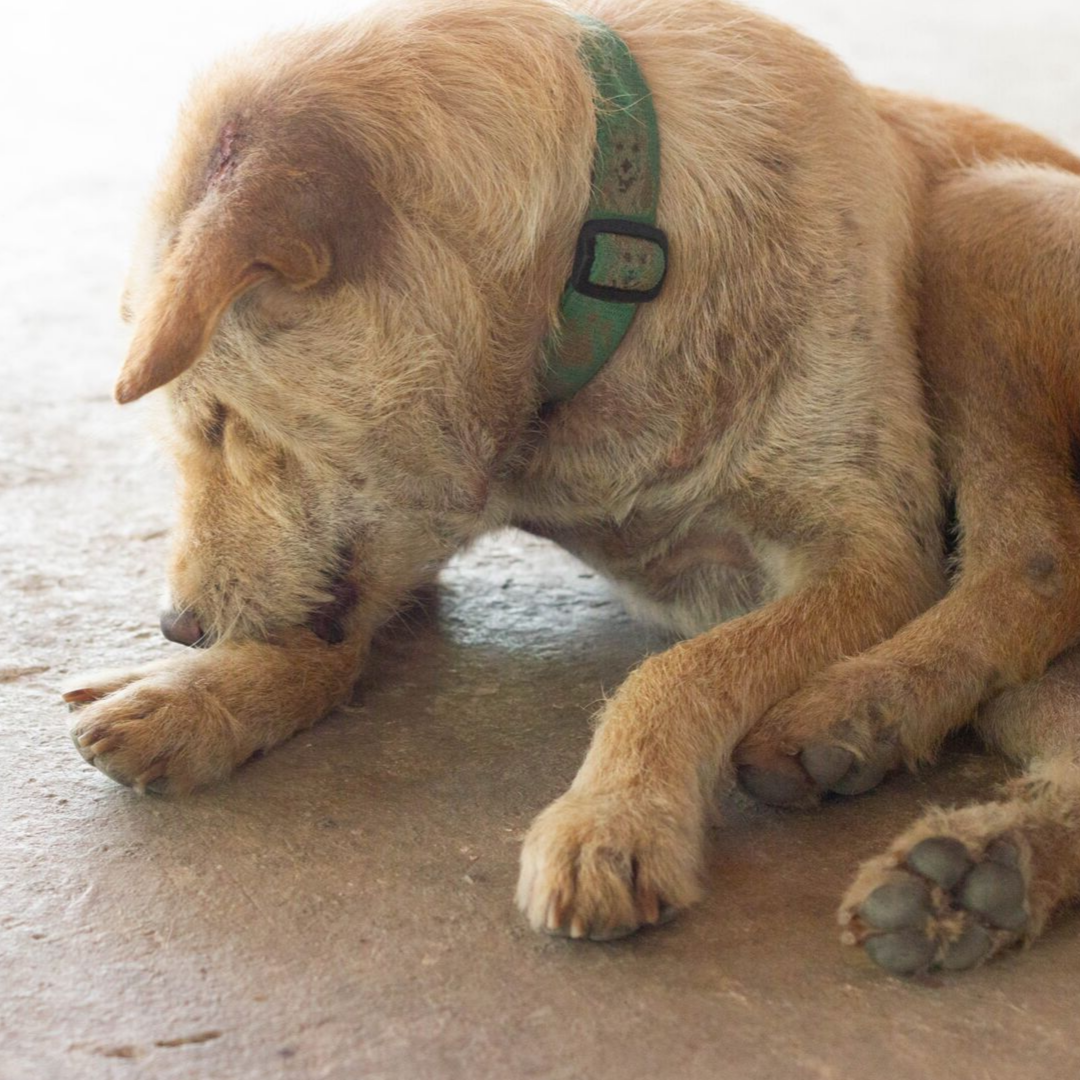 How WINPRO Allergy Can Help your Dog
Why is WINPRO Allergy one of the best dog supplements for itchy skin?  WINPRO Allergy contains the scientifically formulated K-Thrive blend of animal blood proteins that reduce inflammation at the source.  Since histamine release is an inflammatory mechanism, the anti-inflammatory properties of WINPRO reduce allergy symptoms quickly. WINPRO Allergy can improve your dog's symptoms within 48 hours, whereas traditional nutritional supplements may require 6 – 8 weeks to be effective. 
In addition to the K-Thrive animal blood protein blend, WINPRO Allergy contains Bromelain (pineapple root), Nettle extract (root), and Quercetin as active ingredients which have been shown to decrease allergy symptoms in clinical studies.  Like all WINPRO products, WINPRO Allergy can be used in conjunction with other supplements and veterinarian prescribed medications. Overall, WINPRO Allergy is designed to reduce itching and scratching while providing relief for additional allergy symptoms and easing the negative effects of environmental toxins, which is why WINPRO Allergy considered one of the best dog supplements for itchy skin.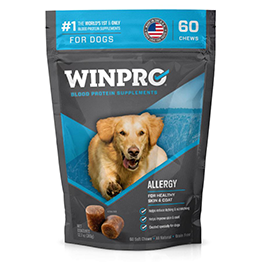 WINPRO Allergy contains a blend of animal blood proteins and other key ingredients to help relieve issues related to allergies. Whether it's itchy skin, sore spots or runny eyes, this product is specifically formulated to combat these issues head-on. It relieves allergy issues, promotes healthy skin and coat, eases the negative effects of environmental toxins and supports seasonal and ongoing allergies.