Types of Anti-Anxiety Medications for Dogs
There are many forms of anxiety diagnosed in dogs, ranging from medical to behavioral.  Additionally, anxiety manifests in numerous ways, such as cowering, shaking, self-mutilation, and aggression.  Overcoming canine anxiety can require years of behavioral rehabilitation and socialization.  In some instances, prescription medications may be necessary.  Here, the various types of anti-anxiety meds for dogs will be described. 
Symptoms of Anxiety in Dogs
Causes of Anxiety in Dogs
Just as there are numerous symptoms of anxiety, there are also many causes of nervousness in dogs. These include:
Pain
Underlying illness
Separation anxiety
Past traumatic experience
Lack of socialization
Loud noises
Fear
Chronic inflammation
Travel
Unfamiliarity
Sudden change in routine
Depending on the cause of your dog's anxiety, sedatives may be appropriate.  Sedatives are commonly used for dogs that have situational anxiety and noise anxiety, such as fear of fireworks.  This type of drug works by suppressing your dog's central nervous system to inhibit the fear response.  Side effects of sedatives include decreased blood pressure, decreased heart rate, decreased respiration rate, and asphyxiation due to muscle relaxation in the pharynx.  Examples of sedatives for dogs are Xanax and Valium.
Tricyclic Antidepressants
Another type of anti-anxiety med for dogs are Tricyclic Antidepressants, which work by increasing mood-enhancing chemicals in the brain like serotonin and norepinephrine. Tricyclic Antidepressants have been successfully used in pets with situational anxiety, separation anxiety, and generalized anxiety.  However, dogs with diabetes should not use this type of anti-anxiety medication. Commonly prescribed Tricyclic Antidepressants for dogs includeAmitrypline and Clomicalm.  Side effects include drowsiness, urine retention, constipation, irregular heartbeat, and seizures.
SSRI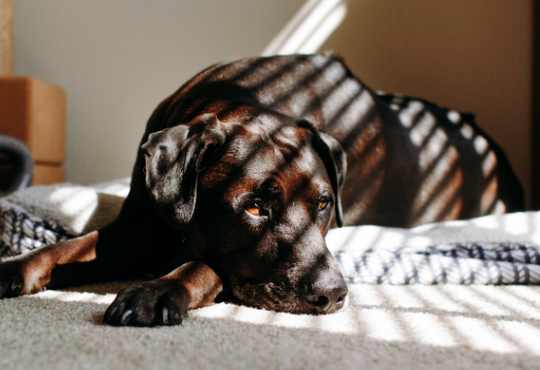 Selective Serotonin Reuptake-Inhibitors (SSRIs) can also be used as anti-anxiety meds for dogs.  Mainly for use in dogs with separation anxiety, generalized anxiety, and anxiety-related behaviors, such as excessive paw licking, SSRIs should be used in conjunction with behavioral modification therapy.  SSRIs work by increasing the amount of serotonin, another mood-enhancing chemical, in the brain.  Common side effects of SSRIs in dogs include lethargy, loss of appetite, vomiting, diarrhea, panting, whining, loss of coordination, weight loss, changes in behavior, and excessive drooling.  Prozac, Paxil, and Zoloft are frequently prescribed SSRIs for dogs.
Animal Blood Protein Supplement
WINPRO Focus is a natural calming aid for dogs that utilizes the power of animal blood proteins.  Although not a prescription medication, WINPRO Focus can work just as effectively as other anti-anxiety meds for dogs.  The animal blood proteins fight inflammation in the body (a leading cause of anxiety and other mood disorders) while additional active ingredients Taurine and Theaninenaturally support non-drowsy calmness. Dogs with noise anxiety, separation anxiety, situational anxiety, and anxiety-related behaviors can all benefit from WINPRO Focus.  There are no side effects associated with animal blood protein supplements. Additionally, WINPRO Focus, like all WINPRO products, is safe to use in conjunction with other supplements and veterinarian-prescribed medications.
Ultimately, anti-anxiety meds for dogs can be useful for helping dogs overcome their anxiety, regardless of cause.  The most common types of medications that veterinarians prescribe are sedatives, tricyclic antidepressants, and SSRIs.  Animal blood proteins are becoming increasingly popular due to their effectiveness and lack of contraindications.  If your dog suffers from anxiety, WINPRO can help your pet maintain a clear, focused mind without any drowsiness.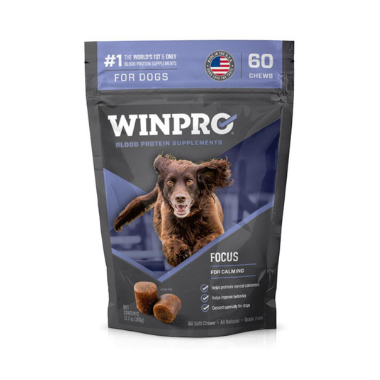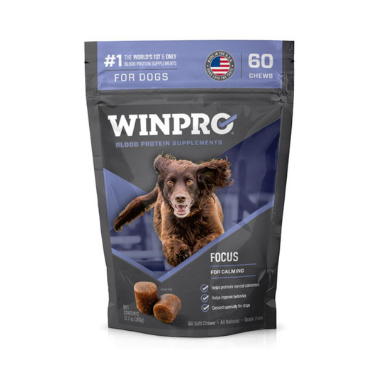 WINPRO Focus contains a blend of animal blood proteins and other key ingredients to help reduce anxiety, improve mental calmness, and maintain mental alertness in dogs especially during times of noise, stress, travel, etc. This product promotes attentiveness without making your dog drowsy.
Reduces anxiety
Helps promote mental calmness
Promotes attentiveness without drowsiness
Helps improve behavior and responsiveness
Created specially for dogs
Produced in the USA