Tips for Choosing the Best Joint Supplement for Dogs
There are many ways to manage arthritis and joint pain in dogs, including joint supplements.  However, with so many different supplements on the market, how can a pet owner choose the best option?  Listed here are tips for finding the best joint supplement for dogs.
Symptoms of Joint Pain in Dogs
Nearly every senior dog will suffer from joint pain and discomfort to a varying extent.  The symptoms of joint pain in dogs include:
Causes of Joint Pain in Dogs
The most common cause of joint pain in dogs is arthritis, whether due to natural wear and tear or from injury.  As dogs age, the cartilage that cushions their joints begins to deteriorate, causing bone-on-bone grinding. Injury can accelerate this process.  Inflammation plays a major role in joint pain when the joint or surrounding tissues and ligaments become inflamed. In many cases, inflammation is the primary source of pain and discomfort. 
Why Choose a Joint Supplement for your Dog?
When a dog is in pain, there is little that a loving dog owner won't try in order to mitigate the symptoms of discomfort.  A joint supplement is a smart choice because it can help prevent future pain in younger dogs (particularly if the dog has suffered from a joint injury) and can manage symptoms in older animals that are already experiencing pain.  Finding the best supplement for your dog is important, as not all joint supplements are created equally.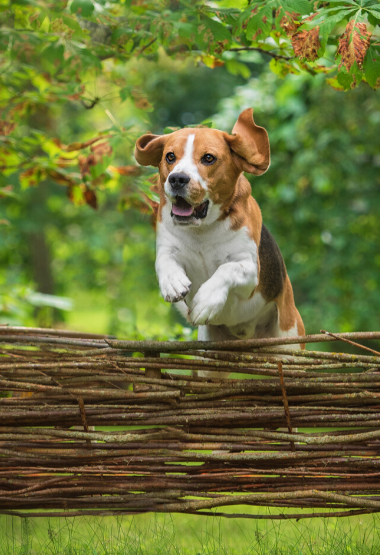 How to Choose the Best Joint Supplement for Dogs
How can you find the best joint supplement for your pet?  Listed here are some characteristics to look for when reading labels and comparing products: 
Fast-Acting
Dogs often can't wait the standard 6 – 8 weeks that are common in order to see results from typical nutritional supplements.  Therefore, the best joint supplement for dogs will be fast acting and effective. The active ingredients in WINPRO Mobility (K-Thrive animal blood protein blend and balanced collagen) go to work immediately to reduce the inflammation that causes pain in a pet's joints. 
National Animal Supplement Council Approved
Pet owners should look for a joint supplement that has the seal of approval from the National Animal Supplement Council (NASC).  Companies that have reached this level of certification are guaranteed to have passed a lengthy list of requirements, such as good manufacturing practices and multiple safety measures.  Since the supplement industry is highly unregulated, having NASC approval is important to ensure your dog is receiving the highest quality product available. All WINPRO products are proudly approved by NASC.
Backed by User Testimonial
If you are unsure which supplement is best for your dog's condition, user testimonials can help you find the most effective product.  Look for reviews on Amazon, Chewy, and other trusted retailers. 
WINPRO Mobility has been consistently shown to be among the best joint supplements for dogs, largely in part due to the 20-Day Mobility Challenge, where real customers post videos and testimonials showing the amazing results Mobility has had on their senior dogs.  
Money-Back Guarantee
When a dog is experiencing joint pain, pet owners will stop at nothing to make sure their dogs are receiving the best care possible, which can quickly add up.  Look for a supplement that offers a money-back guarantee in order to provide peace of mind. WINPRO, for instance, has a 110% money-back guarantee in case you are not fully satisfied with the results from any of their products. 
Treats the Source of Pain
Many joint supplements are ineffective because their ingredients are intended to mask the pain, instead of treating the root cause.  The best joint supplement for dogs will work to eliminate or minimize inflammation. Animal blood proteins in WINPRO Mobility are designed to immediately go to work by fighting inflammation at the source.  Additional active ingredient of balanced collagen helps to support the repair and replenishment of damaged cartilage.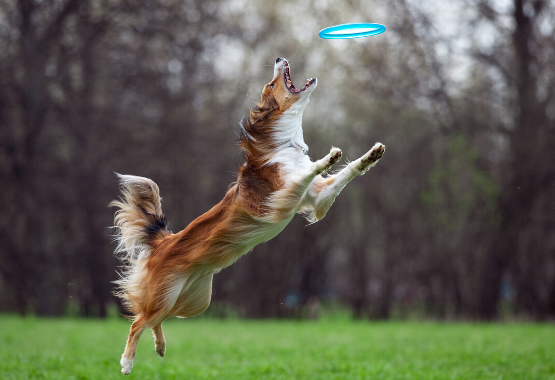 Backed by Science
Many joint supplements for dogs contain glucosamine and chondroitin, which are no longer deemed effective according to the NIH.  However, the animal blood proteins found in WINPRO Mobility have 30+ years of peer-reviewed scientific research behind them.  In fact, before their use in dogs, animal blood proteins have been proven safe, effective, and fast-acting in a variety of agricultural industries and in horse racing.  
No Side Effects
Any supplement you give your dog should be free from dangerous side effects.  Some supplements can interfere with medications - particularly those prescribed for pain.  WINPRO, however, is safe to give to dogs at any life stage and can be administered in combination with any supplement or veterinarian-prescribed medication thanks to the 100% natural nature of animal blood proteins.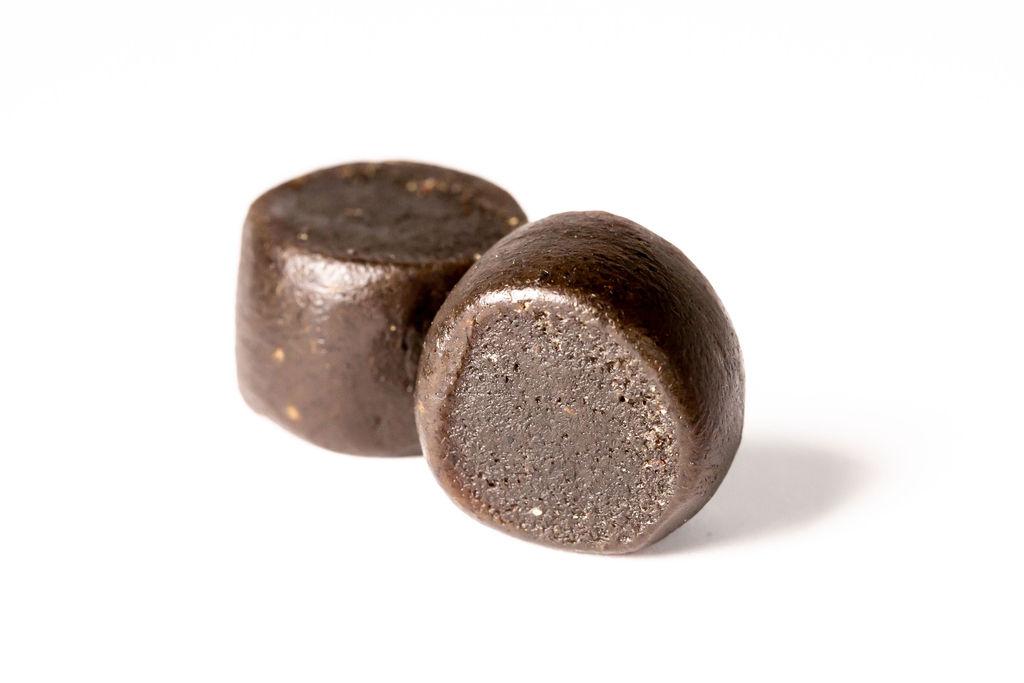 Easy to Administer
Finally, a supplement should be easy to administer, requiring no needles or messy cleanup.  In some instances, dogs with arthritis require daily injections that can be stressful for both dog and human.  Other supplements are in powder or liquid form and extensive require clean up and are not palatable to dogs. Instead, WINPRO Mobility supplements are in the form of a great-tasting, soft-chew treat.  Since dogs are natural carnivores, they have been shown to love the taste of WINPRO soft-chews.  
Overall, WINPRO Mobility is among the best joint supplements for dogs for a myriad of reasons.  These soft-chew treats are backed by science and shown to be safe, effective, and free from harmful side effects.  They are affordable and backed by a 110% money-back guarantee. User testimonials have shown time and again that WINPRO Mobility can give senior dogs their "puppy legs" back, and the NASC agrees.  Is your dog suffering from joint pain and mobility problems? If so, you owe it to your pet to give WINPRO Mobility a try!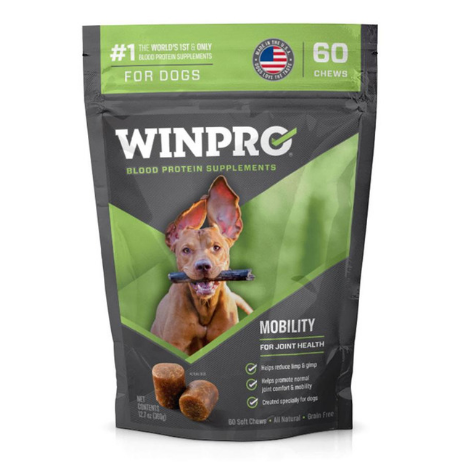 WINPRO MOBILITY contains a blend of animal blood proteins and other key ingredients to support canine joint function and help dogs maintain joint mobility so they avoid "limp & gimp", especially during times of increased activity. This product promotes joint comfort and movability and helps reduce stiffness & soreness from exercise or natural aging. A great product covering your dog's entire life cycle.
Promotes joint mobility, lateral motion, and flexibility
Helps reduce stiffness and soreness from exercise and aging
Helps improve joint comfort and movability
Benefits stride length and range of motion
Created specially for dogs
Produced in the USA