The Do's & Don'ts of Service Dog Etiquette
If you're a dog person, you're immediately drawn to them whenever you see a dog out in public. Before you rush over for a daily dose of dog-loving, ask yourself: Is this a service dog on duty? Here are some do's and don'ts on service dog etiquette:
DON'T engage the dog in any way
The biggest thing to remember when approaching a marked service dog is to refrain from talking to or touching the service dog until you've confirmed with the handler that you can proceed. This is not meant to be offensive or off-putting; it's simply a precaution. Service dogs –especially guide dogs – are working and should be treated as such. The same is true for children. Ensure that children keep a safe distance from a working service dog. Petting them or speaking to them distracts them from their work and could be problematic to the person they're working for.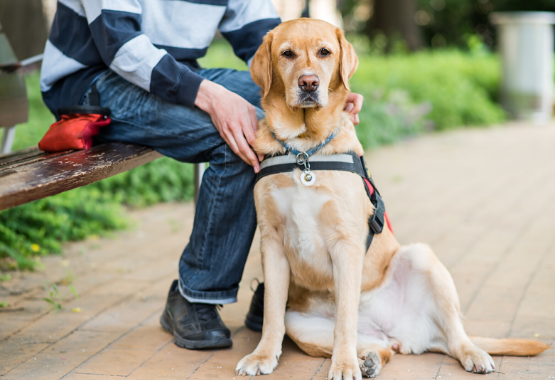 DO engage with the handler
The dog and handler are a team but you should also address the handler before engaging with the dog in any way. It's actually preferred that you ignore the dog completely. While polite small talk with a handler is more than appropriate, be sure to avoid asking any personal questions related to the service dog, as these are often intrusive and disrespectful. Service dogs carry a variety of duties that you, a stranger, may not be aware of. So don't be offended if the handler asks you to move along or denies your request to pet the dog.
DON'T offer the dog any food or treats
While the dog is trained to ignore food presented in this manner, it could still serve as a distraction and should not be offered. Any highly trained and well-behaved service dog would deny your offer anyway. You should never offer any dog any sort of food or treat in a public place.
DO inform yourself on the laws and regulations surrounding service animals
For instance, many are unaware that service dogs are not required to be leashed or wear any sort of marked vest or coat signaling their service, nor is a handler required to carry and sort of certification in compliance with the Americans with Disabilities Act. Therefore, it is not uncommon to see service dogs in all woks of life as they are allowed to go anywhere the general public is allowed to be.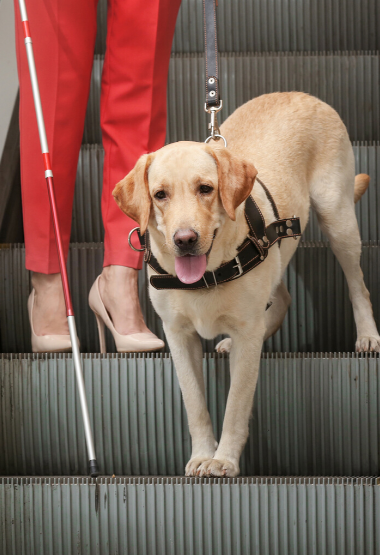 DON'T assume that the dog's life is all work and no play
You typically will encounter a service dog out in public or in a busy place. This is when their services are needed the most. Rest assured that service dogs have time off too and they get plenty of love and affection the way regular household dogs do.
DO keep your own dog a safe distance away
No matter how well-tempered dogs can be, you never know how dogs will react to one another. So as not to disturb the working service dog team, it's best to keep your dog a safe distance away unless explicitly directed otherwise by the handler.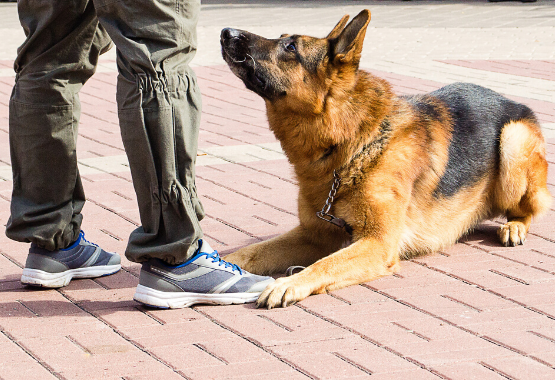 DON'T crowd a service dog team
While it can be hard on busy streets or in airports, try to not crowd a service dog team. Give them the right-of-way and allow the dog space to work. It is not rude to move away from a service dog team. Walking alongside the service dog team can be confusing for the dog, so unless you're a familiar face to the service dog team, don't crowd them.
DO follow an unaccompanied service dog
Service dogs are trained to cater to their handler's needs. For many, this means finding help when their handler is in danger. If a service dog comes up to you without their handler, immediately call for help and follow the dog. They will lead you to a person in need
Service dogs undergo an incredibly intense training program so they can serve their handler to the best of their abilities. Keep these etiquette tips in mind next time you see a service dog so that they can keep doing what they love most – serving.