Should You Use Hunting Dog Supplements?
Hunting dogs train hard to be ready for the hunting season.  They work tirelessly, and for many it is in their genes to run, point, and retrieve until they drop. Hunting dog supplements are important for making sure your dog is firing on all cylinders, since he or she will be the last to tell you it does not want to hunt. Here, everything a hunter should know about hunting dog supplements will be discussed.
What Are Hunting Dog Supplements?
Hunting dog supplements are designed to keep your hunting dog inoptimal shape and condition, as well as support the unique needs of a hard-working canine.  Hunting dogs are prone to injury, poor recovery, hypothermia, heat stroke, and arthritis, which means their immune systems can take a hit from time to time.  A high-quality hunting dog supplement can better support your dog's immune system to ensure he or she is able to spend the hunting season in the field, instead of at home on crate rest.
Hunting Dogs and Chronic Inflammation
Hunting dogs are at a high risk of chronic inflammation and Leaky Gut Syndrome.  Common causes of both conditions are:
Poisoning
Hunting dogs have a lot of independence – which sometimes gets them into trouble.  Even small amounts of cyanobacteria, mushrooms, toxins from clay pigeons, and lead shot can cause an upset stomach or disrupt their delicate balance of gut flora, leading to chronic inflammation that can be difficult to treat.
Training Hard Daily
To make sure your dog is ready to withstand a long day in the field it must be properly conditioned. However, overtraining can be just as bad for your dog as undertraining.  Hard-working dogs must have regular rest days built into their training schedules to ensure their immune systems are not overworked.
Injury/Arthritis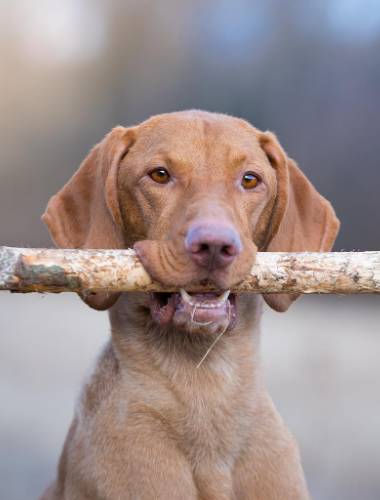 Injuries, particularly joint injuries, are common among hunting dogs because of the wear and tear their bodies experience.  Many hunting dogs are retired far earlier than necessary due to limp, gimp, and pain left over from overuse injuries.
Symptoms of Chronic Inflammation in Hunting Dogs
How do you know if your hunting dog is experiencing chronic inflammation?  Symptoms include:
Best Hunting Dog Supplements
Hunting dogs can be limited by any number of inflammatory conditions, ranging from injury to allergies.  Fortunately, WINPRO has a product that addresses any common problem a hunting dog may experience.  The secret behind WINPRO soft chews is the K-Thrive Formula D blend of animal blood proteins, which alleviates inflammation at the root of your dog's ailment. All WINPRO products are made in the USA and have obtained the National Animal Supplement Council (NASC) Quality Seal.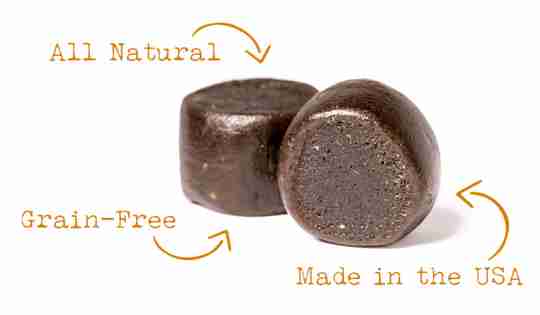 Each WINPRO soft chew can be given in conjunction with other WINPRO products or with other supplements and veterinarian prescribed medications.  Hunting dog supplements produced by WINPRO include: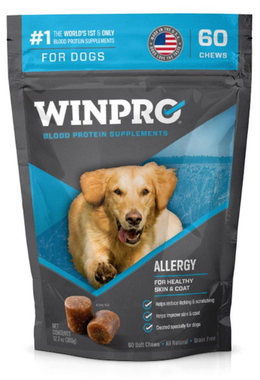 WINPRO Allergy
A dog that is allergic to grasses, molds, pollen, and other environmental allergens cannot give its full attention in the field.  Additionally, food allergies can hinder your dog's performance.  WINPRO Allergy is designed to reduce the inflammation that causes itching, scratching, infection, and dull skin and coat.
WINPRO Training
WINPRO Training supports stamina and recovery in hard-working dogs. If your hunting dog simply needs a boost to aid recovery, WINPRO Training is the answer to help your hunting dog bounce back quickly.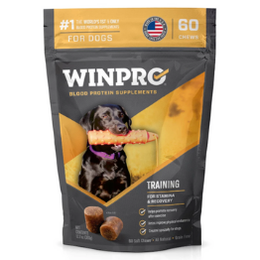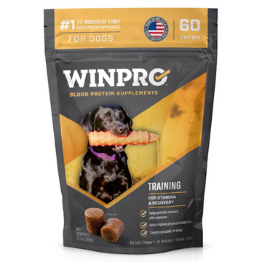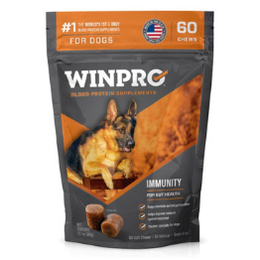 WINPRO Immunity
A dog that is plagued with gastrointestinal symptoms such as vomiting and diarrhea will struggle to keep up in the field and will be at risk to suffer from Leaky Gut Syndrome, which will negatively affect performance.  WINPRO Immunity helps maintain normal gut function and immune system while alleviating gastrointestinal distress.
WINPRO Focus
A dog that has noise or travel anxiety does not make a good hunting buddy.  WINPRO Focus promotes a calm, steady, attentive demeanor without the accompanying drowsiness of other anti-anxiety products and is perfect for use during training or hunting trips.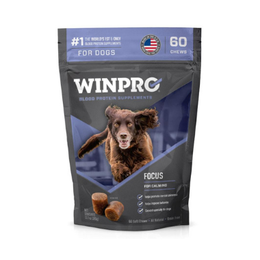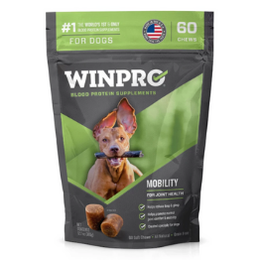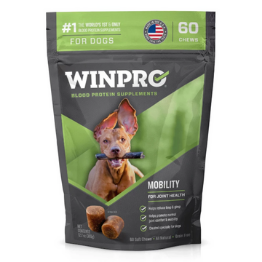 WINPRO Mobility
Finally, WINPRO Mobility is the perfect supplement for helping prevent or treat lameness in your hunting dog.  WINPRO Mobility promotes joint comfort and flexibility while relieving stiffness and soreness.