Saluting our Four-Legged Fallen: The Role of K9s in the Military
This past Monday, our country honored our service men and women, past and present, for Memorial Day. We at WINPRO thank all who have served to protect our rights for this great country (there's a reason WINPROpet supplements are proudly made in the USA!). We salute those who bring this country the freedom it thrives on and in turn, also honor our four-legged fallen.
The history of dogs in warfare dates back to around 600 B.C. where dogs were trained to break up enemy formations and aid soldiers who faced enemy troops. Just as warfare has evolved, so has the role of dogs in service. Though not officially recognized until WWII, military working dogs have "fought alongside American forces in every conflict since the Revolutionary War" where they ran into battle alongside both American and British troops. Dogs even took to the skies in WWII, leading paratroopers across Western Europe.  In more recent years, dogs have taken on many different roles in the military ranging from scouts and sentries to mascots and messengers.
Military Working Dogs today, or MWDs, take on either a single- or dual-purpose position during their term of service. Single-purpose dogs tend to be "all nose, no bite" and are utilized for their keen sense of smell. Most often they are trained to locate either drugs or explosives, and MWDs hold jobs that include searching for explosives, narcotics, missing people, casualties, landmines, and IEDs and other weapon caches. Dual- or multi-purpose dogs are trained to detect these as well but also take on patrol work responsibilities and are even sometimes used in elite special operations teams like the Navy Seals.
Whatever their role, the majority of MWDs are trained at the Lackland Air Force Base in Texas, the military's primary canine facility. Here, "Personnel conduct operational training of MWDhandlers and supervisors and sustain the [Department of Defense]MWD program through logistical support, veterinary care, and research and development for security efforts worldwide" according to the United States Air Force.
There are a lot of lives that have a hand (or paw!) in keeping our country safe. Each and every day, roughly 2,500 military working dogs are active in service with around 700 serving overseas at any given time. Their work is hard and unconditional and for that, we salute our four-legged friends.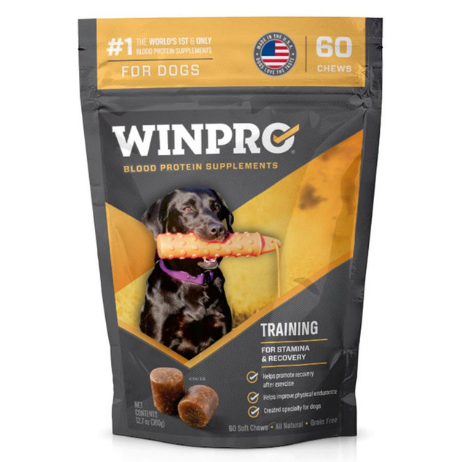 Train Like the Pros
WINPRO Training contains a blend of animal blood proteins and other key ingredients to help improve physical endurance and recovery. This product is specifically formulated to help speed recovery after exercise so your dog quickly "bounces back" from strenuous activity such as work, play or competition. Great for dogs of all ages.
Supports physical endurance
Helps speed recovery
Helps prevent future injury by reducing inflammation
Created specially for dogs
Produced in the USA