Puppy Love: Proposing with your pup
Love is in the air! If you find yourself planning to pop the question to your special someone this Valentine's Day, be sure to include your dog for a fun and furry experience. Here are some tips to help coordinate with your four-legged best friend.
The Gift
What better to way to start your life together than by adding a member to your family! Gifting a puppy during your proposal is a sweet way to say, "I'm in." Plus, your newfound fiancé will think of your proposal whenever they spend time with the dog. Talk about a gift that lives on.
If this is part of your plan, be prepared. Have you talked about getting a puppy together? Have you decided as a team what kind or breed would best suit your lifestyle? Be sure that you've covered all of these things and that a puppy will be a welcomed surprise. Take it the extra mile and pick up all the puppy essentials too, including a leash, crate, food, toys, bowls, and WINPRO Immunity so that you two can focus on celebrating.
The Sign

If you two are already proud pet parents, let your dog be the star of the show. This is a popular and simple way of proposing with a pup. Either make or purchase a fun premade sign or charm – places like Etsy are a great place for these – to hang around your dog's neck when popping the question.
Here are some ideas:
The Trick
If you want to take a step up from the sign, try a trick! Utilizing a new trick is a fun angle to propose from and shows that you put a lot of thought and effort into your proposal. Teach your dog some sort of trick with the ring. This could be fetching the box, balancing the ring on your dog's nose, or something totally unique to your dog's skillsets. When the time comes, you can simply say "watch what Buddy and I have been working on." They will never see it coming.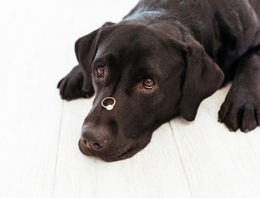 Proposing is one of those moments you'll remember for the rest of your life, so make it your own. Mix and match these tips to best suit you, your four-legged friend, and your soon-to-be fiancé. If the pup is present, they're bound to say YES.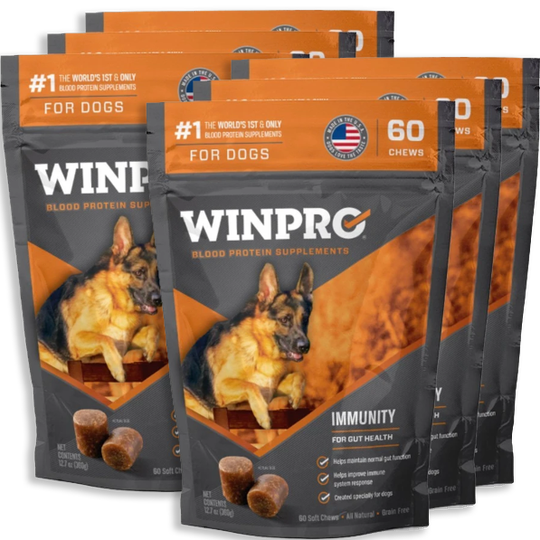 WINPRO IMMUNITY contains a blend of clinically proven animal blood proteins and other key ingredients that help dogs combat the negative effects of stress and inflammation. WINPRO Immunity is specifically formulated to help promote normal gut function and help protect your dog against stressors that can undermine its immune system. By promoting a healthy gut, WINPRO Immunity helps dogs of all ages —especially during times of travel, stress, competition, etc.
Helps maintain a normal immune system
Improves loose stool
Helps maintain normal gut function
Created specially for dogs
Made in the USA