Puppies and Gut Health:  What You Should Know
Although most adult dogs have natural defenses against disease, young puppies are susceptible to disease.  After birth a puppy does not have a fully developed immune system, leaving it with fewer defenses than an older pet.  Additionally, puppies require multiple rounds of vaccinations before they develop full immunity to dangerous illnesses, such as parvovirus and distemper.  By supporting a puppy's gut health – and therefore its immune system – pet owners can decrease the chances of their puppy developing a devastating disease.
Why Should I Worry About my Puppy's Gut Health?
A mammal's gut is home to several colonies of coexisting, healthy bacteria that work together to support digestion, the immune system, and overall health.  A puppy receives its first boost of beneficial bacteria from its mother's milk during nursing.  However, many factors that arise between weaning and adulthood can disrupt gut health.  These include vaccinations, stress, exploring the world by mouth, and general growing pains.  Since gut health is one of the strongest determinants for immune strength, it is important to support this aspect of your puppy's wellbeing.


Common Puppy Gastrointestinal Tract Diseases
A puppy without good gut health is more likely to develop one of the following common puppy diseases:
Colitis
Colitis can be caused by stress, which results in large intestine inflammation.  Stress colitis is most common in dogs under 5 years of age.  Symptoms of colitis include chronic diarrhea (which may have blood or mucus), fatigue, and weight loss.  Additionally, colitis may be a sign of an underlying condition.
Gastroenteritis
Puppies like to explore the world with their mouths, which means they sometimes ingest harmful or inedible substances.  The result is vomiting and diarrhea.  While occasional GI upset is not harmful, continual GI issues can lead to chronic inflammation.
Intestinal Parasites
It is extremely common for puppies to have either hookworms or roundworms, which can be passed to them through their mother's milk.  A healthy gut will diminish the damage that worms do until they can be eradicated through puppy deworming treatment.


Coccidia
Coccidiosis is the term for the infestation of the coccidia parasite, which is most common in puppies.  Although most adult dogs have this parasite and never show symptoms, puppies have a weaker immune system which causes them to show signs such as diarrhea, loss of appetite, weight loss, and dehydration.  Puppies develop Coccidiosis by ingesting the parasite, either by licking themselves, licking other dogs, or consuming infected food.


Adenovirus
Adenovirus is a form of hepatitis found in dogs.  Although an adenovirus vaccine exists, puppies are more susceptible prior to vaccination or while their immune systems are weak.  Symptoms include loss of appetite, lethargy, cloudy eyes, and upper respiratory tract symptoms such as nasal discharge.  There is no treatment for adenovirus; rather, immuno-supportive care is provided.
How Can I Support My Puppy's Immune System?
There are many ways to support your puppy during the formative months.
Encourage Frequent Play
Growing puppies should not engage in strenuous exercise.  However, playtime is a natural way to burn off energy while supporting the systems that control the immune system.  Encourage your puppy to play often while being mindful of times your dog needs to rest.


Maintain a Healthy Weight
When a dog stores excess fat, his or her immune system is weakened.  Talk to your veterinarian about how much food your puppy should eat at each meal, and when to switch to an adult formula.
Feed High-Quality Foods
Feed your dog a high-quality diet that is full of antioxidants, whole proteins, healthy fats, and quality carbohydrates.  Diets that are full of fillers, preservatives, food dyes, and artificial ingredients do not support good gut health and instead can lead to dangerous nutrient deficiencies.  Look for a food that also incorporates natural probiotics.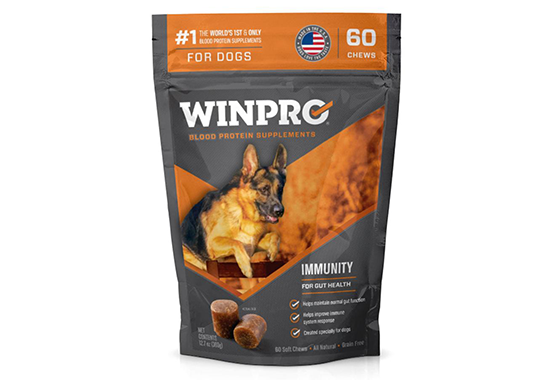 Focus on Gut Health
Finally, the best way to support your dog's immune system is to focus specifically on his or her gut health. 
WINPRO Immunity
(and all other WINPRO soft chews) can be provided as soon as your puppy is weaned from its mother.  WINPRO soft chews work by fighting gut inflammation with scientifically proven animal blood proteins to promote healthy digestion and boost your dog's immune system.  This formula also works to eliminate symptoms of gut problems such as vomiting or diarrhea.  All WINPRO supplements can be fed in conjunction with medications or other supplements and are especially recommended during times of high stress.  By improving your dog's gut health you can fortify your dog's immune system, which is especially important for a growing pup!