Medical Detection Dogs: Can They Really 

Sense Cancer? 
Dogs always seem to just know. Whether it's been a bad day for you or the fact that you could use a push out the door for that run you've been putting off, how do dogs seem to know things that aren't said? 
Many believe that dogs really do have a sixth sense, and while yes, it can typically be attributed to their heightened sense of smell, the medical field is not only putting it to the test, but putting it to use. When you factor in a dog's extremely strong sense of hearing and their impeccable sense of sight in terms of spatial resolution in addition to their sense of smell, scientists have proven that they really are able to detect things that our human senses can't.
Scientists have become increasingly intrigued by what dogs are able to pick up from a simple whiff. Most notably, dogs have been known to – and are now being employed to – detect certain types of cancers, yes cancers, in patients. After what seemed to be a fluke incident where a dog continually licked a specific spot behind his owner's ear that turned out to be melanoma, the door was opened to the possibility that dogs could detect and diagnose cancer.
Upon investigation and testing, scientists found that dogs were able to pick up certain scent signatures that were present in a cancer patient's skin, breath, sweat, or urine. With proper training, dogs are able to detect certain kinds of cancers. Just from someone's breath dogs can diagnose lung cancer, ovarian cancer from blood, prostate cancer from urine, and colorectal cancer from stool. And they're able to do so with overwhelming accuracy. Though testing and research is continuously being conducted, who knows? Dogs may just be the future of cancer detection! 
Keep in mind, though, that these dogs now undergo an intense training program. Therefore, not all licking is indicative of cancers or anything being wrong at all. This time of year, it might be a sign of seasonal allergies that your dog might actually be suffering from. Consider giving WINPRO Allergy a try so your dog can put their best paw forward.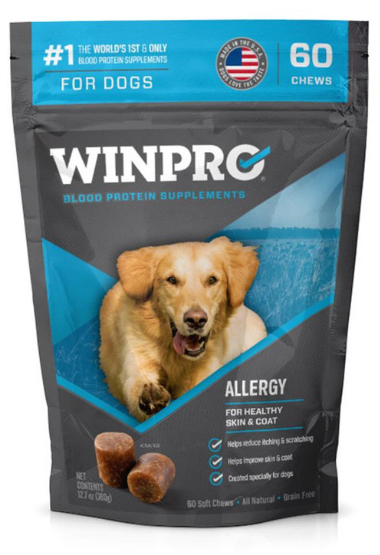 WINPRO Allergy contains a blend of animal blood proteins and other key ingredients to help relieve issues related to allergies. Whether it's itchy skin, sore spots or runny eyes, this product is specifically formulated to combat these issues head-on. It relieves allergy issues, promotes healthy skin and coat, eases the negative effects of environmental toxins and supports seasonal and ongoing allergies.
Reduces itching & scratching
Provides relief for issues relating to allergies
Promotes healthy skin and coat
Helps ease negative effects of environmental toxins
Supports seasonal and ongoing allergies
Created specially for dogs
Produced in the USA