Leaky Gut Syndrome in Dogs
Although Leaky Gut Syndrome is a relatively new medical term, the implications of this common gut disorder are far-reaching. In fact, Leaky Gut Syndrome in dogs could be the culprit for many of the symptoms your pet experiences, from achy joints to gastrointestinal distress. Here, the symptoms, causes, and treatment of Leaky Gut Syndrome in dogs will be discussed.

What is Leaky Gut Syndrome in Dogs?
Leaky Gut Syndrome is a condition that affects the lining of the small intestine.  In healthy intestine, the lining has limited permeability, only allowing nutrients from food to be absorbed which in turn regulates enzyme and hormone production. However, when Leaky Gut Syndrome is present, the lining of the small intestine is damaged, resulting in increased intestinal permeability and poor nutrient absorption.  As a result, large food particles can breach the intestinal wall.  nce in the bloodstream, the dog's immune system attacks the food particles, causing inflammation. In addition, waste by-products, toxins, and bacteria - all of which would normally pass through the intestines - leak into the bloodstream and cause disease.

Symptoms of Leaky Gut Syndrome in Dogs
Aggression
Allergies
Autoimmune disease/disorders
Cancer
Diarrhea
Dull skin/coat
Ear infections
Eye disorders
Heart disease
Inflammatory bowel disease
Interstitial cystits
Joint pain/swelling
Laryngeal paralysis
Neurological impairment
Obsessive behaviors
Skin diseases/infections
Spinal disease/pain
Thyroid disorders
tracheal collapse
Weight gain/loss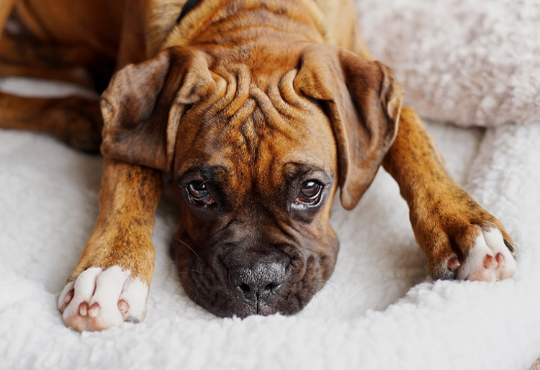 Causes of Leaky Gut Syndrome in Dogs?

The causes of Leaky Gut Syndrome in dogs are as diverse as the symptoms.  Causes include:
Chronic stress
High carbohydrate/low protein diet
Prolonged use of antibiotics
Prolonged use of NSAIDs
Parasites
Yeast/Fungal infections in the gut
Mineral deficiency
Poor digestion
The Link Between Inflammation and Leaky Gut Syndrome in Dogs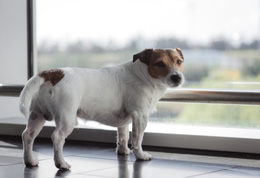 Leaky Gut Syndrome is characterized by food, toxins, bacteria, and nutrients leaking into the bloodstream from the intestines.  Once the intestinal wall has been breached, the immune system is the first line of defense and will attack bloodstream "invaders" with white blood cells, histamines, and other inflammatory processes.  Since Leaky Gut Syndrome is a chronic condition, the resulting inflammation becomes chronic as well.  Researchers now know that the basis for many diseases, from arthritis to cancer, begins with chronic inflammation.  Therefore, minimizing inflammation is important for managing Leaky Gut Syndrome in dogs.

How to Treat Leaky Gut Syndrome in Dogs
Treating Leaky Gut Syndrome in dogs is most effective when done holistically, meaning when all factors are considered.  Listed below are the most important aspects when treating Leaky Gut Syndrome. 
Decrease Inflammation
A dog's intestinal lining cannot begin to heal until the immune system is no longer triggered daily.  However, prescription anti-inflammatory medications can further exacerbate Leaky Gut Syndrome because of the negative effect they have on the lining of the stomach.  The best way to decrease inflammation is with natural products, such as WINPRO Immunity, which contains animal blood proteins – nature's most powerful anti-inflammatory. 
Minimize Stress
Stress is a leading cause of Leaky Gut Syndrome in dogs because of its negative influence on gut health.  Identify chronic stressors in your dog's life and eliminate them for a period of 2 – 3 months before gradually reintroducing them back into your dog's routine.  Consider whether your dog genuinely enjoys car rides, trips to the dog park, interacting with children, meeting new dogs/humans, etc.  In many cases, body language cues for fear and stress can be confused with those for happiness and excitement.  Understanding canine body language can better help you manage your pet's Leaky Gut Syndrome.  It should also be noted that even good stress (eustress) can contribute to chronic inflammation.  In the case of Leaky Gut Syndrome, it is possible to have too much of a good thing.
Reconsider Medications
Antibiotics, NSAID pain relievers, flea/tick medications, and steroids can all wreak havoc in a dog's gut by disrupting the natural microflora in the intestines required for digestion and nutrient absorption.  If your dog is struggling with the symptoms of Leaky Gut Syndrome and is currently on a medication, consider talking to your veterinarian about your concerns or scheduling an appointment with a holistic veterinarian to learn about alternative options.
Improve Your Dog's Diet
Poor diet, particularly one that is high in processed ingredients and carbohydrates, is a leading cause of Leaky Gut Syndrome in dogs due to the difficulty canines have digesting grains and fillers.  Dogs, unlike humans, primarily get their energy from fat and protein, which is why high-quality meat should be a main component of a dog's diet.  Chicken meal or by-product is not as healthy for your dog as, for instance, deboned chicken.  Many pet owners find relief for their pet's symptoms after switching to a raw food diet, or by incorporating probiotics and prebiotics (yogurt, cottage cheese, oats, etc.) into a high-quality dry or canned food regimen.
Herbs such as marshmallow root and deglycyrrhized licorice root have also been shown to support gut healing.  Both herbs are found in WINPRO Immunity as additional active ingredients alongside the powerful K-Thrive Formula D blend of animal blood proteins.
Provide Plenty of Exercise (but not too much)
As roaming pack animals, dogs were not evolutionarily designed to sit at home, alone, during the day.  The mental stress of a sedentary lifestyle for a dog can also be a trigger for Leaky Gut Syndrome.  Pet owners should provide plenty of exercise and mental stimulation for optimal health.  If your dog spends long hours at home alone, consider hiring a dog walker to relieve your pet during the day. 
On the flip side, too much exercise can also be a trigger for Leaky Gut Syndrome in dogs.  When a dog is pushed hard daily in training, the immune system cannot keep up to repair sore and tired muscles.  The result is chronic inflammation.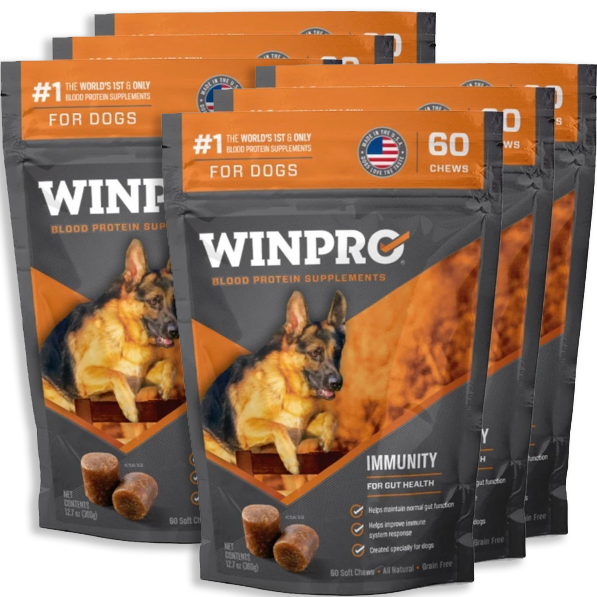 Regardless of the cause of your dog's Leaky Gut Syndrome, WINPRO Immunity is indispensable in supporting the healing process.  WINPRO Immunity soft chews are all-natural, have no side effects, and are safe to use in conjunction with other supplements and veterinarian prescribed medications.  Most importantly, WINPRO Immunity is designed to eliminate inflammation and works quickly, with results often observed within days.  If your pet is suffering from symptoms such as chronic vomiting, diarrhea, upset stomach, allergies, ear infections, itching, or anxiety that are common with Leaky Gut Syndrome in dogs, WINPRO Immunity can help.