Keeping Your Dog Safe During the Holidays
During the holidays, it's even easier to slip into bad habits like eating two dozen cookies in a day or even feeding your dog table food which can lead to poor gut health and the negative symptoms that come with it. Scarier yet, dogs have access to all sorts of new and potentially dangerous items during the holidays that could make your holiday much less cheerful with a trip to your local veterinarian's office. Here are a few of our tips on howto keep your dog safe.

Avoid Table Food
During the holidays, it can be especially hard to remember that table scraps are not dog snacks. Simply stated, food that we consume as humans isn't made with the health and safety of dogs in mind (and sometimes not even ours!) so be sure to resist the temptation to feed your dog anything from your plate and encourage your relatives to do the same. Beyond giving your dog's gut more than it can handle, some food is actually poisonous to dogs. Many of us have cousins, nieces, nephews, grandparents, aunts, or uncles who love to spoil our dogs, but encourage them to give out a few extra scratches orpetting sessions instead.
Beware Certain Plants
During the holiday season, we may bring new plants into our home including an amaryllis, poinsettia or other seasonal foliage. While they look great on your coffee table, these plants can be dangerous to dogs. Poinsettias are mildly toxic to dogs and should be used with caution according to the American Kennel Club and amaryllis can cause negative symptoms such as gastrointestinal issues, tremors, and other health problems according to the AKC Canine Health Foundation. Do research as you bring new plants into your home so you're always looking out for the health of your pets!
Keep An Eye On Presents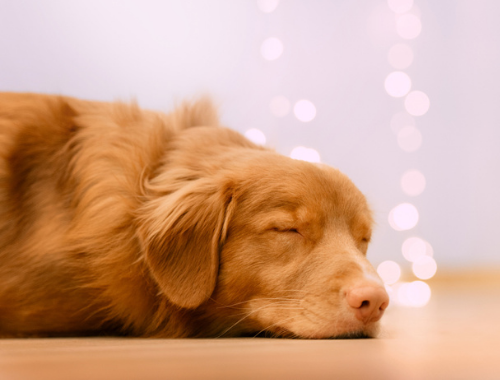 You may even have a story yourself of your dog "unwrapping" edible presents left under the tree such as chocolates or other candles resulting in a trip to the vet. If you will be giving any edible presents to friends or family this year, feel free to wrap them early, but keep them out from under the tree or off of accessible areas such as your coffee table until you're ready to open them.
Décor Can Be Dangerous
Lastly, as much as many of us love decorating for the holidays, some of our work can be dangerous to our dogs. Puppies for example may find your light string to be a fun new toy and suffer burns or electrocution if they are able to chew or fray the cords. Tree ribbons, tinsel, confetti, fake snow, and other decorations can also be dangerous to dogs –particularly curious puppies - if consumed. Keep your décor out of reach for your dog's paws and you'll all be able to enjoy the holidays much more safely.
As you are looking out for your dog's safety this holiday season, don't forget to keep their health in mind too. WINPRO'sfull line of blood protein supplements can help support gut health, mobility, mental calmness, recovery, and allergies. Explore our full product line now!