Joint Troubles: Slowing Down is Optional
You may fear the time when your dog starts slowing down. While it's inevitable (for us too!), it doesn't have to be a painful or traumatic experience for your dog. Here is some information to keep in mind when that time comes, what to do if you're already seeing signs, and how WINPRO is here to help.
Common Issues Aging Dogs Face
    

Osteoarthritis

    Hip Dysplasia
    Joint Degeneration and Stiffness
    Intervertebral Disc Disease
One of the best things you can do is read up on your dog's breed and see what issue they're likely to encounter later in life. With these in mind, you'll then know what to keep an eye out for. Each breed is different, so if you have mixed breeds, research all that you know of and talk to your vet about what they might be most concerned about. For example, typically when speaking about joint troubles, larger breeds are more likely to experience issues.
"Charlie is an 8 yr old Aussie with arthritis in his spine, hip, and right shoulder. I was having a hard time finding something that would work without turning to prescriptions. New England weather can be harsh. After one week, I noticed positive changes in movement, and now (after finishing the first purchase) he is moving like his old self. Even his chiropractor noticed an improvement."
- Pat G.
Things to Look For
While every dog is different and has a different demeanor and behaviors, here are some things to look for as your dog gets older.
Less overall energy
Stiffness
Irritability
Reluctance 

to climb stairs, jump, and or run

Trouble Getting Up

Swaying or Limping
What You Can Do to Ward off "Slowing Down"
Stay Active
Just like humans, dogs should get regular exercise that elevates their heartrate and do so often. As your dog gets older, though, you can begin to amend this routine to accommodate the slowing down process without completely submitting to it. If you've always taken your dog or a run in the street, change to one in the grass or park or opt for a walk instead. Walking or running on grass or sand is much easier on the joints.
Diet! Diet! Diet!
This couples with staying active; maintain a healthy weight for your dog. Obesity is a huge contributor to joint pain and issues. As your dog ages, consider switching to a food specially formulated for older dogs and keep the table scraps to a minimum.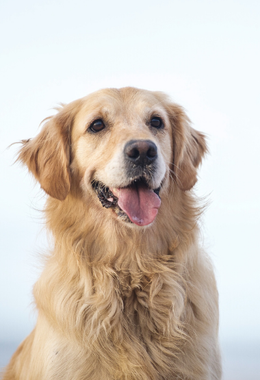 Stick to a Routine
Especially if you notice that your dog isn't as excited to get up in the morning or is a little lazier throughout the day, be sure to stick to the routine they're used to. If you start the day with a 7 AM walk, make sure to continue doing that, even if your dog doesn't jump out of bed and wait by the door like they once used to.
Mind Your Floors
Slippery floors can be tough on your dog's joints. If your dog is consistently trying to stabilize themselves just walking around the house, this will quickly wear them out for the day and make them unlikely to want to go for a walk or other exercise. Non-carpeted floors can be a challenge for aging dogs, especially when your dog is jumping up or down off of a couch or bed. Consider implementing rugs or mats in the areas where your dog spends most of their time to eliminate slipping.
Try WINPRO Supplements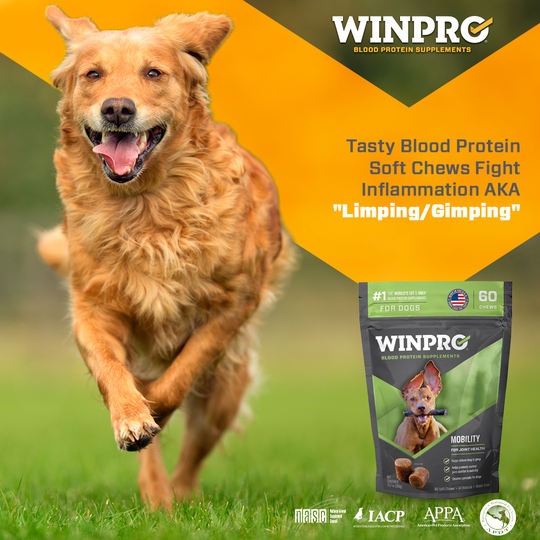 Introducing WINPRO all-natural blood protein supplements is a great way to "get ahead of the game." Our signature K-Thriveformula used in all of our WINPRO products is specially formulated for dogs to target and treat inflammation. WINPRO Mobility specifically targets inflammation in the joints, easing stiffness and pain.
"Our senior lab is 12 and has slowed a great deal, showing arthritis symptoms and joint pain. She has exhibited great improvements since we began WINPRO supplements. There is a lot more bounce in her step and lightness in her movements."
- Peggy