Hunting Dog Energy Supplements:  Fact or Fiction?

 
Do you ever wish you could give your hunting dog the canine equivalent of a large coffee before heading into the field because his or her lethargy slows you down?  Hunting dog energy supplements are nothing new, with many formulations on the market that promise sustained endurance or energy.  But, are they effective?  Here, how to treat the cause of your dog's lethargy for improved endurance will be discussed, as well as the common ingredients in hunting dog energy supplements and whether they provide your dog with additional energy. 
What are Hunting Dog Energy Supplements?
Hunting dog energy supplements are marketed to provide your dog quick or sustained energy for the duration of time they are in the field.  They are not intended to be fed for nutrition; rather, to be used to supplement a complete diet.  Energy supplements contain a variety of ingredients to provide energy either on a macro- or micronutrient level and should only be fed as instructed.
Common Ingredients in Hunting Dog Energy Supplements
As the name implies, hunting dog energy supplements are designed to provide your dog with more energy.  The most common ingredients are sulfur (MSM), maltodextrin, l-carnitine, or fat (lard, vegetable oil, fish meal, etc.).  Each ingredient has a different purpose. 
Sulfur (typically in the form of methylsulfonylmethane) is used to block pain receptors so that dogs can push themselves for an extended period and is believed to improve energy levels.  Maltodextrin, which is a type of sugar, is given to dogs for extra energy as a carbohydrate.  However, there is dispute over whether maltodextrin truly provides energy to dogs since their metabolic pathways are primed for using fat as energy instead of carbohydrates.  For this reason, fat is often the number one ingredient in hunting dog energy supplements, such as in the form of lard, vegetable oil, or fish byproducts. 
However, there is little evidence that fat provides immediate energy, given that dogs expend energy to digest food.  Finally, l-carnitine is often found in energy supplements because it can improve energy metabolism in dogs and has been shown to have good results.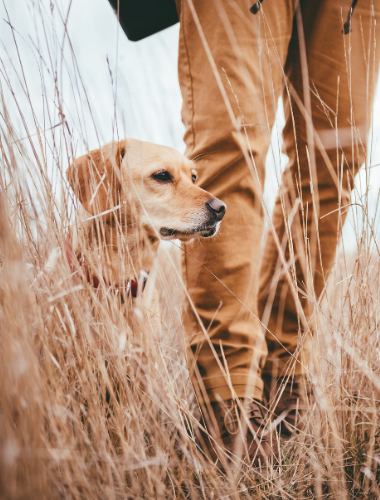 Chronic Inflammation and Energy Levels in Dogs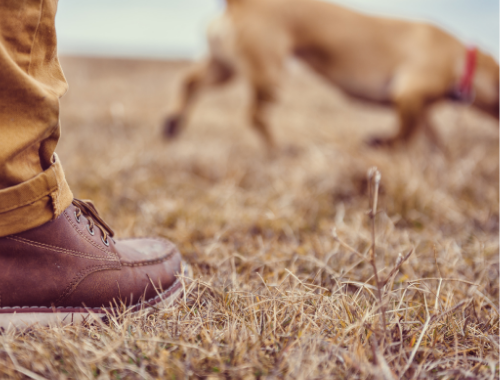 If you look at the ingredient list of common hunting dog energy supplements you will see that many are a bandaid for the problem of low energy and do not address the underlying cause.  Assuming you are feeding your dog an adequate diet for his or her high energy needs, low energy in the field is indicative of a systemic problem, namely, chronic inflammation. 
High inflammation levels, which could be caused or exacerbated by Leaky Gut Syndrome, allergies, chronic illness, injury, or anxiety, among other reasons, and will result in low energy levels for a dog.  Chronic inflammation is caused by an overworked or overactive immune system.  The energy required to continually release white blood cells and other immune system mediators can lead to body aches, brain fog, joint pain, increased allergies, weight loss/gain, and lack of energy.
Animal Blood Proteins for Extra Energy
Many of the ingredients found in hunting dog energy supplements do not address the underlying causes of lethargy, such as inflammation.  Few ingredients have scientific backing to support the claim of immediate energy, and unless the supplement has been third party verified (such as through the National Animal Supplement Council) there is no guarantee of what ingredients are actually in the product.
Animal blood proteins, however, are an ingredient that has been scientifically proven to reduce inflammation, which in turn can increase energy levels. WINPRO Training for stamina and recovery is a soft chew that contains the powerful K-Thrive Formula D blend of animal blood proteins as well as L-Glutamine, Ribose, and Creatine Monohydrate to promote muscle growth and athletic performance.  WINPRO Training works quickly to eliminate inflammation, which helps your dog feel better and have more energy on a day-to-day basis, instead of just in the field.  WINPRO products work best when taken regularly and can be safely combined with other supplements or veterinarian-prescribed medications.  All WINPRO products are made in the USA and have a 110% money back guarantee.  Don't just hide your dog's symptoms – treat them at the source with powerful, scientifically proven animal blood proteins that will eliminate inflammation to allow your dog more energy than ever before.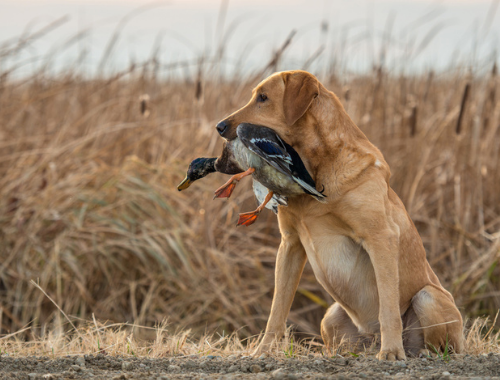 WINPRO TRAINING contains a blend of clinically proven animal blood proteins and other key ingredients to help your dog perform at their best. This product is specifically formulated to help your dog "bounce back" quickly from strenuous activity such as work, play or competition. Great for dogs of all ages.
Supports normal exercise and recovery
Helps dogs bounce back from hunts and events
Helps dogs recover normally 
Created specially for dogs
Produced in the USA