How to Reduce Stress in Minutes
We could all stand to have a little less stress in our lives, wouldn't you agree? But not many people have the time it takes to go geta massage or a facial, hit a yoga class, or meditate – all common ways of reducing stress. These often come with a decent time commitment and often a hefty price tag. You need neither, though, according to a recent study from washing State University.
Scientists from the Department of Human development observed that their students were stressed. College students face lots of stressors; in addition to classes and exams, many also work off-campus and have other commitments.  Patricia Pendry, the lead researcher wanted to alleviate this extra stress and test the common theory that animals can help!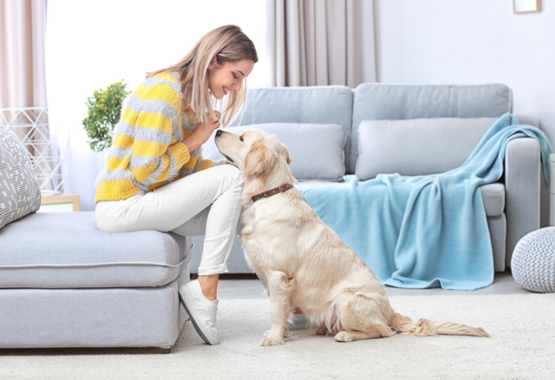 With the help of four different groups of stressed students, the team was able to significantly reduce the stress levels of these students in as little as 10 minutes with just the help of some dogs and cats. They found that after interacting with the animals, the students' levels of cortisol – a stress hormone – were much lower than earlier in the day.
"Just 10 minutes can have a significant impact," says Pendry, an associate professor in WSU's Department of Human Development."Students in our study that interacted with cats and dogs had a significant reduction in cortisol, a major stress hormone" (WSU).
Too much stress can lead to a variety of health problems both physically and mentally, including headaches, anxiety, chest pain, and social withdrawal. Whatever the source of your stress, your dog can help put it at ease. Spend a little extra time with your dog when you're in a stressful situation and see what results you can find. 
We owe a lot to our dogs, and to keep yours in tip-top shape, explore our full line of blood protein supplements aimed at supporting your dog's mobility, focus, training, allergies and gut health here.
WINPRO® Blood Protein Supplements are the World's 1st & Only Blood Protein Supplements for Dogs, with five great products that help keep dogs doing the things they love to do!