Two things are evident as the weather gets colder, especially here in the Midwest were WINPRO's headquarters is stationed. The first: the drop in temperature means that we value the extra heat our dogs put out when sharing a couch or bed with them. And second: there's dog hair everywhere. Especially with the dark colors that fashionistas frequent in the fall, dog hair can easily become the season's most unintentional accessory. Here are a few tips on how to handle dog hair this holiday season.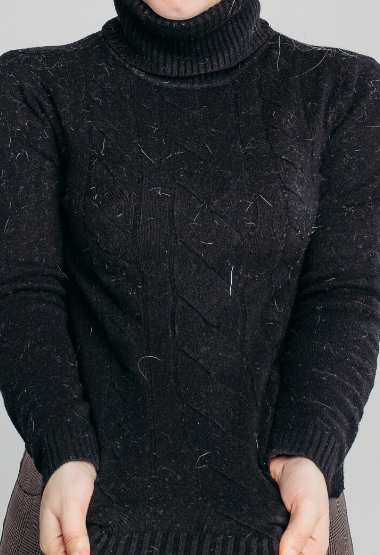 Lint rollers. Lint rollers everywhere. 
No matter how careful you are wearing that sleek new black sweater to work, there will be dog hair on it. So yes, keep a lint roller in your bathroom or bedroom and roll away and stray fuzz that may be clinging to you when you get dressed, but also keep one in your car, your purse, your desk at work; anywhere that is easily accessible should you need to swipe away and hair that might pop up.
Haul out the vacuum.
Similarly, keep your vacuum on hand and vacuum at least the main areas where your dog spends the most time as often as every day. Finer hair especially tends to cling and travel throughout the house, so if your dog mainly spends time in the living room, keeping up with your vacuuming will help contain the hair.
Break out the brush.
You already spent large amounts of quality time giving your dog attention, so why not make it a win-win situation? Bathe and brush your dog regularly to stay on top of clumped fur and the dreaded wet-dog smell that applies whenever they come in from the rain or snow. If you're just watching television, give your dog a brush. It's a bonding activity for the both of you! If that's not your style or your dog doesn't particularly like being brushed, just be sure to stick to a regular grooming schedule.
Set boundaries.
While this might not be so fun to do, consider setting some additional boundaries in the winter months. Maybe you usually let your dog snooze at the end of the bed while you get ready in the morning. With those dark colors and heavy fabrics, it sometimes seems that you can be a magnet to dog hair, and it's usually at the most inconvenient times. Consider closing a few doors this winter, even if it's just an attempt to handle the hair.
While it's going to be inevitable, especially for the breeds that seem to do nothing but shed, it might as well be healthy and soft! Doesn'tcuddling up with your dog sound even more appealing when their coat is shiny and soft to the touch? WINPRO Allergy has many benefits including maintaining your dog's healthy coat. Click below to shop now and get cuddling!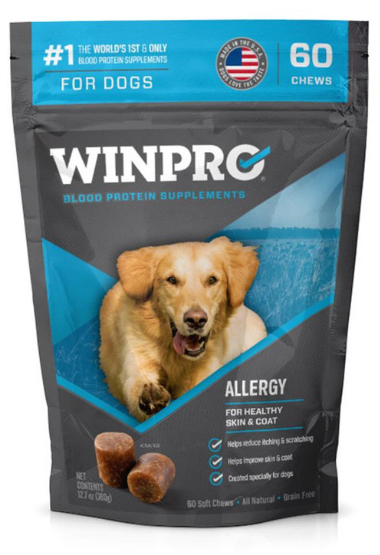 WINPRO Allergy contains a blend of animal blood proteins and other key ingredients to help relieve issues related to allergies. Whether it's itchy skin, sore spots or runny eyes, this product is specifically formulated to combat these issues head-on. It relieves allergy issues, promotes healthy skin and coat, eases the negative effects of environmental toxins and supports seasonal and ongoing allergies.
Reduces itching & scratching
Provides relief for issues relating to allergies
Promotes healthy skin and coat
Helps ease negative effects of environmental toxins
Supports seasonal and ongoing allergies
Created specially for dogs
Produced in the USA