How to Celebrate the Dog Mom Way
This weekend should be full of festivities with National Dog Mom's Day on May 9 and Mother's Day on May 10.
How are you planning on celebrating? Despite social distancing limiting your options like hosting a party/puppy play date, or gathering with other dog moms,there are still plenty of ways you can add fun to your Saturday/Sunday schedule.
Here are some tips on how to celebrate the dog mom way!
Get in a good cuddle session or quality time
Not all dogs are the lay-on-your-lap type, so whatever constitutes some quality time with your dog, do it. Go for a long walk, play some tug-of-war, lounge around together on the couch; whatever you and your dog love doing most when you're together, do it!
Share your time with loved ones
Though quarantine measures are starting to lift, in many areas, social distancing is still the official recommendation. Though you may not be able to take your dog to see his or her favorite friends, hop on a video call with other dog moms to catch up and share some screen time with other families.
Indulge in one thing, just one
Let your dog up on the bed or couch with you, if you typically don't, just this once. Give them a taste of a table scrap. Let them lick your ice cream bowl. Allow them a little splurge in honor of the holiday.
Treat them to something that will make them happy and healthy:
WINPRO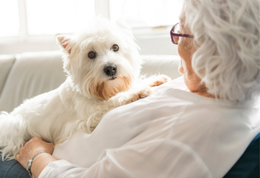 WINPRO blood protein supplements are specially formulated for dogs to keep them doing what they love to do, whatever that may be. Treat your dog to any of our 5 products that fit your dog best – Mobility, Immunity, Focus, Allergy, or Training – and even better, take 20% off May 9-10 with the code: DOGMOM20
From the WINPRO team to you, Happy National Dog Mom's Day and Happy Mother's Day!