How Canines Can Combat PTSD
As we honor those who have served on Veterans Day, the conversation typically surrounds their time spent in the service. But what about when they return home?
Over 300,000 veterans are diagnosed with post-traumatic stress disorder or PTSD each year. Despite vigorous training programs, our servicemen and women never exactly know what they can expect when deployed. Therefore, many return home and experience high levels of PTSD, each in their own ways.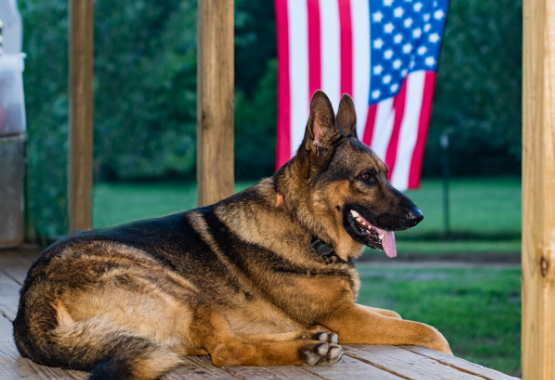 Symptoms of PTSD include:
Experiencing nightmares, vivid memories, or flashbacks
Feeling numb or losing interest
Being constantly on guard or on edge
Cutting themselves off from others emotionally
Suffering from an inability to sleep
Being jumpy or easily startled
Having trouble concentrating
Experiencing mood swings or changes in behavior
Luckily, though, it has been proved that dogs can have positive and even healing effects on humans. This realization has been put to good use, especially in recent years. Dogs are paired with veterans in the hope of calming some of the PTSD veterans experience.
Just as each veteran is different, each dog can be specifically paired or trained to address the needs of their new owner. Some simply need the companionship that comes with having a dog. Others need more of a therapy dog to help soothe anxieties after returning home. These dogs are chosen for their mild temperament and trained in situational awareness. Some programs even certify them through the American Kennel Club's Canine Good Citizen™ program. In the more extreme cases, service dogs can also come into play helping veterans who have experienced sight or hearing loss, have limited mobility, or other physical disabilities.
Because everyone experiences PTSD in different ways, these dogs can also be trained to specifically cater to their owner's needs. This can come in the form of waking them up from a nightmare, lying on their chest if they're experiencing a panic attack, or even dialing 911. Things of this nature go above and beyond the usual call of a therapy dog.
PTSD can affect every facet of life for a veteran. So, we're extremely thankful that dogs can help. Organizations like Pets for Vets, Dogs for Vets, and many others across the country are doing incredible things to help our nation's servicemen and women, and they love doing it.