Hidden Signs: How to tell if your dog is sick
It seems as though everyone is coming down with something this time of year. Is your dog? The combination of the cold and being cooped up inside is the source of many illnesses humans face and your dog is no different. Unable to voice their feelings, keep an eye out for these hidden signs that your dog might be under the weather.
Lethargy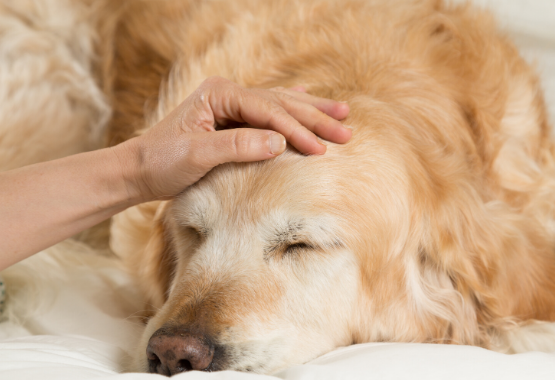 What do you do when you're sick? This might be one of the hardest symptoms to pick up, especially if your dog is normally lazy or is up-there in years. But just as humans do, when dogs aren't feeling great, they tend to lay around and be more lethargic; it's the only thing they know how to do. They don't understand what it means to be sick, so it's part of your responsibility as a pet owner to decipher what they're trying to tell you.
Things to look for:
If they usually greet you at the door but don't
If they don't respond to petting or praise
If their tail is between their legs
If they don't have interest in mealtime, playtime, or any other activity that usually gets them excited
Stiffness
This can little harder to notice. Think about when you have a sore throat or a bad cold, body aches can be a common symptom and your dog can experience the same. Especially if they're being more lethargic than usual, they're most likely trying to remain still to avoid any pain or discomfort that some illnesses can bring. That's why you need to watch your dog stand up and encourage them to move. If you notice that they're favoring a limb or are perhaps hesitant to get up, jump, or climb stairs, this might be something alert your veterinarian about.
Changes in Appetite
Sometimes it's easy to get in the routine of feeding your dog every morning and night, and leaving it at that. Especially if you have a multi-animal household, ensure that your dog eats their food and does so at a regular time each day. If you notice a loss of appetite or an increase in drinking, this could be an indicator of gut health issues.
Bad Breath or Drooling
Unless your dog is a snuggler, usually you wouldn't notice your dog's breath. It's something to keep an eye (or nose!) on though, as it can be an indicator of gum disease, tooth decay, or even internal issues like esophageal or gastrointestinal illness or even kidney disease. Typically dogbreath isn't pleasant to begin with but check in every now and then and note any changes in odor.
The same goes for drooling. While some breeds are more apt to drool, look for changes in your dog's drooling habits; it could be a sign that something isn't right. Check your dog's teeth and gums for a healthy color. For the same reason dentists tell us to floss, food and bacteria can get caught in the crevices of your dog's mouth which could lead to infection and disease, triggering a change in their breath.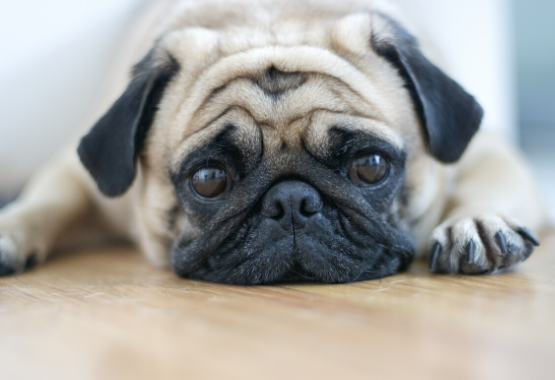 Excess drooling could also indicate that your dog is overheating. Some short-nosed breeds can't effectively pant and cool themselves down. Be sure that on hot days and after exercising, your dog as a cool place to recline and access to fresh water to avoid further dehydration and heat stroke.
Gum Discoloration
If you've noticed any of the above signs, take a look at the gums. Your dog's gums are a great indicator of their overall health. A dog's gums should look much like your own: pink and even-toned. Look out for discoloration – a bluish or gray – as well as blotches or spots. These are signs that your dog needs medical attention and that something is off. A good check if you think there might be something wrong: Press on your thumb along the gum line. It should turn white and then revert back to a healthy pink after a few seconds. If not, seek the help of a veterinarian.
It would be so much easier if our dogs could just tell us if there was something bothering them. Instead, we're left to observe and guess, wanting nothing but the best. There are preventative measures you can take, though! Do you get a flu shot? Have an annual physical? Eat your fruits and vegetables? Set your dog up for a lifetime success and start them on a regimen WINPRO Immunity. It helps naturally regulate your dog's digestive system and helps maintain a healthy gut.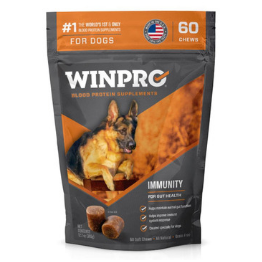 WINPRO IMMUNITY contains a blend of animal blood proteins and other key ingredients to help dogs combat the negative effects of stress and inflammation. WINPRO Immunity is specifically formulated to help boost your dog's defense against things that can undermine its immune system. By promoting a healthy gut, WINPRO Immunity helps dogs of all ages —especially during times of travel, stress, competition, etc.