5 Simple Tips for Optimal Gut Health in Dogs
Digestive issues in dogs, such as gassiness, loose stools, and vomiting are common occurrences – but are they normal?  With more pet parents working from home than ever before, digestive health for dogs is a subject that has been brought to the forefront.  Additionally, while there are many causes of poor gut health in dogs, including low-quality diet, Leaky Gut Syndrome, and environmental toxins, increased stress is also a major factor.  One source of stress for dogs is the anxiety many pet owners are experiencing due to uncertainty caused by COVID-19.  This new stress and changes in routine can disrupt your dog's microbiome, which plays an important role in mood and digestion.  Listed here are quick and easy tips for optimal gut health in dogs.
Make DIY Pro- and Prebiotic Treats
Probiotics and prebiotics are important for optimal gut health in dogs.  Probiotics are the good bacteria that populate the gut, while prebiotics are food for the good bacteria.  One of the most common probiotic and prebiotic pairs is yogurt (probiotic) and banana (prebiotic).  You can make a simple treat at home for your dog by combining 1 cup of plain yogurt in a blender with 2 bananas.  Next, pour the mixture into an ice cube tray and freeze.  These delicious treats double as a reward and as a gut-healthy snack for your pet.
Pamper your Pup
Stress and anxiety are directly linked to poor gut health in mammals.  While some stress in your dog's life can be controlled (i.e. minimizing interactions between dog-aggressive dogs), other types of stress, such as separation anxiety, are more difficult to avoid.  The more stressed your dog, the higher his or her cortisol levels, which lead to increased gut inflammation.  Fortunately, there are scientifically proven ways to reduce your dog's stress.  Petting your dog, playing a game together, canine massage, acupuncture, and other calming activities are all proven ways to lower cortisol, which in turn can improve your dog's microbiome.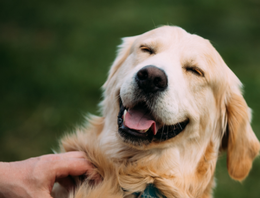 Look for Natural Alternatives to Pesticides


Pesticides found in parasite preventatives can disrupt a dog's sensitive microflora, leading to poor gut health in dogs.  While prevention of disease is important, natural alternatives can reduce your dependency on substances that can alter your dog's gut bacteria, which should be considered if your dog is suffering from chronic gastrointestinal issues.  Pesticide-free alternatives to parasites include diatomaceous earth, and quarterly parasite testing, among others.  The caveat is if you choose to eliminate pesticides you must be aware that alternative methods require vigilance and are not as simple as providing a tablet and then forgetting about the risks of parasites for the next 30 days. 
Feed High-Protein / Low-Carbohydrate
Dogs metabolize nutrients differently than humans and require protein as their main source of energy.  However, many low-cost foods are high in carbohydrates and filler ingredients which can lead to inflammation, particularly in the gut.  Studies show that feeding a high-protein / low-carbohydrate diet is important for optimal gut health in dogs.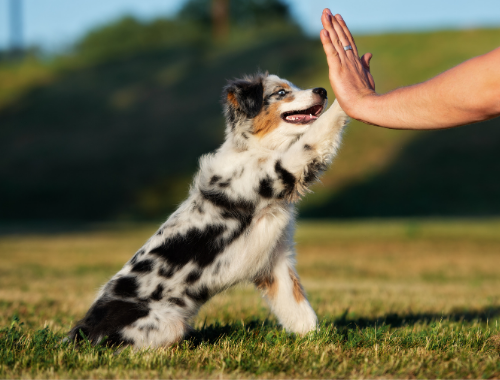 Reduce Inflammation with Animal Blood Proteins

Animal blood proteins, such as those found in WINPRO Immunity, are an all-natural way to improve your dog's gut health by eliminating inflammation.  The components found in animal blood proteins, such as immunoglobulins, are natural anti-inflammatory agents.  When consumed, animal blood proteins go to work immediately to fight inflammation, particularly the type found in the gut.  WINPRO Immunity soft chews are an easy and convenient way to improve gut health in your dog both safely and effectively.
A healthy gut is important for digestion, stress management, nutrient absorption, and disease prevention.  Optimal gut health in dogs can be achieved by reducing stress, feeding a high-protein diet, eliminating environmental toxins, feeding pro- and prebiotics, and reducing inflammation naturally with animal blood proteins.  Just because gastrointestinal issues are common in dogs does not mean your pet has to suffer from chronic gas, vomiting, and diarrhea.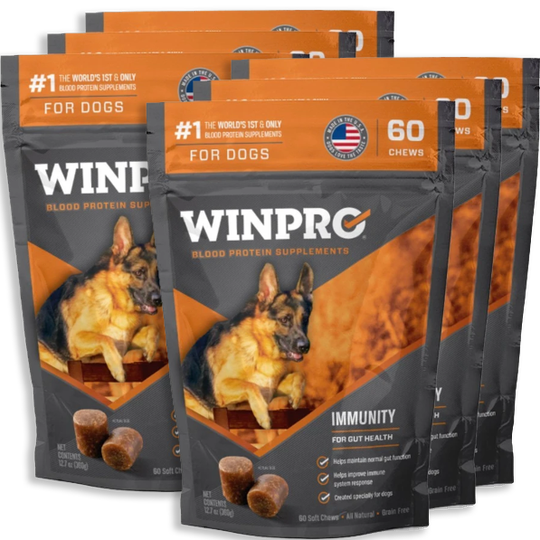 WINPRO IMMUNITY contains a blend of clinically proven animal blood proteins and other key ingredients that help dogs combat the negative effects of stress and inflammation. WINPRO Immunity is specifically formulated to help promote normal gut function and help protect your dog against stressors that can undermine its immune system. By promoting a healthy gut, WINPRO Immunity helps dogs of all ages —especially during times of travel, stress, competition, etc.
Helps maintain a normal immune system
Improves loose stool
Helps maintain normal gut function
Created specially for dogs
Made in the USA