8 Signs your Dog Could Benefit from a Supplement
A common misconception about dogs is that everything they need to thrive can be found in commercial dog food.  While this assertion is true – to an extent – it does not take into consideration the external factors that affect a dog's wellbeing, such as stress, vigorous exercise, and environmental toxins.  In these instances, help in the form of supplements may be necessary.  Listed here are signs your dog could benefit from a supplement. 
Limping
Limping without the presence of injury is a telltale sign of arthritis.  As the cartilage wears down between joints, dogs experience bone-on-bone pain that can hinder their quality of life.  A joint supplement that supports cartilage health while reducing inflammation is recommended.
Swelling
Another sign of arthritis is joint pain and swelling.  If your dog has obvious swelling around hip or knee joints, arthritis may be to blame.  An anti-inflammatory supplement is ideal.
Chronic Gastrointestinal Distress
Dogs that frequently suffer from diarrhea, vomiting, or loose stools can also benefit from supplements.  Oftentimes, gastrointestinal upset is caused by inflammation in the gut and/or leaky gut syndrome.  Look for a supplement that addresses these problems.
Dull Fur
Skin and coat condition are important signs of good health in dogs.  If your pet's coat is dry, rough, or dull there could be an underlying problem such as allergies, chronic inflammation, or general poor health. 
Itchy Skin/Ears
Allergies are an immune system response to environmental triggers.  However, many allergy symptoms can be controlled by calming the immune system.  Anti-allergy supplements work to calm inflammation while supporting your dog's immune response.  If your dog continually scratches at his ears or licks his paws, consider an allergy supplement.
Chronic Illness
A common cause of chronic illness is an overworked immune system.  Frequently, gut inflammation is to blame for chronic diseases such as irritable bowel syndrome and chronic infections.  A supplement that addresses inflammation can help reverse many signs of chronic disease.
Anxious Behaviors
A growing body of research has linked anxiety with poor gut health.  If your dog shows anxiety behavior such as pacing, destruction, excessive barking, and digging, gut inflammation may be to blame. 
Poor Recovery
Athletic and working dogs have additional needs when they are in peak training mode.  A dog that is slow to recover may benefit from a supplement that supports the immune system while reducing inflammation and fatigue.  If your dog frequently requires more than 1 – 2 rest days between hard training sessions, a supplement may help.
How to Choose a Supplement for your Dog
All supplements are not created equally.  Dogs should be fed high-quality supplements that are made in the USA.  Additionally, supplements should carry the quality seal from the National Animal Supplement Council (NASC), which holds companies to a high standard.  Finally, supplements should be appealing to dogs and fast acting.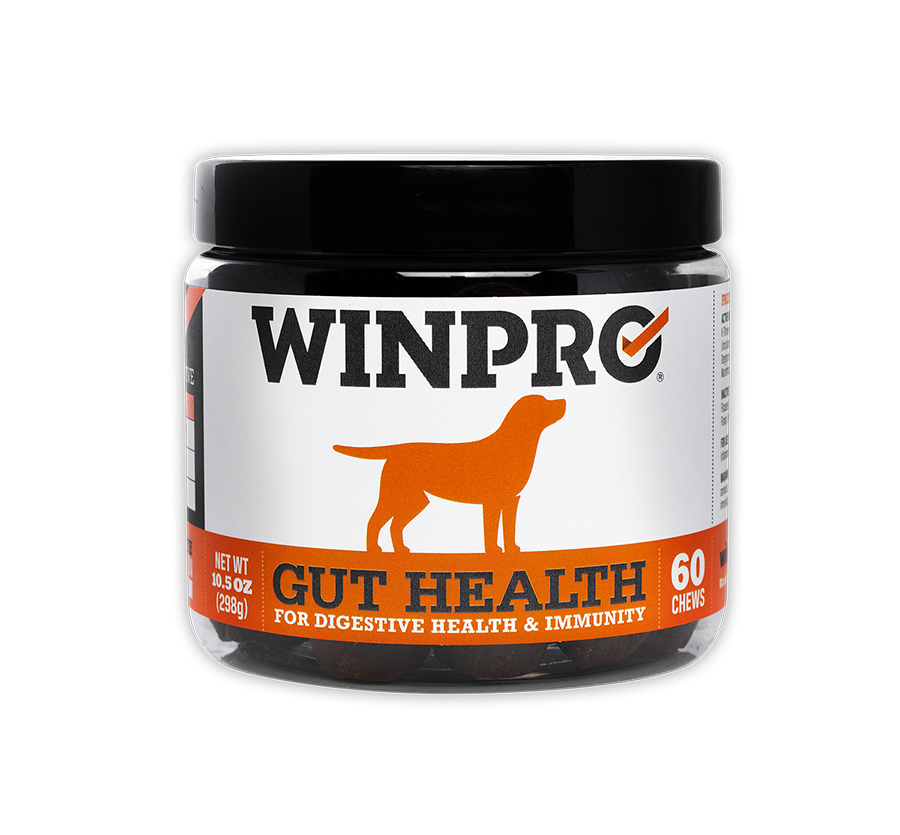 WINPRO GUT HEALTH
Useful for dogs that need additional immune system support.  This product works to ease inflammation in the gut while providing relief from GI upset.
WINPRO HIP & JOINT
Designed to reduce inflammation for arthritis and joint pain relief. 
WINPRO ALLERGY
Works to support the immune system while reducing allergic reactions in dogs.  This product effectively guards against skin concerns such as itching and biting.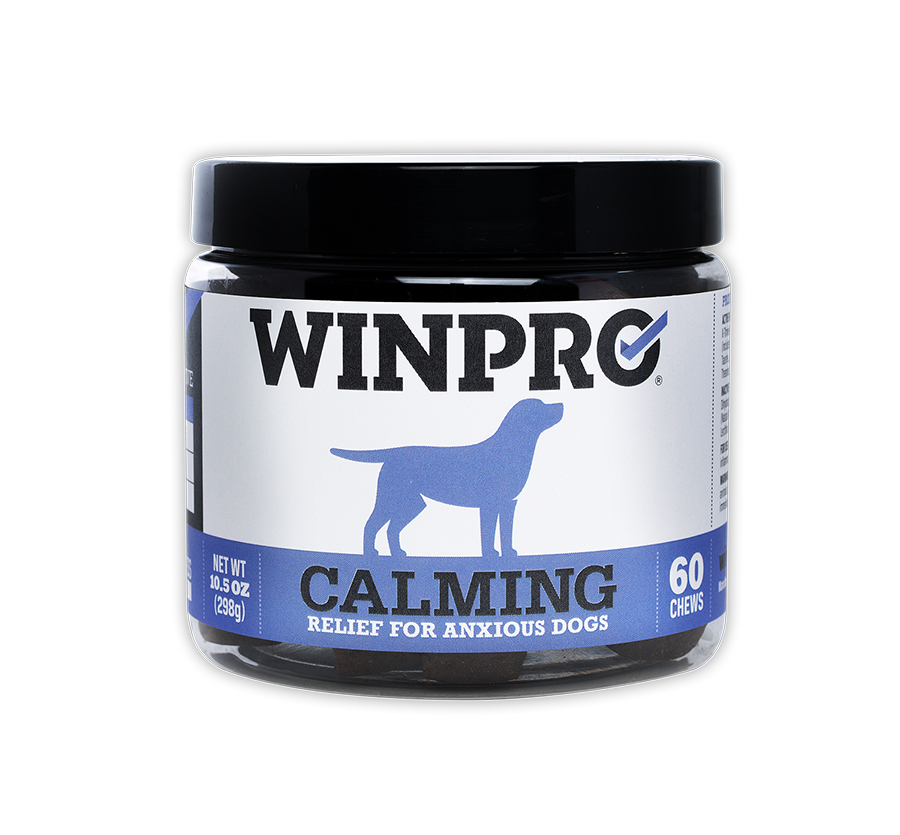 WINPRO CALMING
Is great for dogs that suffer from anxiety and stress.  This product supports a calm disposition without drowsiness.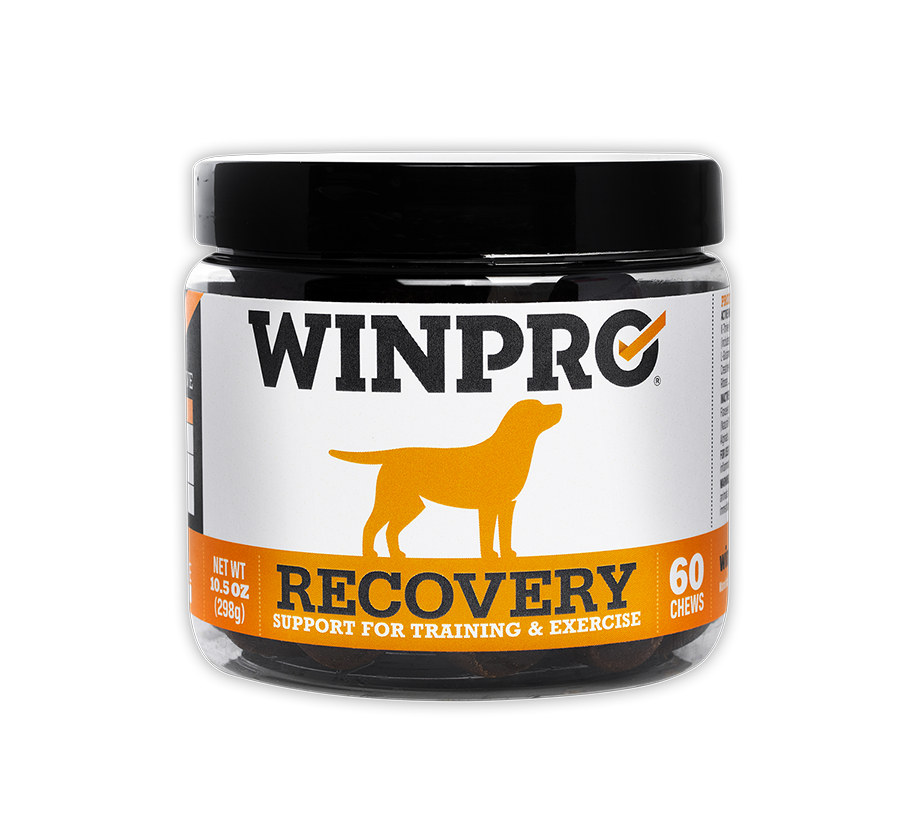 WINPRO RECOVERY
Ideal for hard-working dogs, as it is designed to aid in recovery.  Not only does this soft chew reduce fatigue and support stamina, but it helps to improve physical endurance.
VIEW OUR FAQ GUIDE
We have answers to all of your questions. Did we miss one? Email us at info@winpropet.com
Ultimately, most dogs can benefit from a supplement due to the prevalence of common disorders such as allergies, gastrointestinal distress, and anxiety.  WINPRO supplements are a great choice because they are made in the USA, approved by NASC, and go to work immediately.  Additionally, each supplement can be used in conjunction with one another, as well as with medications.  If your dog has any of the symptoms on this list, consider fighting the problem at the source with WINPRO.