3 Main Types of Supplements for Dogs
The canine supplement industry is booming, thanks to the propensity of pet parents to provide the best care possible.  There are many types of supplements on the market, and the diversity of products can be difficult to navigate. Here, three common types of supplements for dogs will be discussed, including nutritional supplements, nutraceutical supplements, and animal blood proteins.
Nutritional Supplement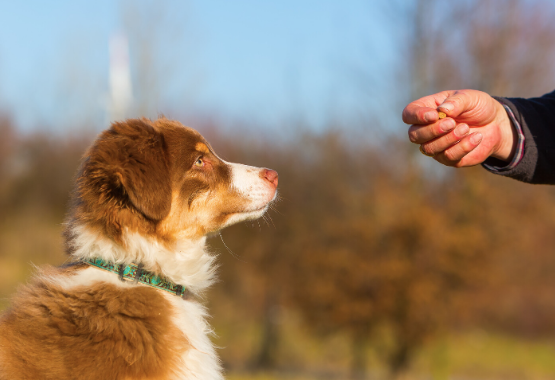 A nutritional supplement (also referred to as a dietary supplement) is perhaps the most traditional type of canine supplement on the market, but also one of the most misunderstood.  This type of supplement is used to boost a dog's dietary nutrients when otherwise not able to be consumed in adequate quantities. Examples of nutritional supplements include vitamins, minerals, amino acids, and proteins, among others.  Typically, nutritional supplements for dogs are taken in tablet, liquid, powder, capsule, or treat form. 
The reasons a dog may require a nutritional supplement are diverse.  For instance, certain nutrients, when provided in large doses, have been suggested to boost a dog's immunity.  Other dogs may be deficient in specific nutrients due to their age, diet, or breed. An example is the Siberian Husky, which may naturally have difficulty absorbing zinc. 
There are precautions that should be taken when providing nutritional supplements to dogs.  Certain vitamins and minerals can be toxic when provided in too large of quantities. For this reason, no supplement should be given to a dog without verification via blood work that a deficiency is present.  Additionally, supplements can adversely interact with medications. A common example is Vitamin E and heart medications. Finally, nutritional supplements may require 6 – 8 weeks to take effect, so pet owners should never expect immediate results.
Nutraceutical Supplement
Another common type of supplement for dogs is a nutraceutical supplement.  A nutraceutical (also called a bioceutical) is a food or food component that provides additional health benefits beyond dietary nutrition.  Nutraceuticals are generally administered as whole foods, such as turmeric, or whole food derivatives, such as Omega-3 fatty acids from fish oil. 
Nutraceuticals may be administered to dogs as a natural alternative to laboratory-produced nutritional supplements (i.e. antioxidants from blueberries as opposed to antioxidants in capsule form), or because of their purported health benefits.  For instance, turmeric may alleviate arthritis pain or improve the efficacy of chemotherapy.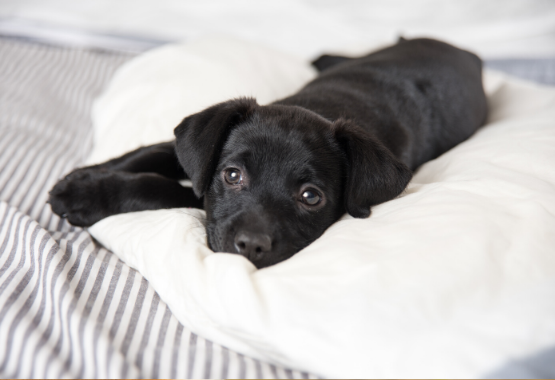 Like nutritional supplements, it should be noted that certain nutraceuticals can interact with medications.  For instance, turmeric can interact with prescription blood thinners and diabetes medications. Additionally, turmeric should not be given to a dog within a month of surgery. 
The supplement industry is highly unregulated.  Pet owners should always use caution when choosing a nutritional/nutraceutical supplement, as supplements have been found in recent years to contain toxic ingredients, or to not contain any of the purported ingredient at all.  The National Animal Supplement Council (NASC) provides a list of companies that have earned their quality seal and whose products can be trusted.
Animal Blood Protein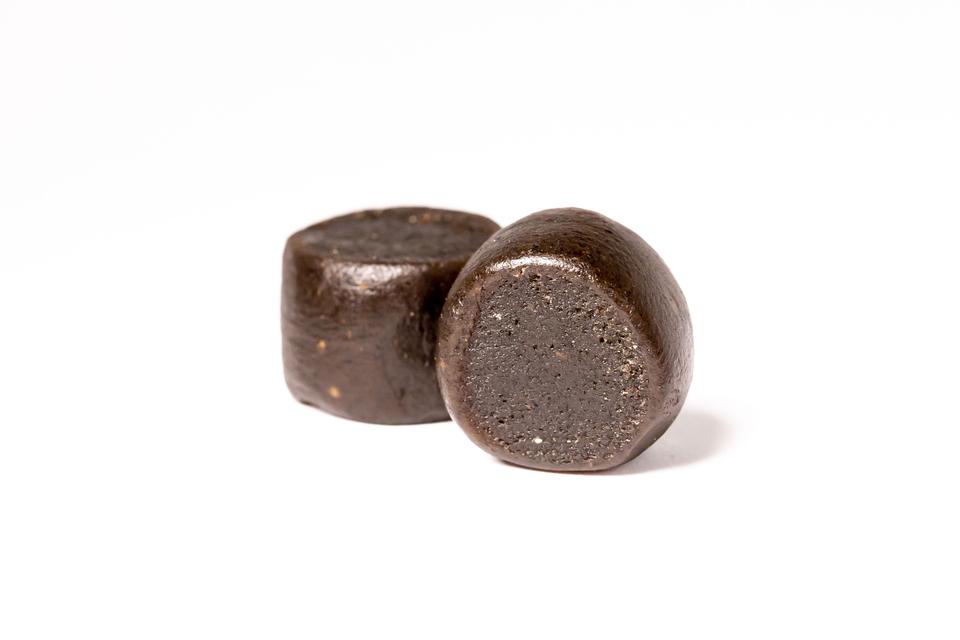 Animal blood proteins do not fall under the category of nutritional nor nutraceutical supplement.  Instead, animal blood proteins are derived from animal blood and contain a natural matrix of concentrated blood fractions including serum, plasma, Immunoglobulin-A, Immunoglobulin-G, and albumin.  The benefit of animal blood proteins is that they have highly anti-inflammatory properties that are fast-acting and have no side effects. At present, WINPRO is the only company to produce animal blood proteins for dogs, which are available in the form of a soft chew. 
The reasons to use animal blood proteins are diverse.  Many canine diseases and behavioral problems are caused by chronic inflammation.  Animal blood proteins immediately fight inflammation at the source, and improvements can be observed in a dog's condition within days.  Pet parents use animal blood proteins to combat leaky gut syndrome, anxiety, arthritis and joint pain, environmental allergies, food allergies, stress, poor exercise recovery, and chronic gastrointestinal problems.
Unlike nutritional and nutraceutical supplements, there are no side effects associated with animal blood proteins.  They can safely be used in combination with other supplements and veterinarian-prescribed medications. Additionally, WINPRO products carry the NASC Quality Seal.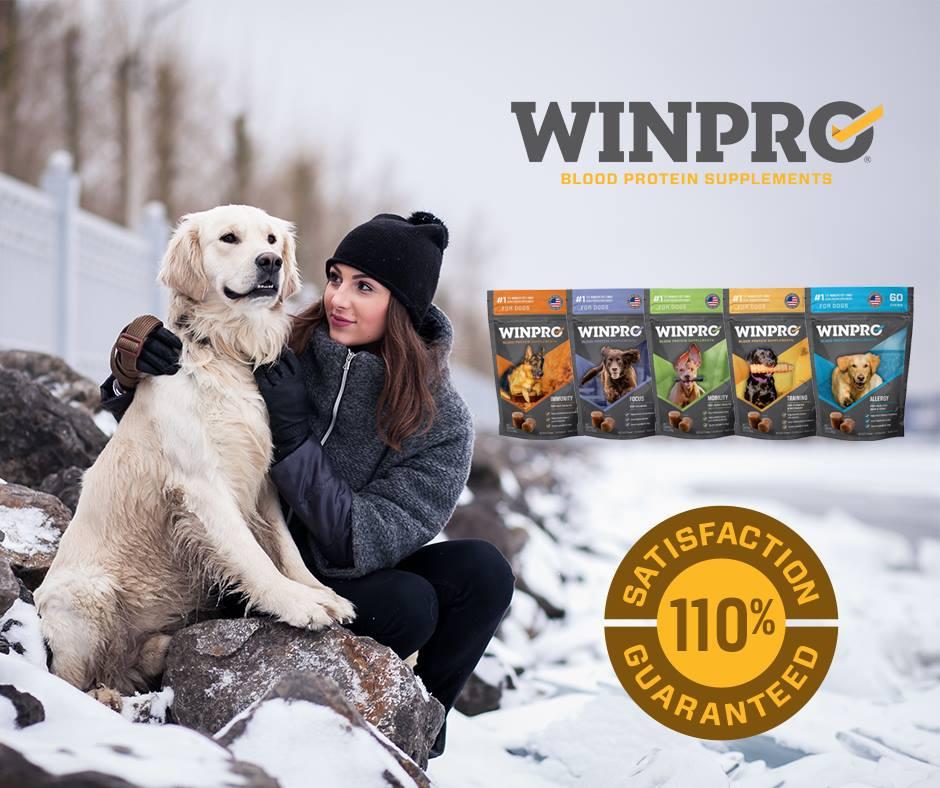 Pet owners have many options to choose from when purchasing a supplement for their pet.  However, choosing the right supplement for your dog's condition and understanding any potential side effects or interactions is crucial.  Quality is also of utmost importance, as lead contamination has been a concern in recent years in popular nutraceuticals.  Ultimately, the best supplement for your pet is one that is safe, has no interactions with your dog's current medications, and effectively treats or prevents the cause of your pet's health condition.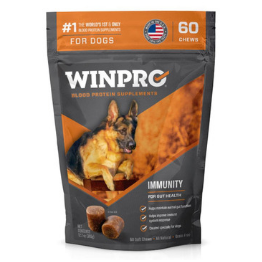 WINPRO IMMUNITY contains a blend of animal blood proteins and other key ingredients to help dogs combat the negative effects of stress and inflammation. WINPRO Immunity is specifically formulated to help boost your dog's defense against things that can undermine its immune system. By promoting a healthy gut, WINPRO Immunity helps dogs of all ages —especially during times of travel, stress, competition, etc.