7 Ways to Relieve Your Dog's Allergies
Are allergies making your dog miserable?
Do you hate seeing them suffer with itchy ears, runny eyes, and inflamed skin?
We feel your pain. We're dog people here at WINPRO Pet, and we can't stand seeing our dogs uncomfortable.
Here's the problem: treating animals can be trickier than treating humans. For one thing, dogs can't tell us what's wrong, and that makes it a lot harder to figure out where the problem lies.
There's also the issue of medications.
You need to be careful when giving any sort of human drug to your dog. Dogs can react differently to medications than we do. On top of that, you have to be mindful of the dosage, since dogs generally weigh less than we do.
So with that said, what's the best way to treat your dog's allergies?
Well, we've done the research and compiled what we believe are the 7 most effective treatments for allergies in dogs. In this post we'll share all 7, in order from least recommended to most recommended.
Before we get into the details, here's a chart summarizing our results:
1: Corticosteroids
Safety rating: 2/10
Effectiveness rating: 9/10
Convenience rating: 4/10
Total score: 15/30
Corticosteroids can be quite a powerful treatment to help reduce inflammation and reduce allergy symptoms like itchy skin.
However, they're not particularly convenient (you'll need a prescription) and more importantly, they can come with some significant long-term side effects. You always want to be careful when taking steroids, and the same is true for dogs.
For short-term use, steroids are relatively safe. But if taken too long, they can lead to UTIs, poor skin or coat, poor wound healing, obesity, increased susceptibility to infections, and more.
Obviously your goal is to keep your dog healthy. So with that in mind, while steroids can be very effective, we recommend limiting their use unless it's absolutely necessary.
2: Apple Cider Vinegar
Safety rating: 8/10
Effectiveness rating: 2/10
Convenience rating: 6/10
Total score: 16/30
Proponents of "natural" allergy remedies often mention apple cider vinegar (ACV) as a good treatment for allergies in dogs. Depending on who you talk to, they might recommend feeding it to your dog orally or using it topically on itchy skin.
We tried using a spray bottle made from 50/50 water and apple cider vinegar, and it's hard to tell if it really worked. There seemed to be some benefit from using it, but it was fairly short-lived. On the plus side, it's safe and very easy to use. So if your dog happens to respond to ACV better than ours do, this could make for a convenient solution.
3: Hypoallergenic Shampoo
Safety rating: 10/10
Effectiveness rating: 5/10
Convenience rating: 3/10
Total score: 18/30
Anyone with a cat allergy knows that petting a cat and then rubbing your eyes is a recipe for redness and itching. The reason is because when you pet a cat, your hands pick up the cat's dander—that's the stuff people are allergic to—and putting that dander on your skin or eyes can lead to serious irritation.
The same idea applies to your dog's allergies. If your dog is allergic to something outside, like pollen, they can get all kinds of pollen on their skin from running around outside and playing. That pollen will cause itchiness and discomfort on their skin.
One solution for this is to give your dog regular baths using a hypoallergenic shampoo. This will help to wash the dander, pollen, and other allergens off your dog's skin to provide relief.
It's a safe and mild treatment that works somewhat well, but only for allergens that happen to be on your dog's skin. It's also quite time-consuming to have to give your dog frequent baths.
4: Antihistamines
Safety rating: 4/10
Effectiveness rating: 8/10
Convenience rating: 7/10
Total score: 19/30
Most of us have taken Benadryl at some point in the past. It's an effective over-the-counter medication that can help relieve allergy symptoms like itchy skin, runny nose, swelling, and sneezing.
Benadryl (also called diphenhydramine) is one of the few drugs that is commonly given to dogs. As long as it's given as directed, it's a safe and effective treatment for allergies. But it's not an ideal long-term solution, and here's why:
First of all, like all medications, it can have side effects. Bendadryl can cause drowsiness, dry mouth, increased heart rate and/or rapid breathing, urinary retention, and more. Plus, it's also possible for dogs to overdose on Benadryl.
Then there's the practical consideration of time. A dose of Benadryl only lasts for 6 hours or so. Which means that unless you're willing to give your dog 3-4 doses a day, every day, Benadryl just isn't a good long-term solution.
But for temporary relief of acute symptoms, it makes a great band-aid.
5: Immunotherapy
Safety rating: 8/10
Effectiveness rating: 10/10
Convenience rating: 2/10
Total score: 20/30
If you've never heard of immunotherapy for allergies, it's the process of receiving a series of shots that contain the allergen(s) your dog is allergic to. So if your dog is allergic to pollen, for instance, they might get a weekly shot that contains small amounts of pollen. Over time, the veterinarian gradually increases the pollen in the shot.
This helps your dog to build up a tolerance to the substance so that they're no longer bothered by the natural pollen they might encounter outside.
It's a very effective treatment. However, it's also incredibly inconvenient (not to mention expensive). It also takes time to see results—anywhere from 6-9 months before you'll start to notice a difference.
6: Blood Plasma Injections
Safety rating: 10/10
Effectiveness rating: 8/10
Convenience rating: 3/10
Total score: 21/30
Blood protein injections are one of the lesser-known treatments for dog allergiens, and that's a shame—because blood proteins are one of the most revolutionary advances in animal health over the past 100 years.
Blood protein injections started as a treatment for farm and work animals. They've been used to help keep piglets alive during times of stress, and to help keep work horses healthy during times of extreme physical exertion. It's also been used to improve the health of calves, lambs, kids, goats, fish, and more.
Blood proteins work by reducing inflammation, which is one of the primary causes of health issues contributing to allergies. They're highly effective and safe—the major downside is that you'll have a hard time finding a vet who is able to provide this treatment.
But fortunately, you don't have to. Because there's a new way to give your dog the benefits of blood proteins, and it takes the top spot in our list:
7: Plasma-Infused Soft Chews
Safety rating: 10/10
Effectiveness rating: 8/10
Convenience rating: 10/10
Total score: 28/30
Now there's a way to give your dog the highly effective, safe, and healthy benefits of blood proteins—without having to seek out an expensive and hard-to-find treatment from a vet. The solution: blood plasma-infused soft chews from WINPRO.
By taking delicious & healthy dog treats, then infusing them with blood protein-rich plasma, we make it easy to give your dog the tremendous benefits of this revolutionary treatment. Just give your dog two treats a day…and that's it! Your dog will start feeling the benefits of this life-giving treatment within a few days.
Here at WINPRO, we're the only company in the world to offer a line of plasma-powered health products formulated especially for dogs.
And we've formulated an all-natural soft chew intended specifically to provide relief from itchy, irritated skin. Go here to learn more and purchase now.
WINPRO Allergy helps reduce inflammation, relieves itchy and irritated skin, and promotes healthy skin and coat.
And unlike most of the other treatments on this page, these plasma-infused chews target the source—not just the symptoms. They're backed by over 40 years of conclusive scientific research and proven to work in over 300 university studies.
There are thousands of dog parents like you who continue to post rave reviews like these:
Try WINPRO Allergy Today
If your dog is suffering from allergies, we can't recommend WINPRO Allergy highly enough. It contains the blood plasma that travels through your dog's circulatory system to deliver healing antibodies to inflamed areas of the body and reduce symptoms like itching and sneezing.
It works as both a remedy that relieves symptoms now, and a preventative measure that helps stop them from coming back.
In addition, our Allergy formula also contains:
Pineapple stem

to promote healing and calm inflammation

Nettle root extract

to minimize pain and soothe irritation

Plant-based quercetin

to act as a natural, side-effect-free antihistamine
This 100% natural & safe product is tested under strict USDA & FDA regulations to guarantee you're giving your dog the safest, healthiest treat we can create.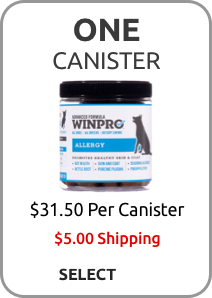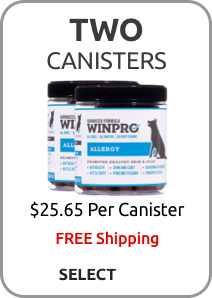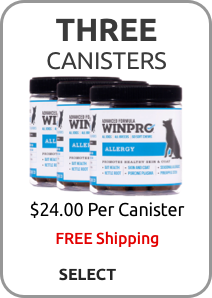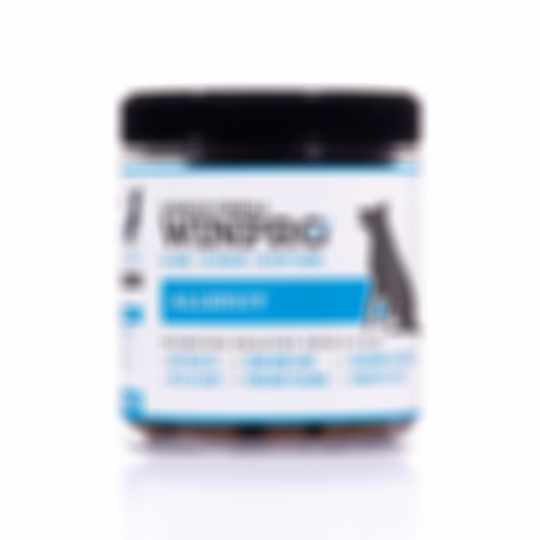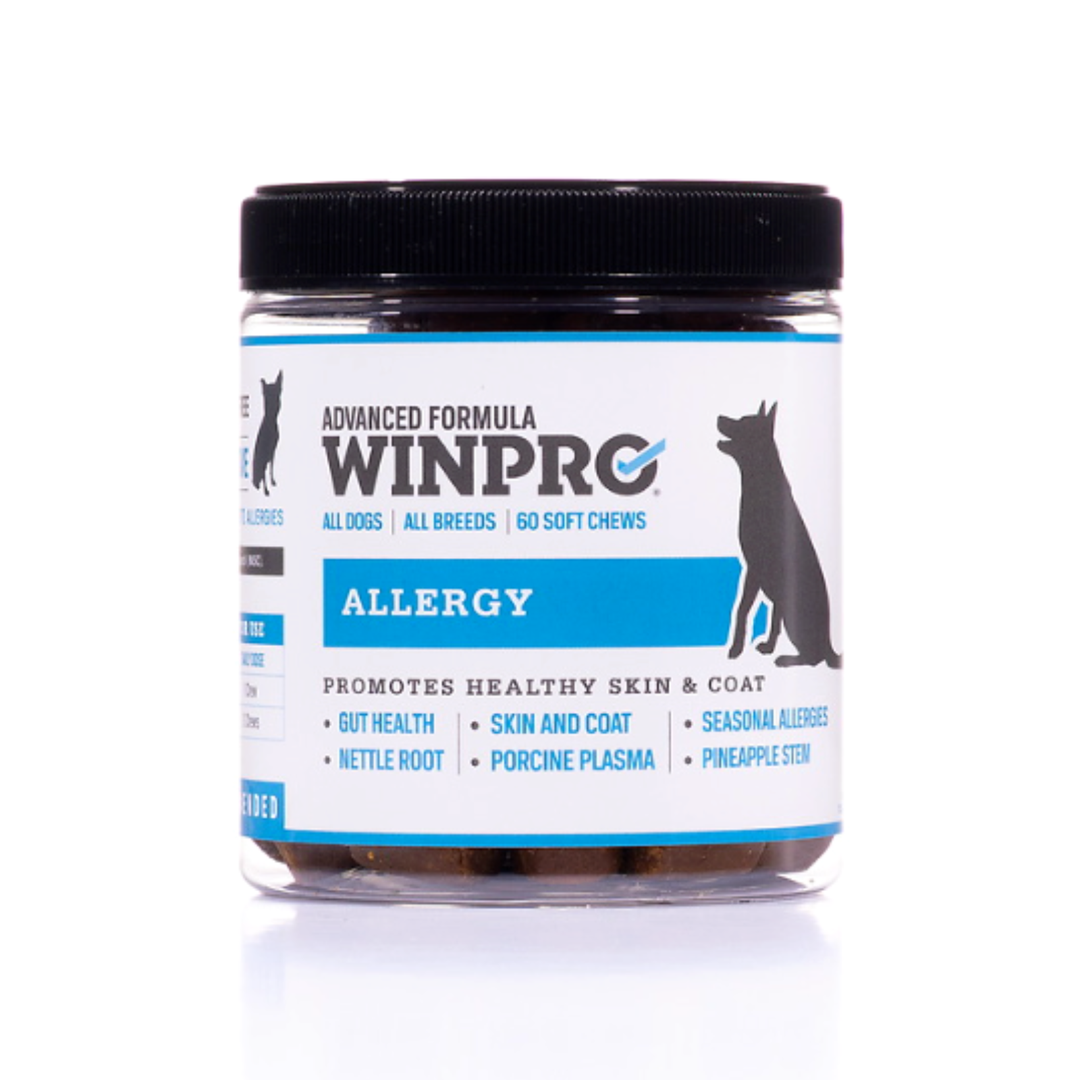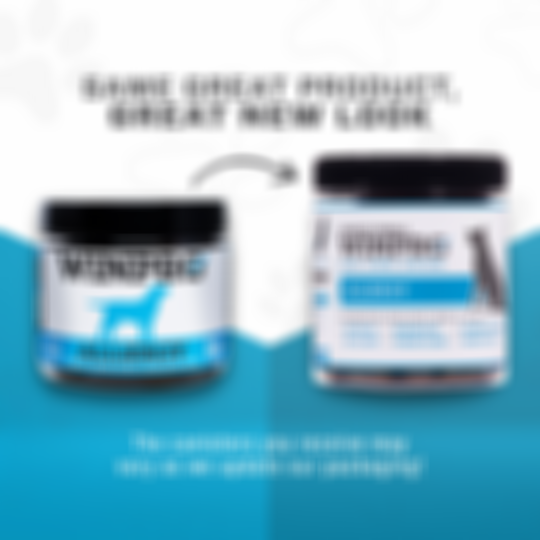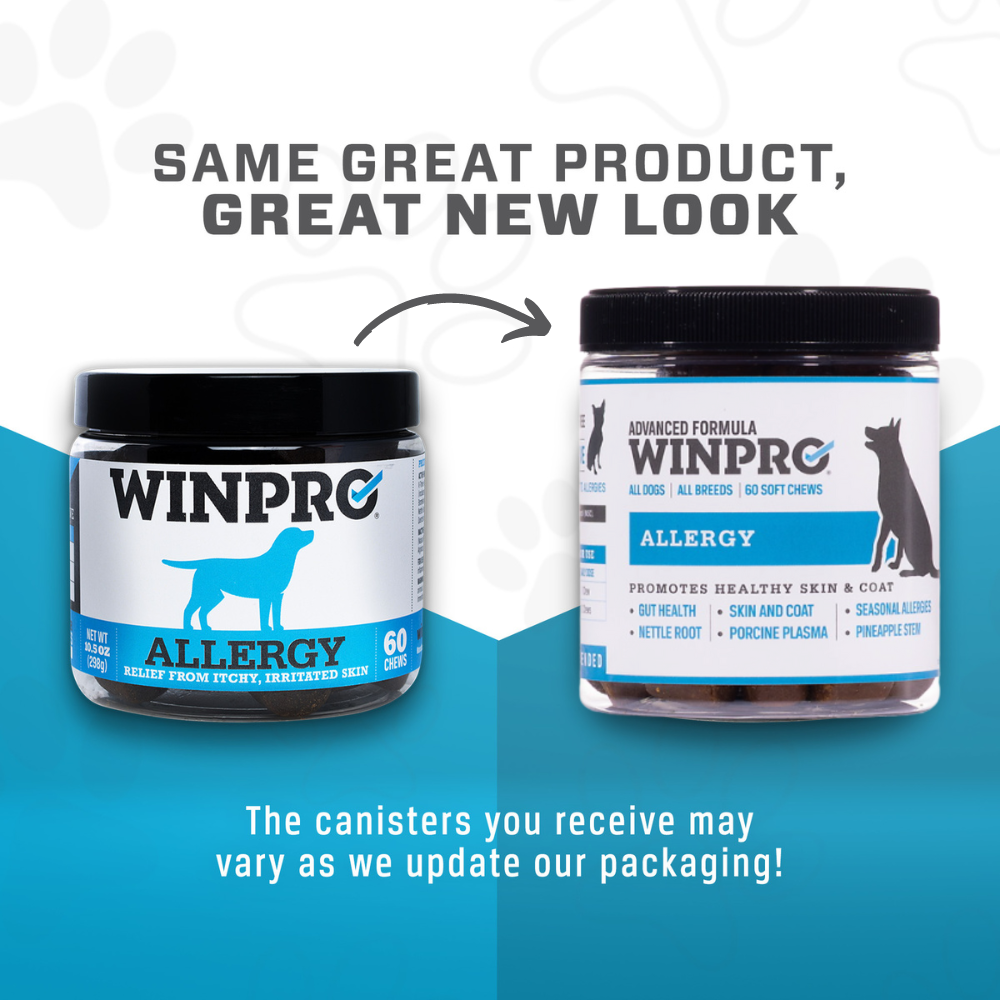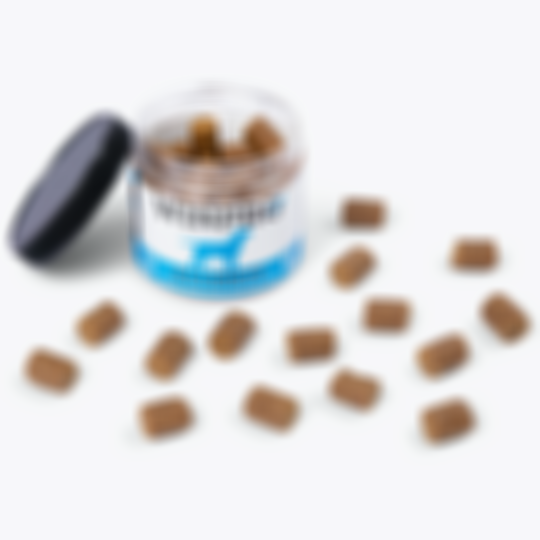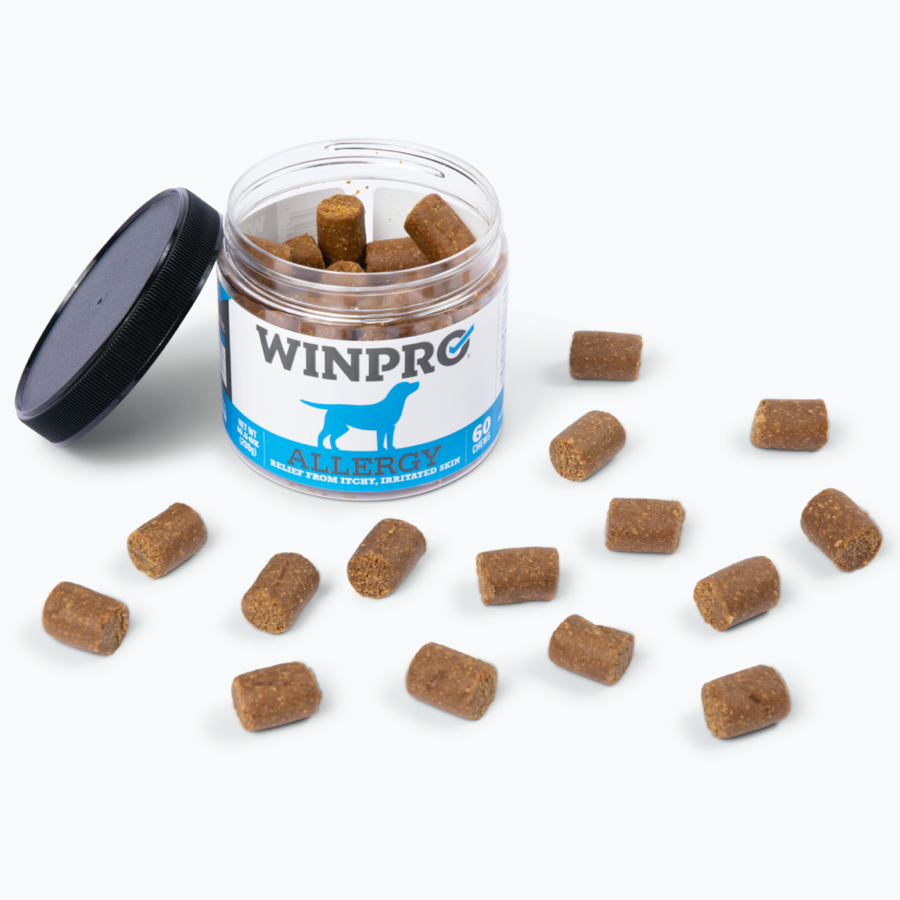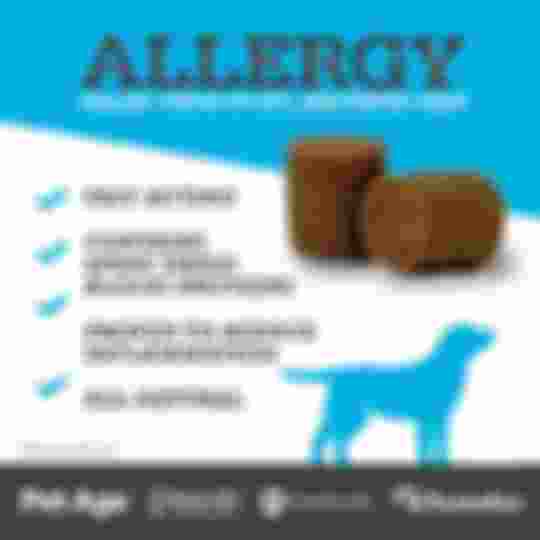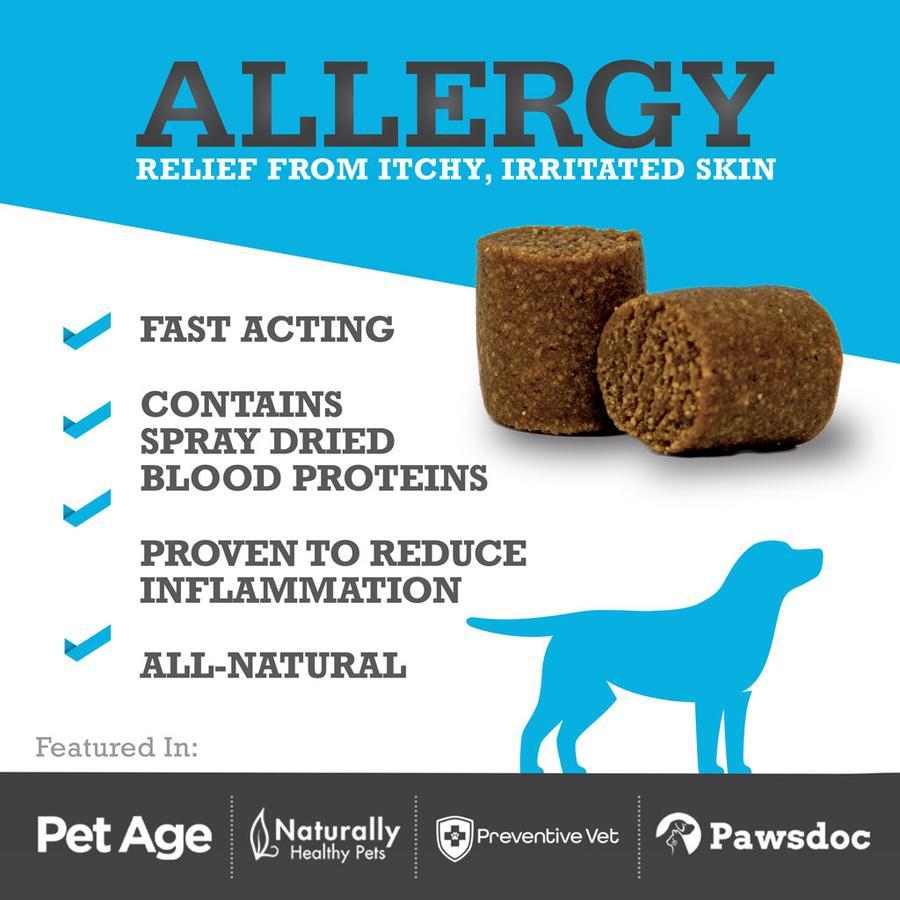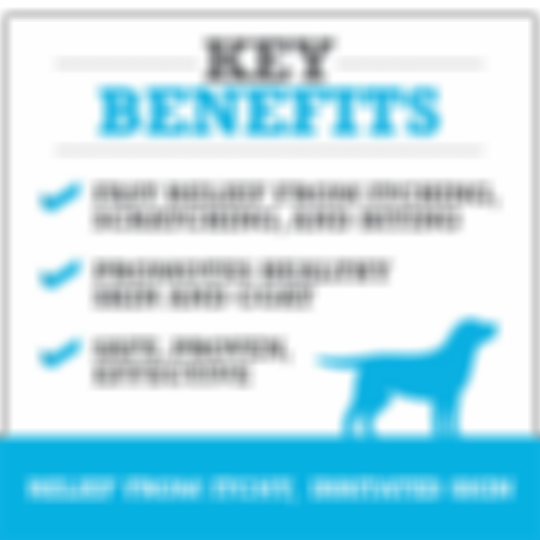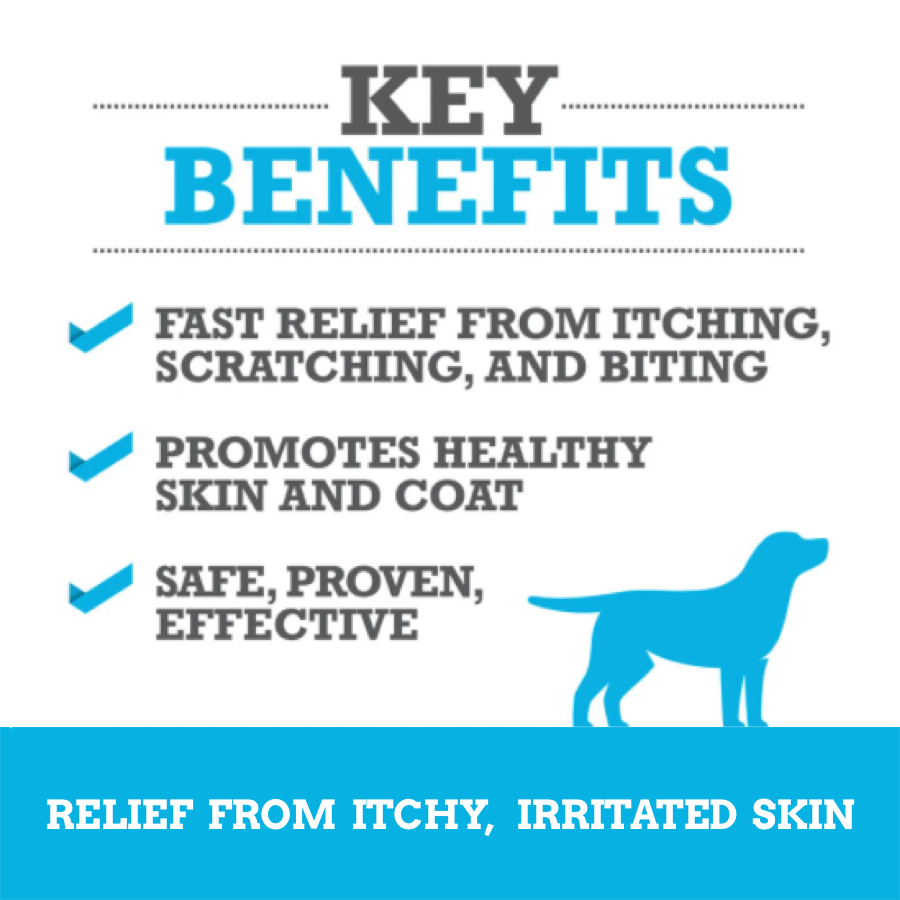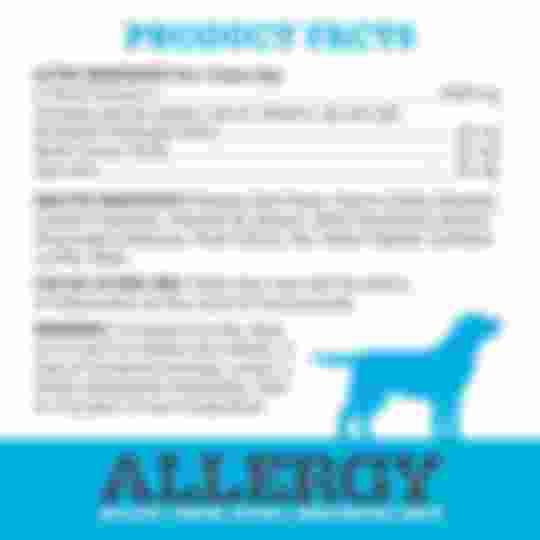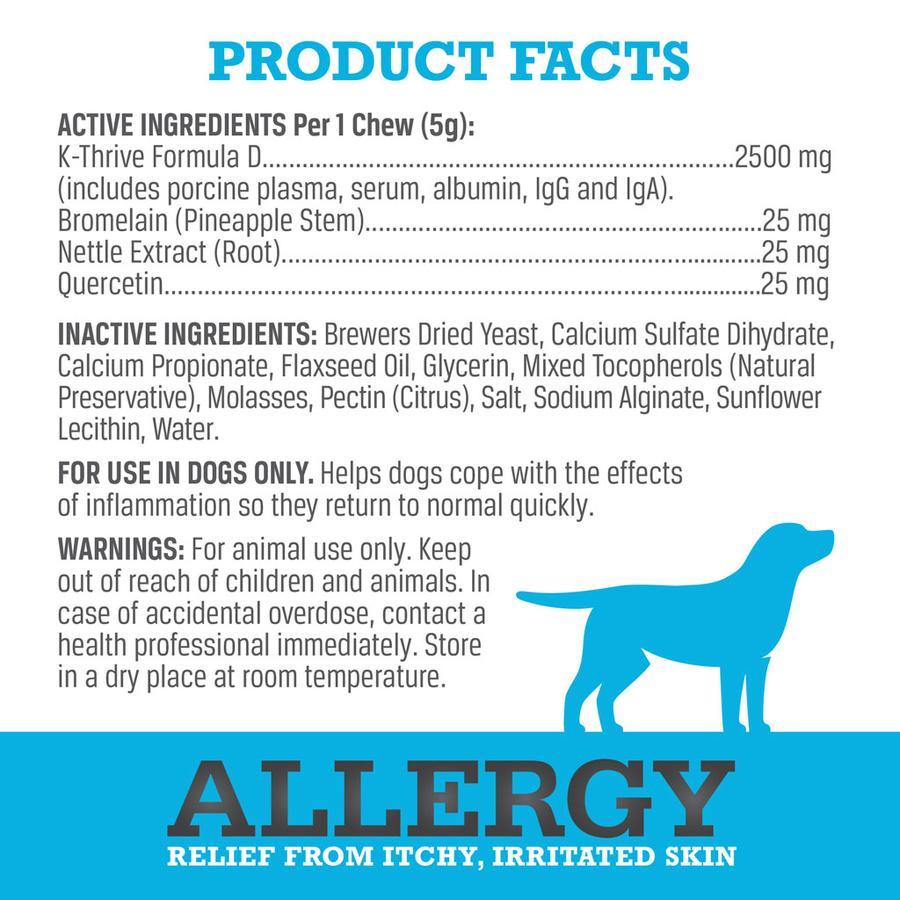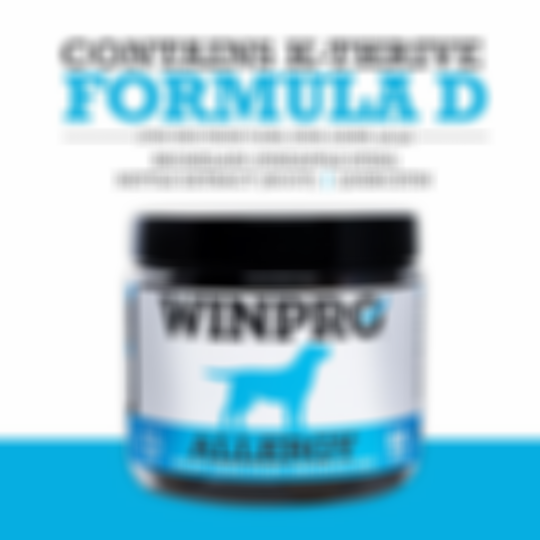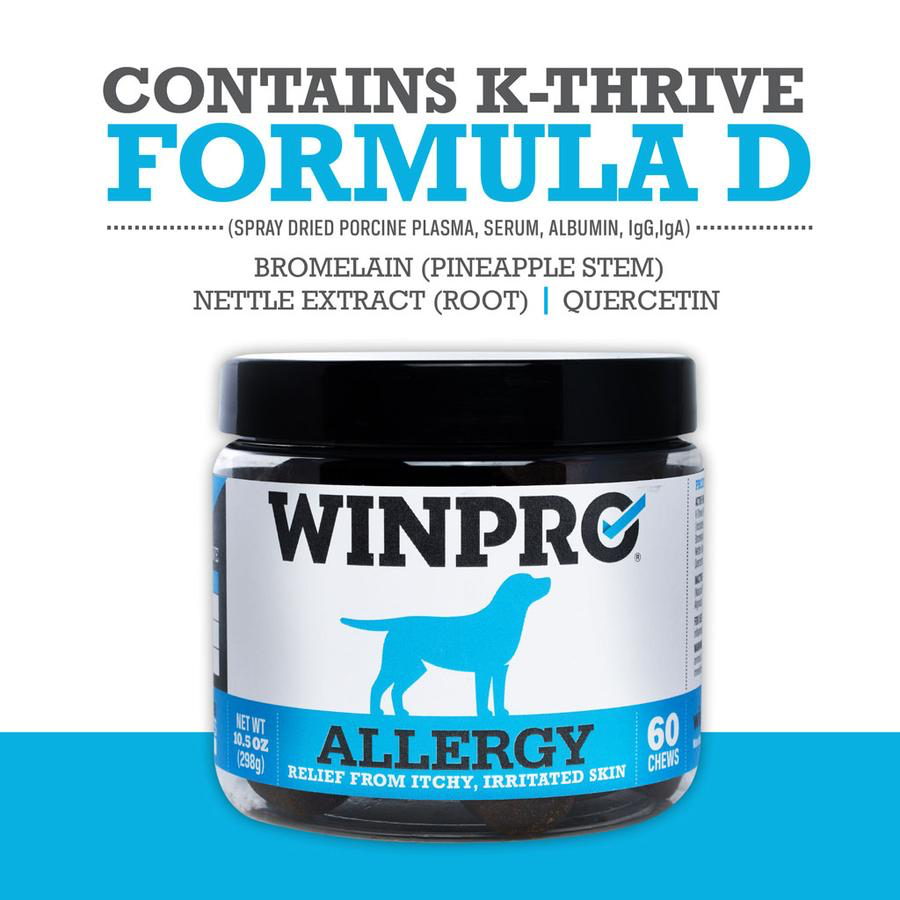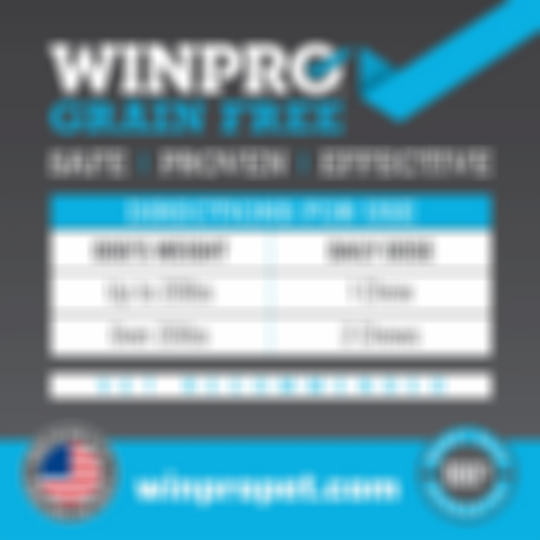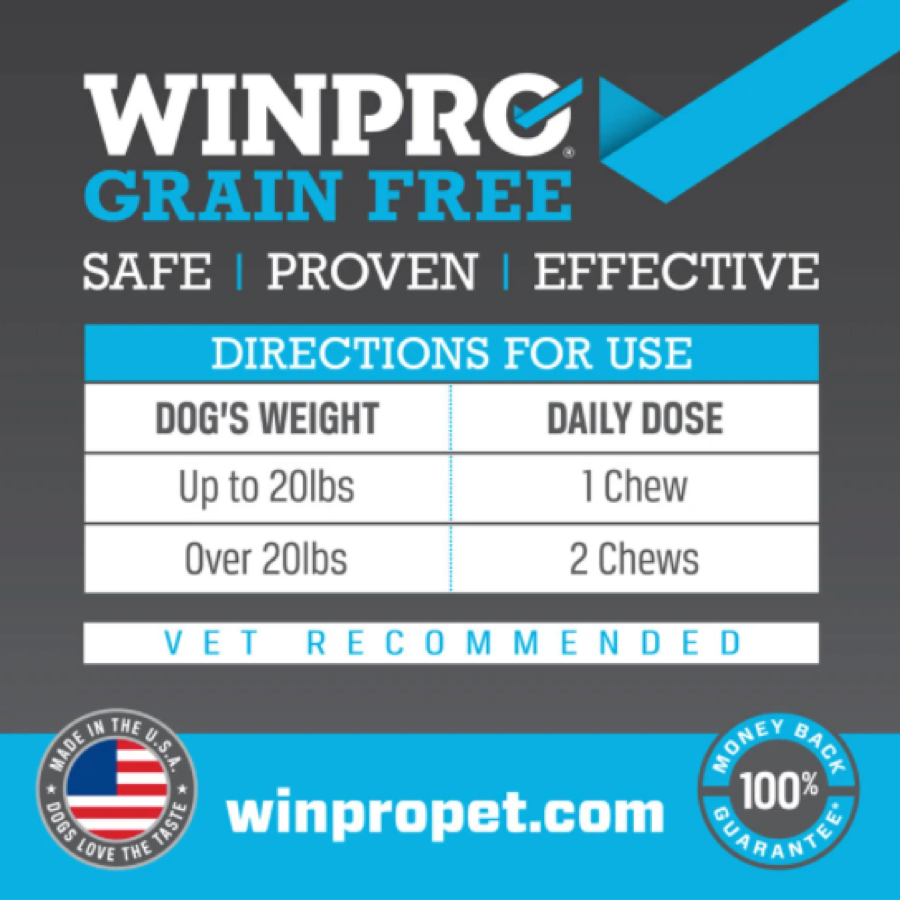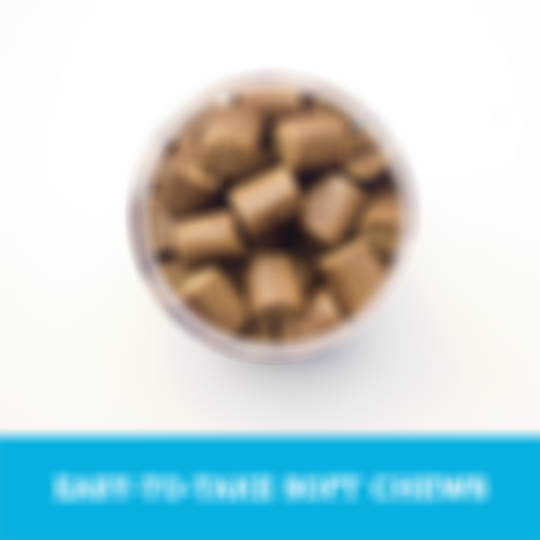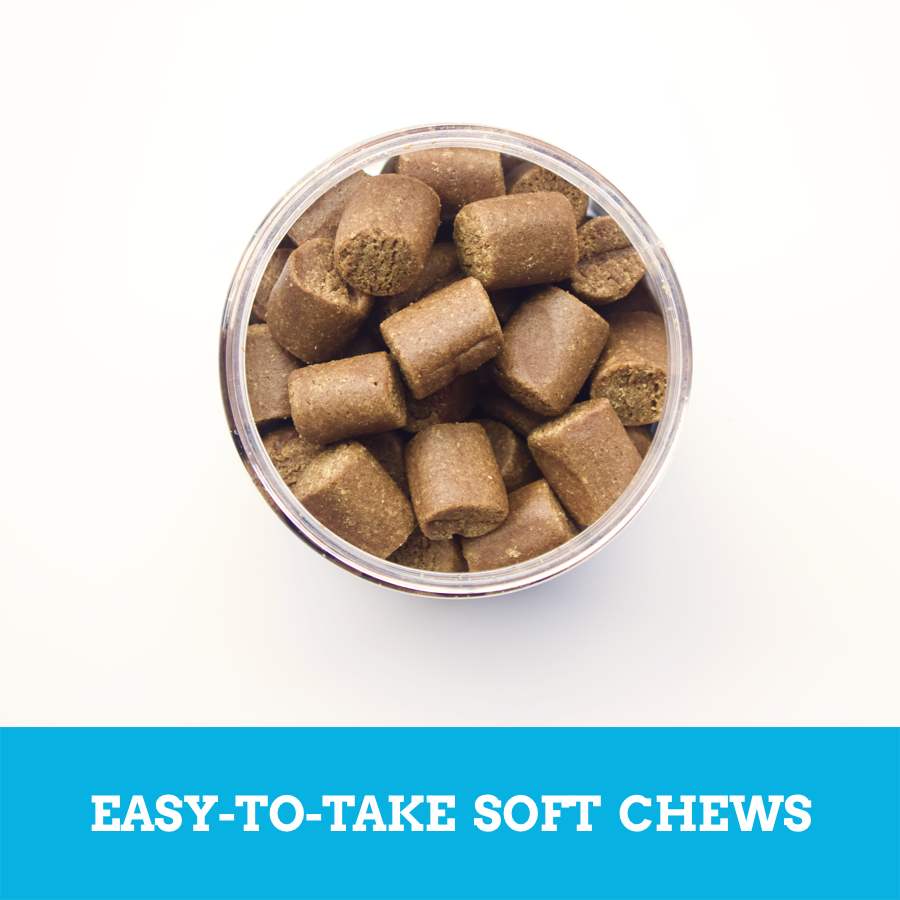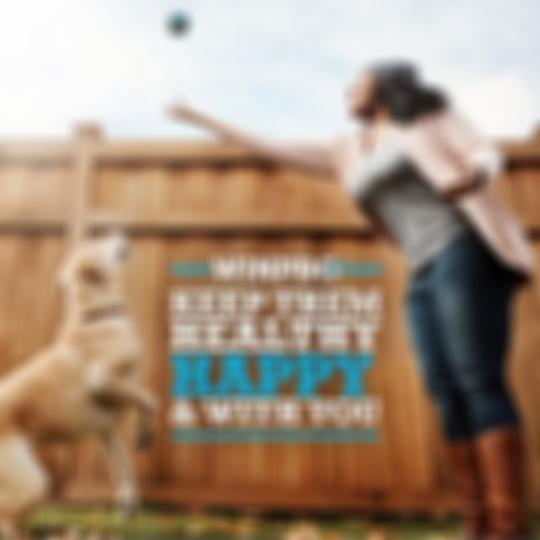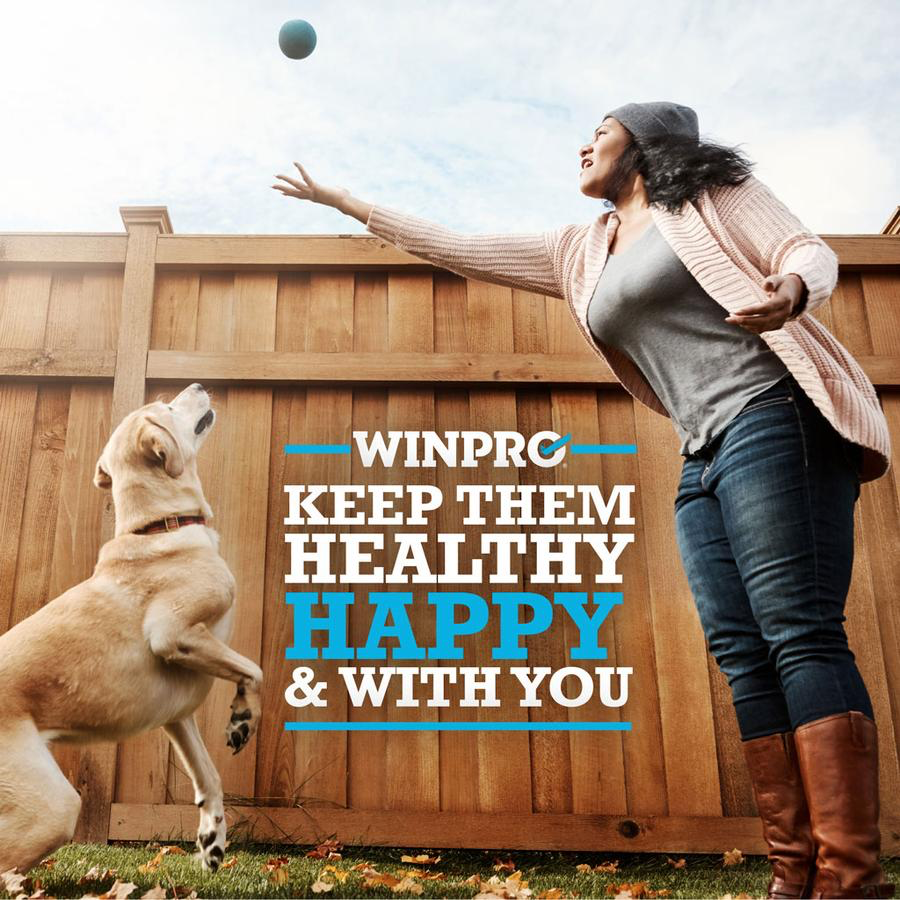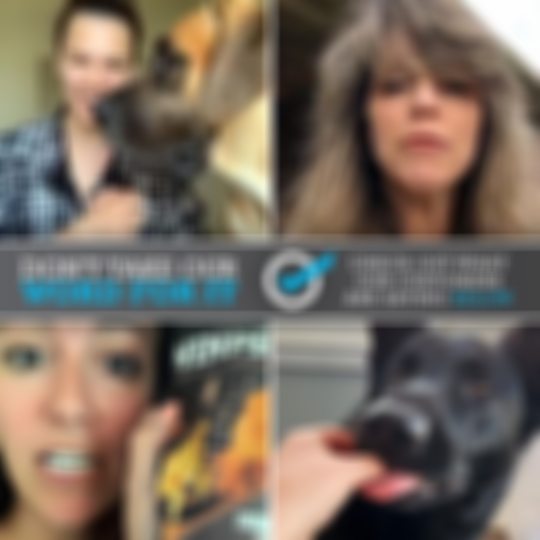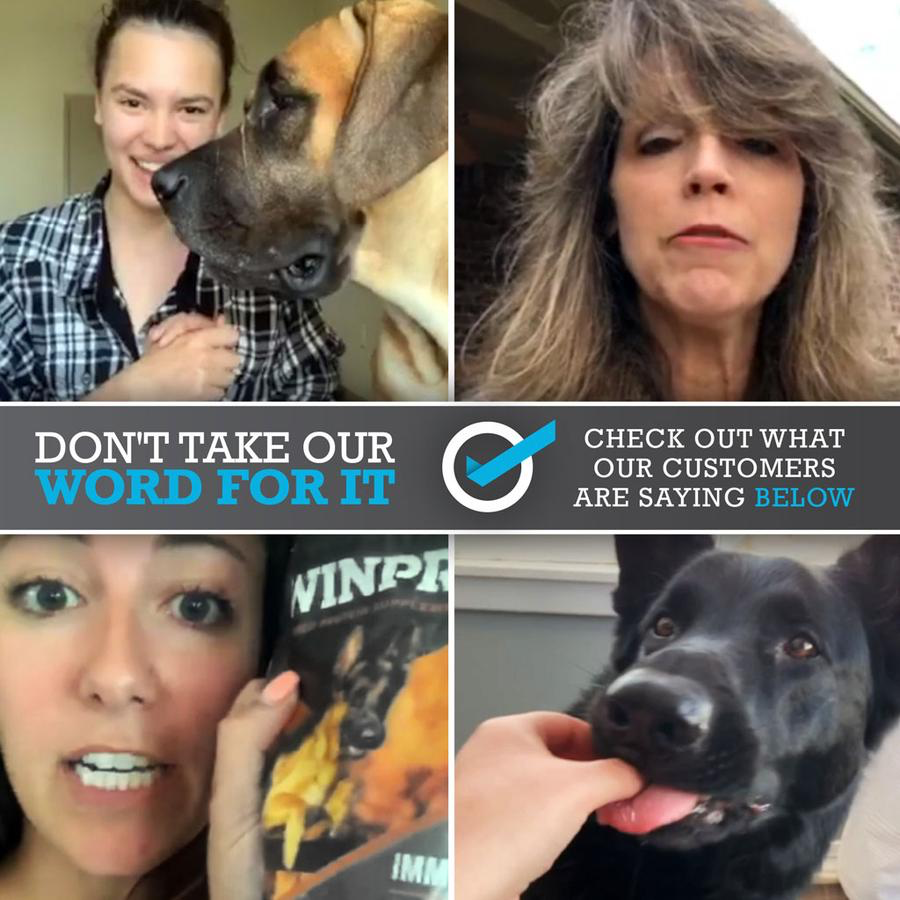 Fast-Acting
Allergy Relief Chews
Exclusive Facebook Offer Only

100% Money Back Guarantee • Made in the USA 🇺🇸

Exclusive Facebook Offer Only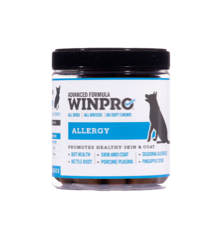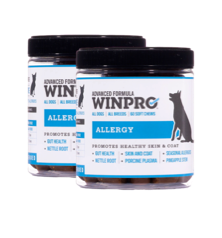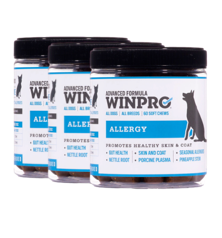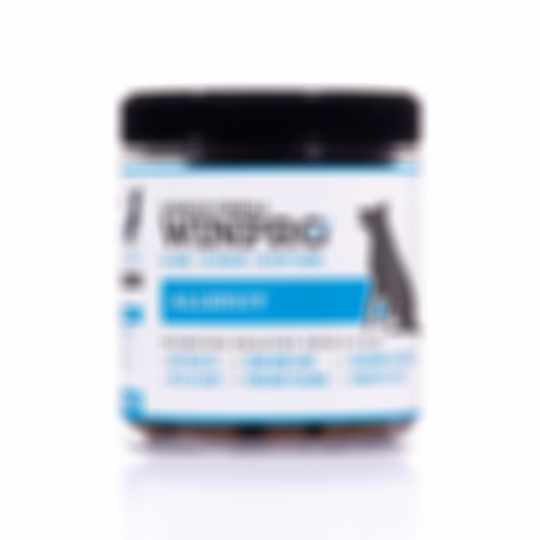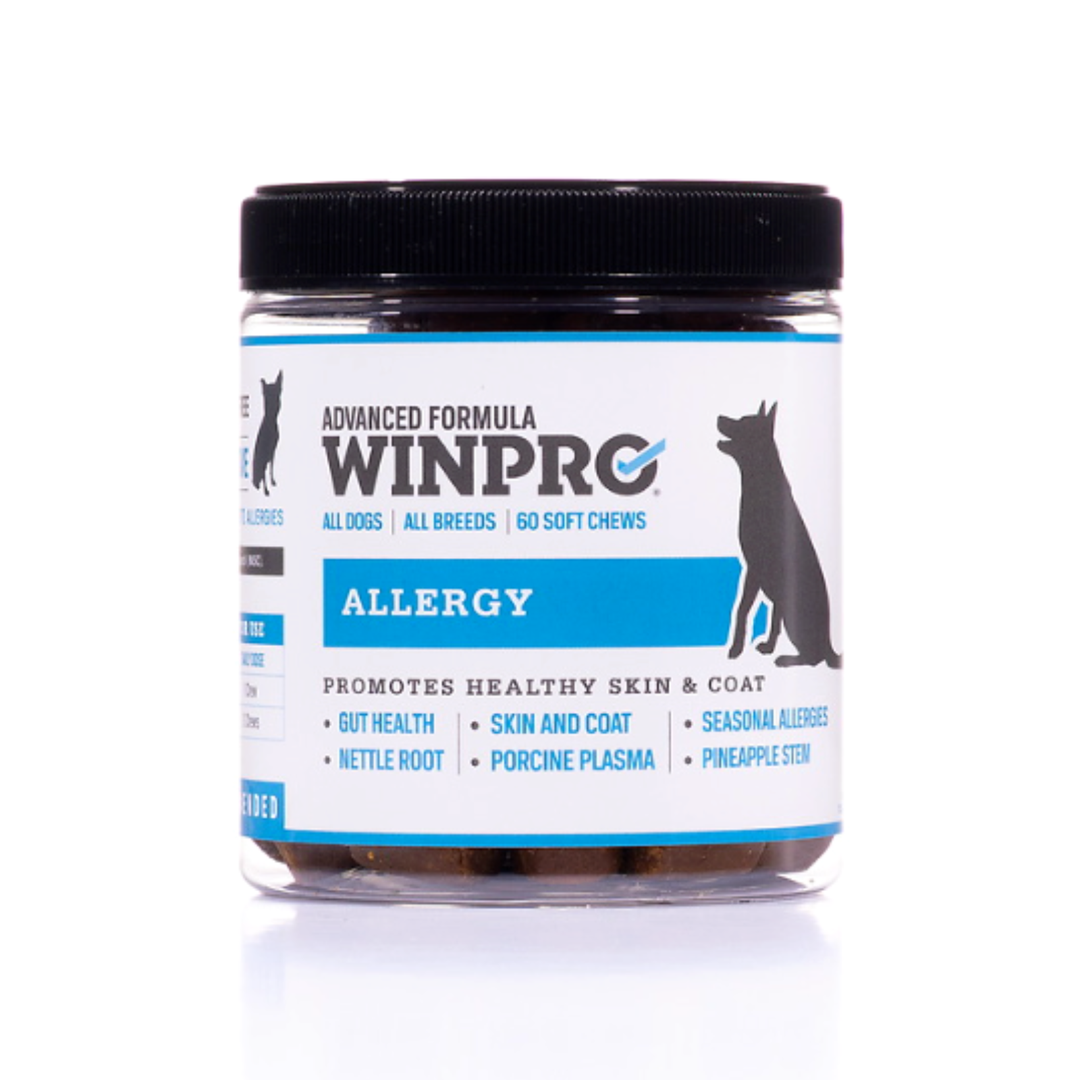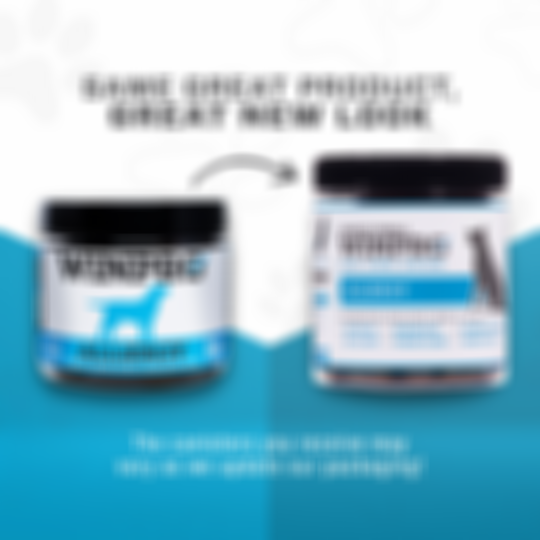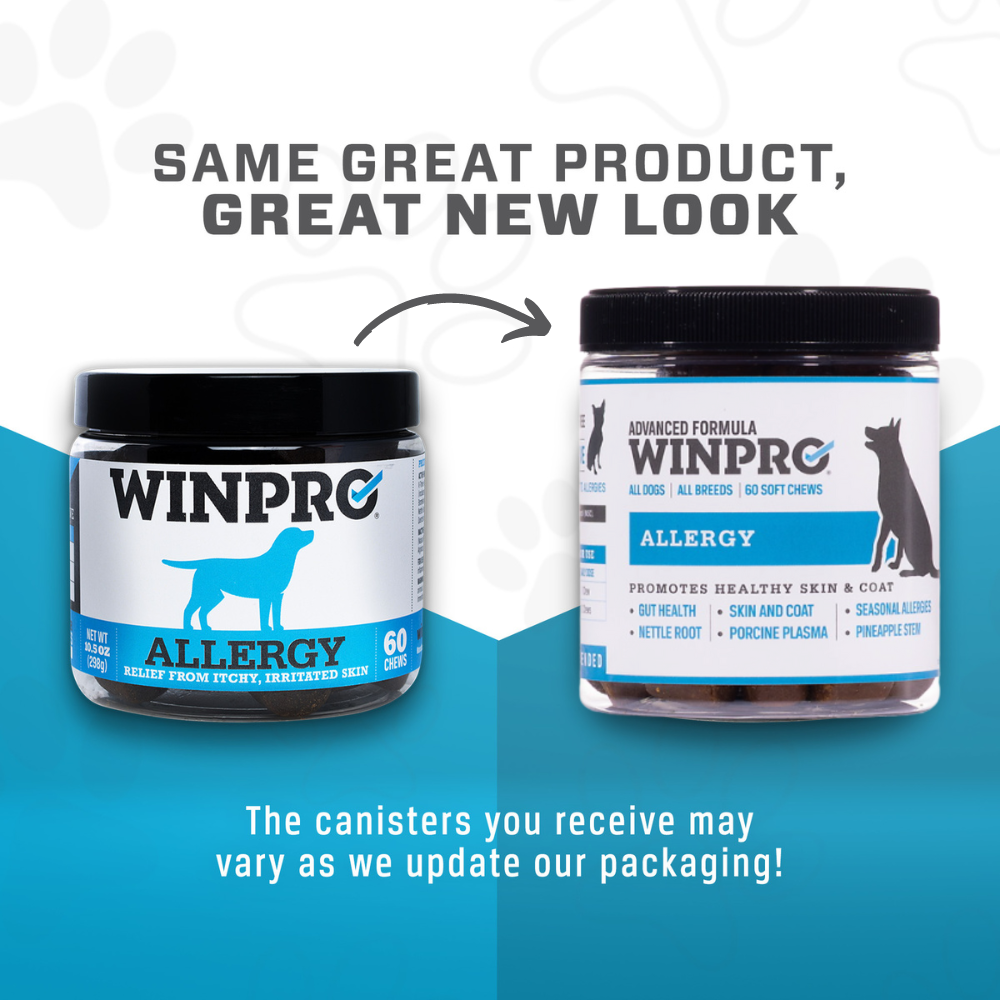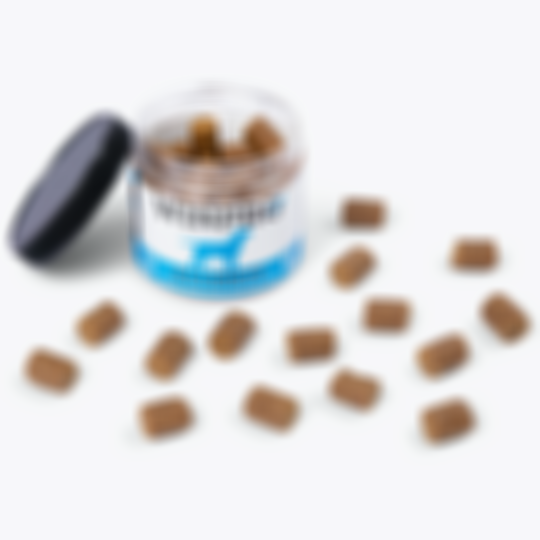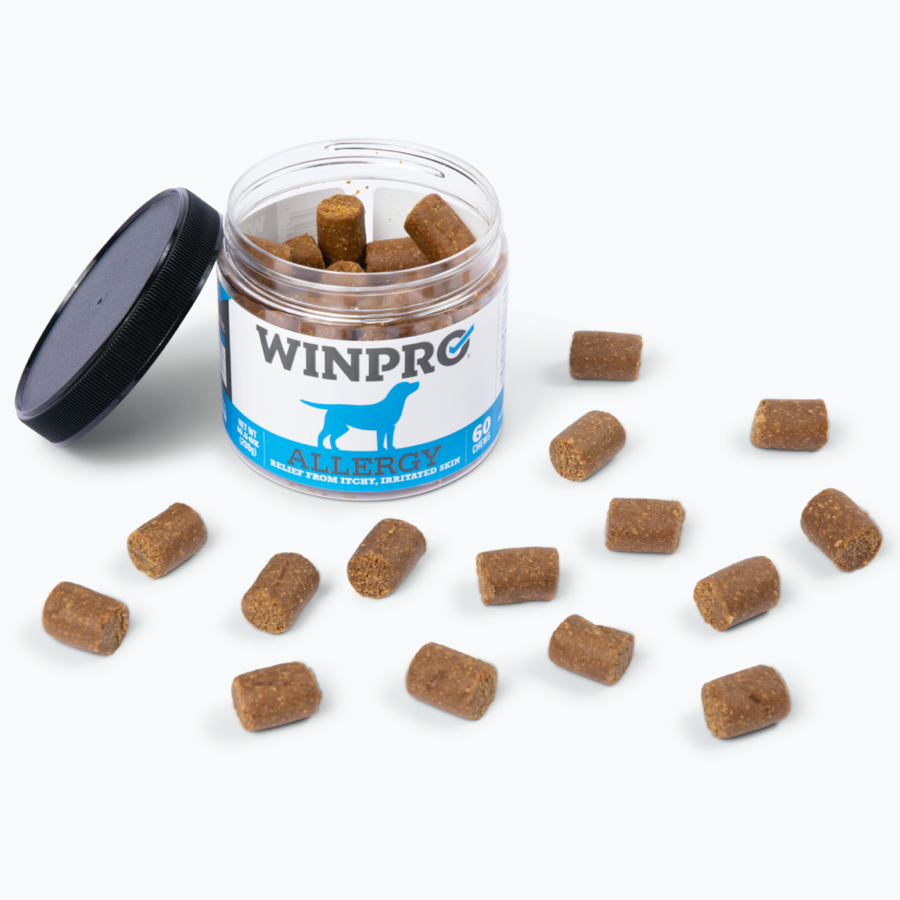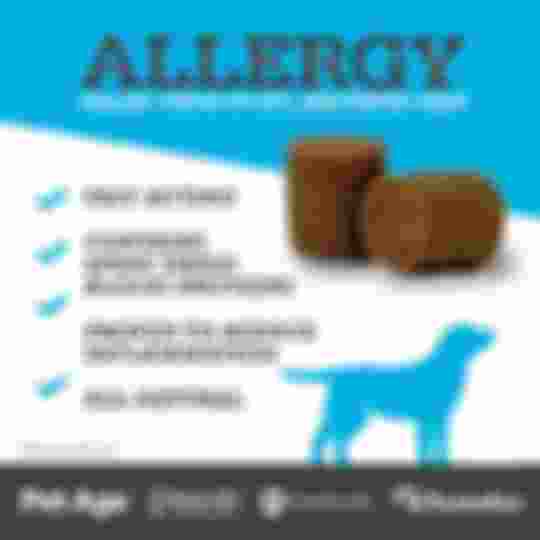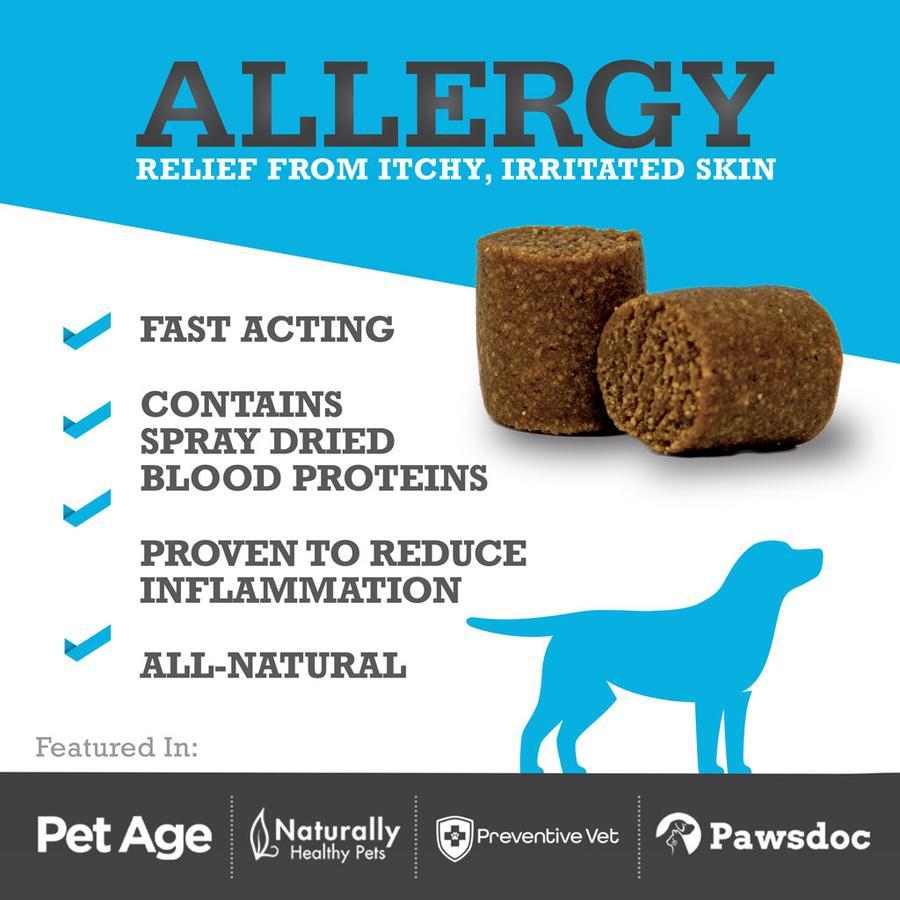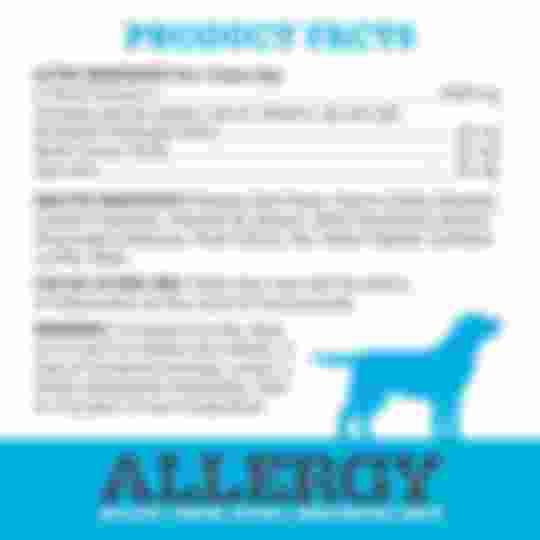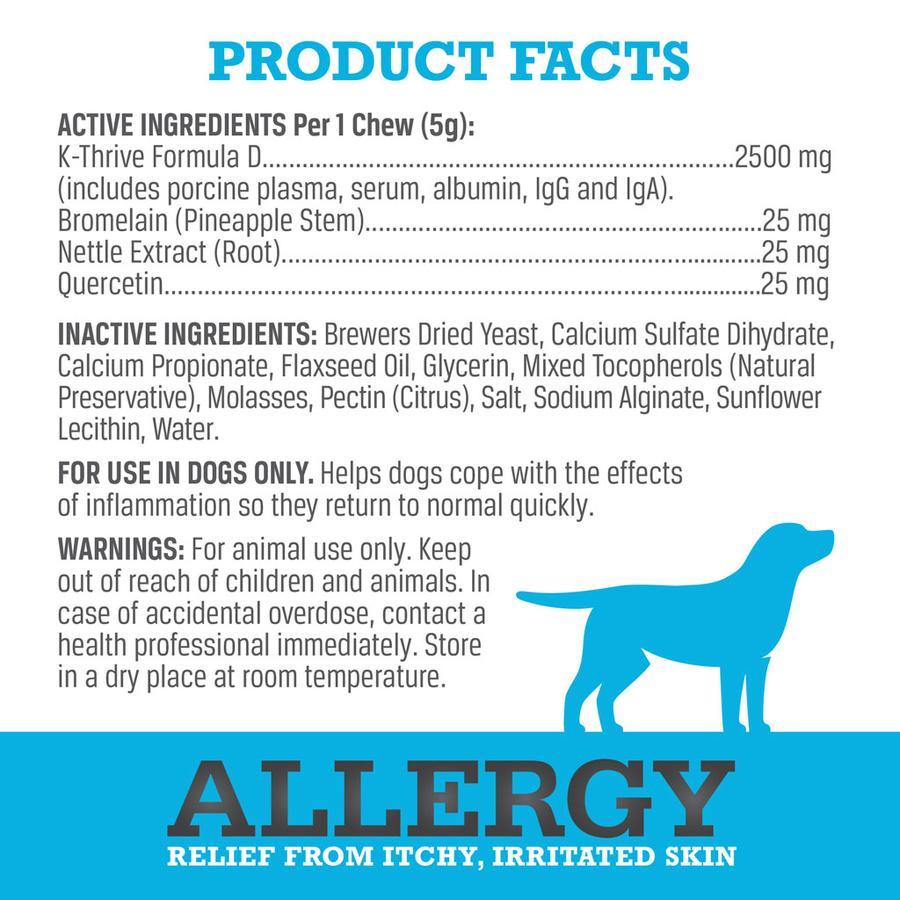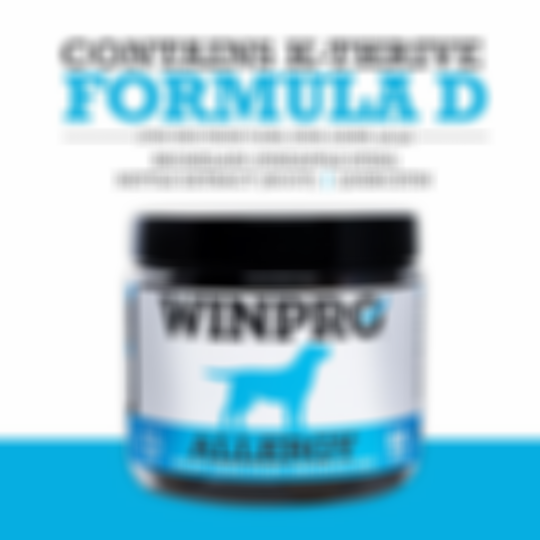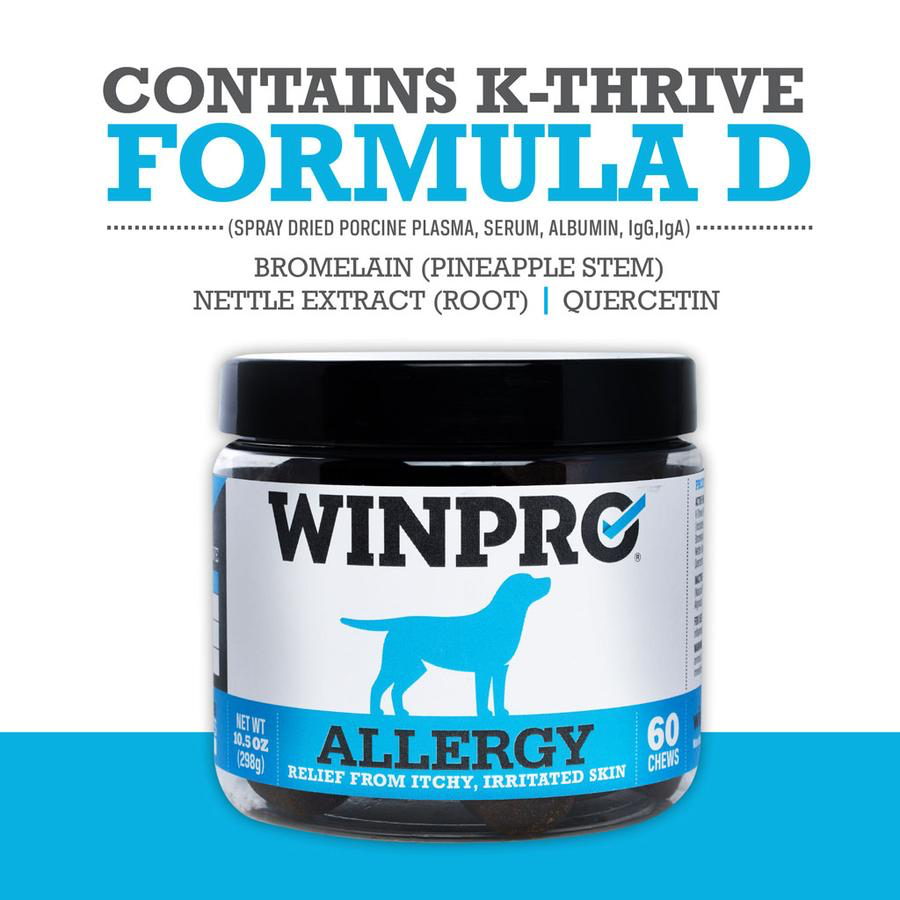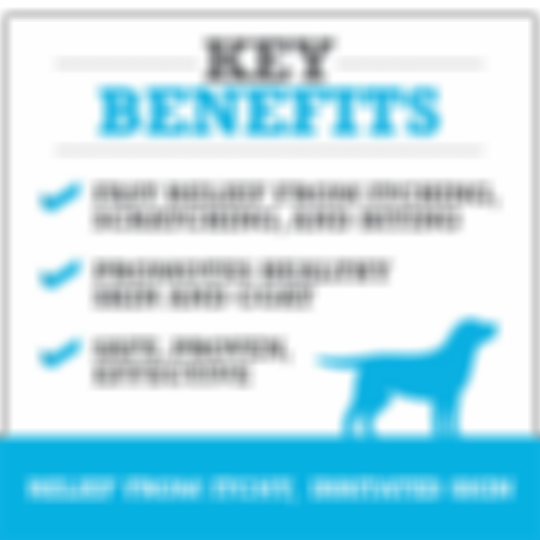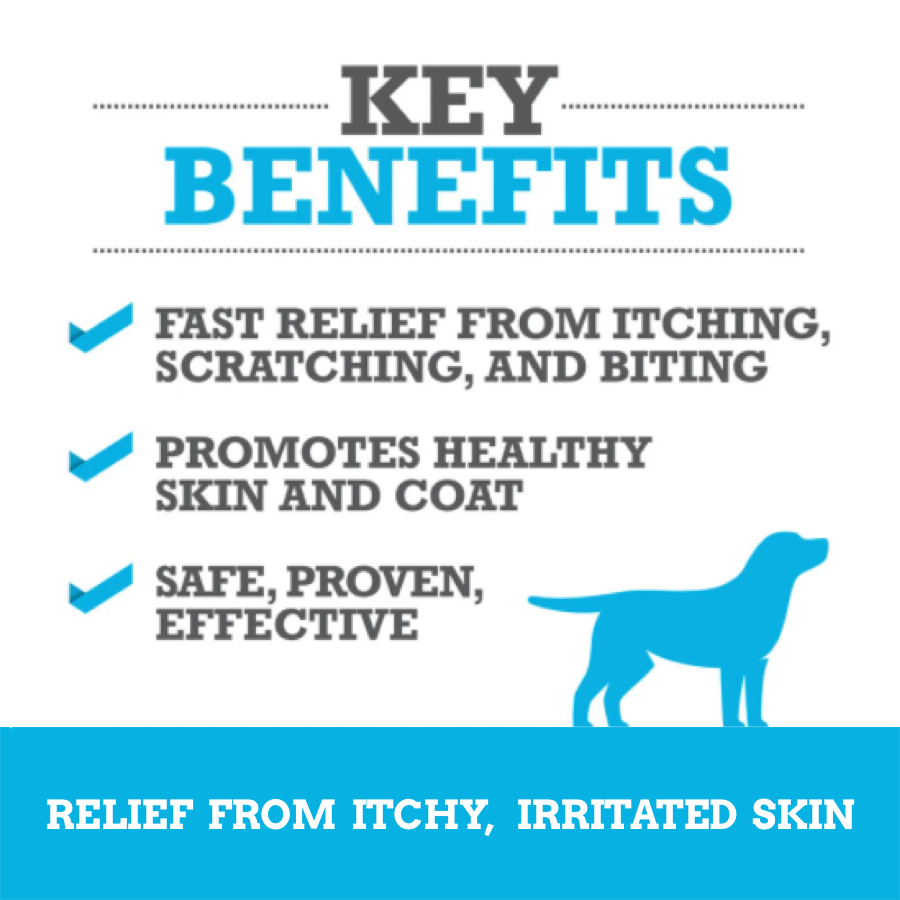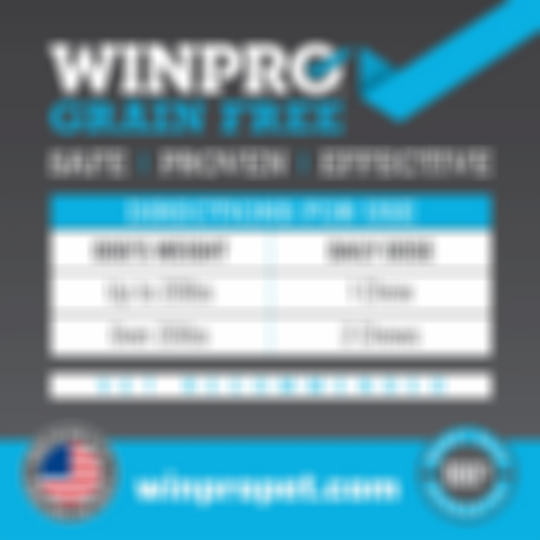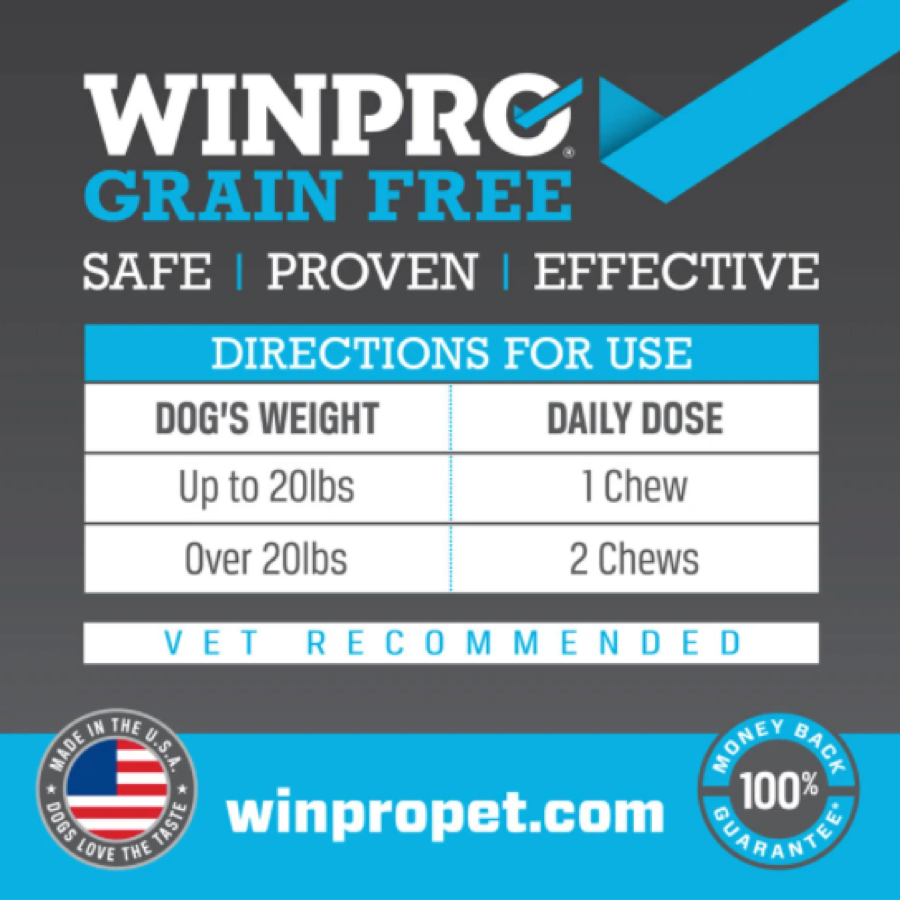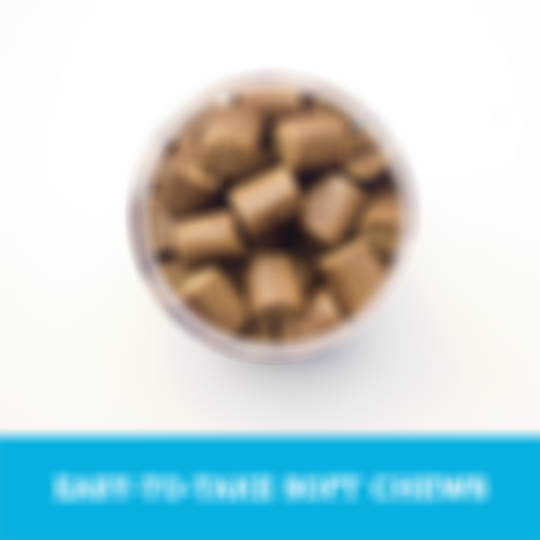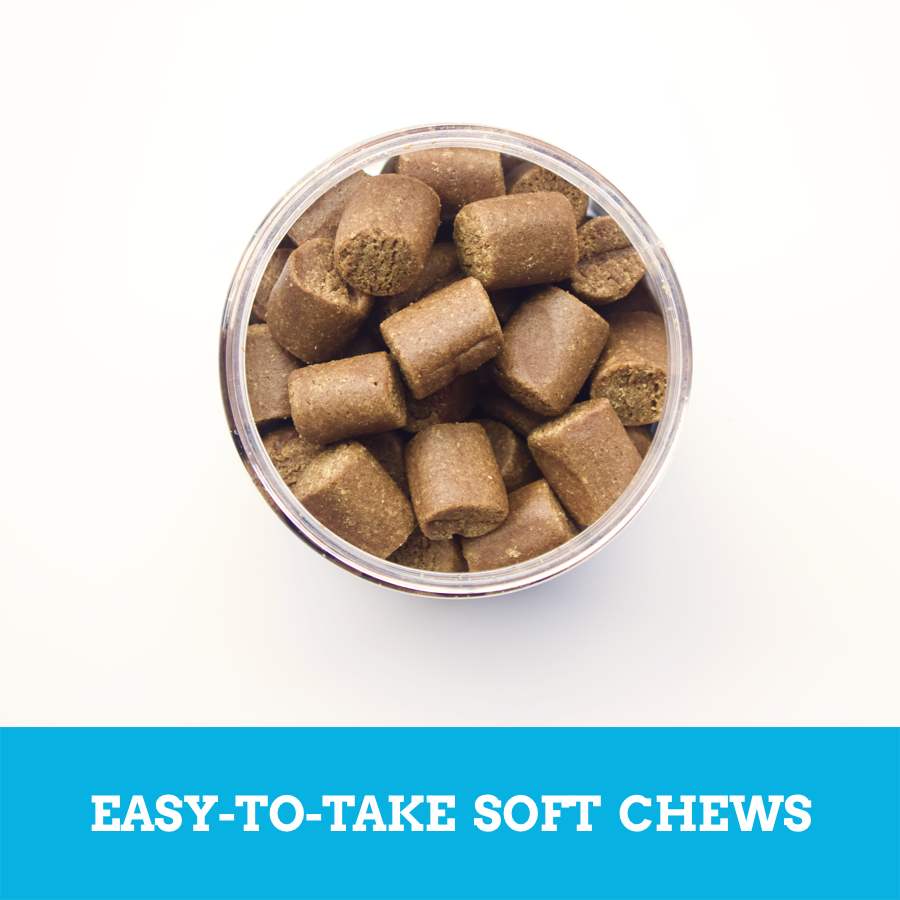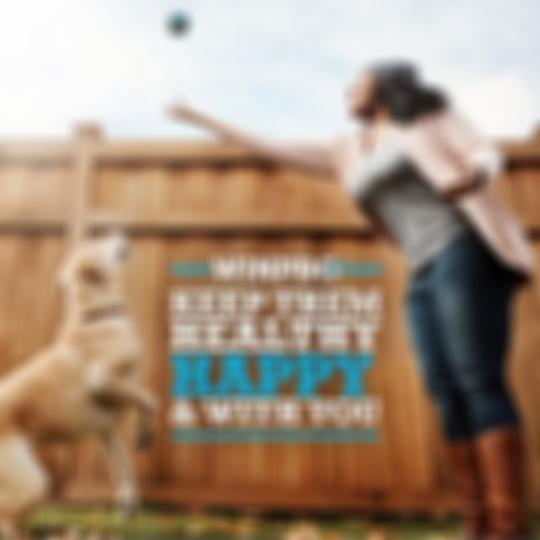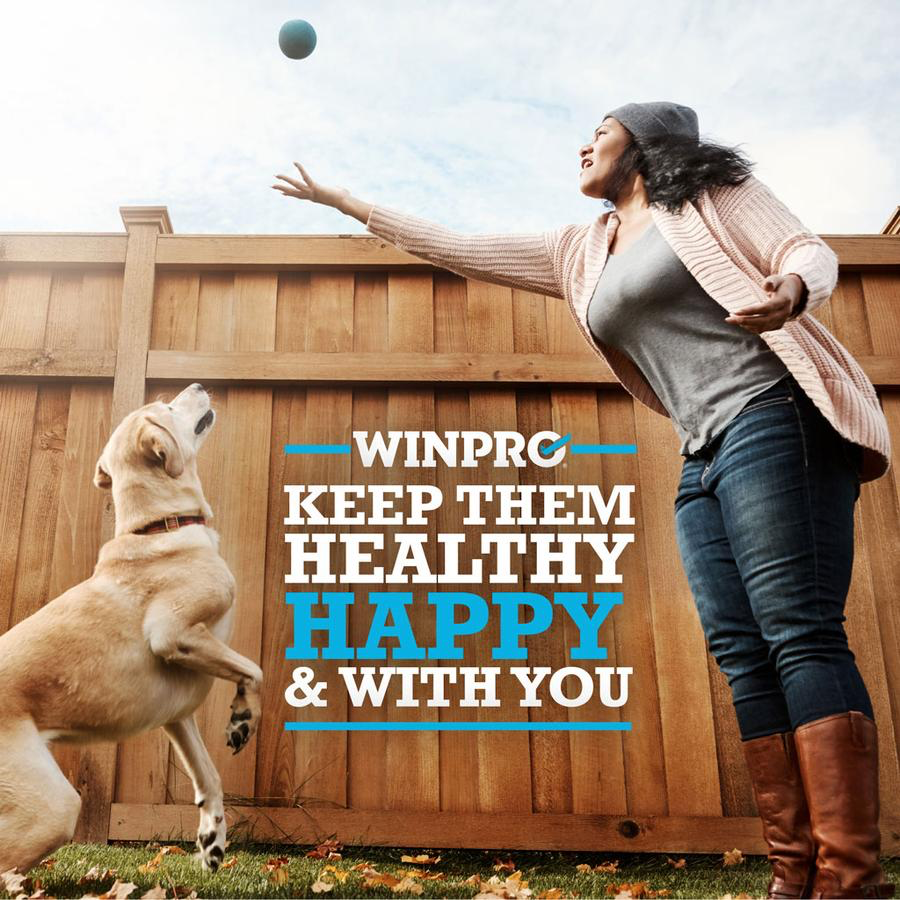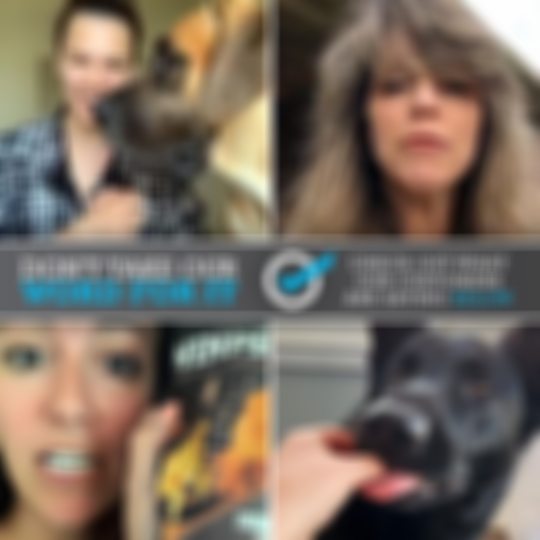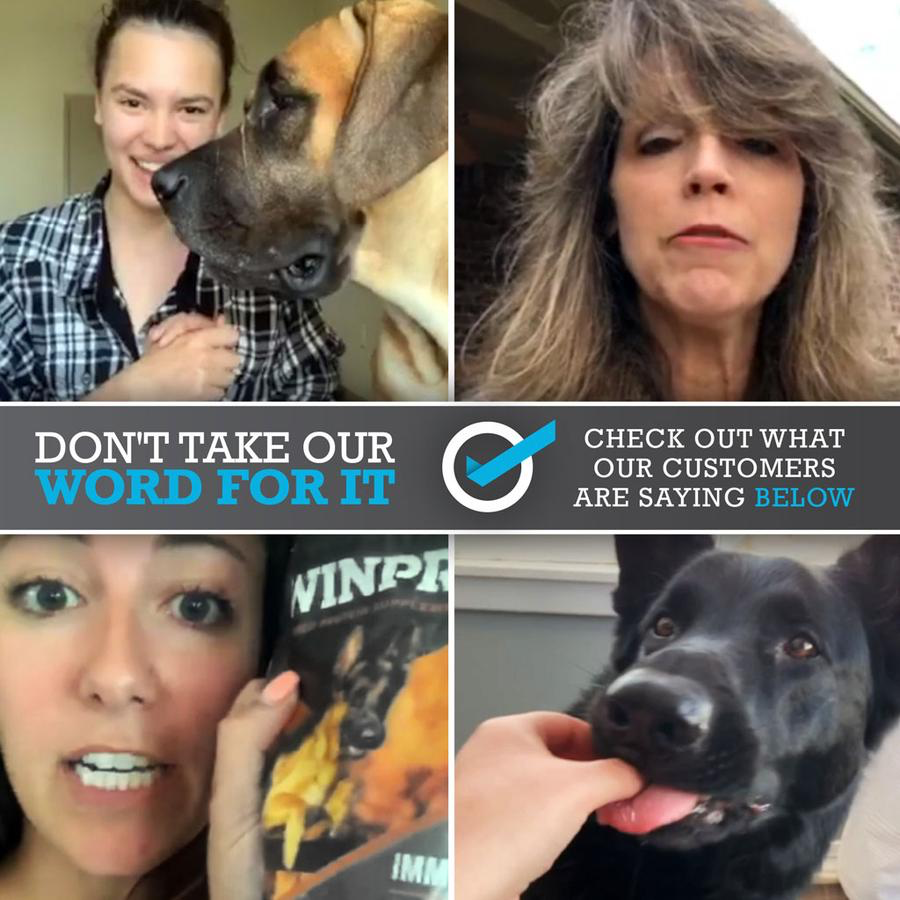 100% Money Back Guarantee • Made in the USA 🇺🇸