7 Ways To Relieve Your Dog's Allergies
Discover the most effective treatments and get a surprise FREE gift when you order today - keep reading to find out more!
Are allergies making your dog miserable?
Do you hate seeing them suffer with itchy ears, runny eyes, and inflamed skin?
We feel your pain. We're dog people here at WINPRO Pet, and we can't stand seeing our dogs uncomfortable.
Here's the problem: treating animals can be trickier than treating humans. For one thing, dog's can't tell us what's wrong, and that makes it a lot harder to figure out where the problem lies.
There's also the issue of medications.
You need to be careful when giving any sort of human drug to your dog. Dogs can react differently to medications than we do. On top of that, you have to be mindful of the dosage, since dogs generally weigh less than we do.
So with that said, what's the best way to treat your dog's allergies?
Well, we've done the research and compiled what we believe are the 7 most effective treatments for allergies in dogs. In this post we'll share all 7, in order to least recommended to most recommended,
Before we get into the details, here's a chart summarizing our results:
1: Corticosteroids
Safety rating: 2/10
Effectiveness rating: 9/10
Convenience rating: 4/10
Total Score: 15/30
Corticosteroids can be quite a powerful treatment to help reduce inflammation and reduce allergy symptoms like itchy skin.
However, they're not particularly convenient (you'll need a prescription) and more importantly, they can come with some significant long-term side effects. You always want to be careful when taking steroids, and the same is true for dogs.
For short-term use, steroids are relatively safe. But if taken too long, they can lead to UTIs, poor skin or coat, poor wound healing, obesity, increased susceptibility to infections, and more.
Obviously your goal is to keep your dog healthy. So with that in mind, while steroids can be very effective, we recommend limiting their use unless it's absolutely necessary.
2: Apple Cider Vinegar
Safety rating: 8/10
Effectiveness rating: 2/10
Convenience rating: 6/10
Total Score: 16/30
Proponents of "natural" allergy remedies often mention apple cider vinegar (ACV) as a good treatment for allergies in dogs. Depending on who you talk to, they might recommend feeding it to your dog orally or using it topically on itchy skin.
We tried using a spray bottle made from 50/50 water and apple cider vinegar, and it's hard to tell if it really worked. There seemed to be some benefit from using it, but it was fairly short-lived.
On the plus side, it's safe and very easy to use. So if your dog happens to respond to ACV better than ours do, this could make for a convenient solution.
3: Hypoallergenic Shampoo
Safety rating: 10/10
Effectiveness rating: 5/10
Convenience rating: 3/10
Total Score: 18/30
Anyone with a cat allergy knows that petting a cat and then rubbing your eyes is a recipe for redness and itching. The reason is because when you pet a cat, your hands pick up the cat's dander—that's the stuff people are allergic to—and putting that dander on your skin or eyes can lead to serious irritation.
The same idea applies to your dog's allergies. If your dog is allergic to something outside, like pollen, they can get all kinds of pollen on their skin from running around outside and playing. That pollen will cause itchiness and discomfort on their skin.
One solution for this is to give your dog regular baths using a hypoallergenic shampoo. This will help to wash the dander, pollen, and other allergens off your dog's skin to provide relief.
It's a safe and mild treatment that works somewhat well, but only for allergens that happen to be on your dog's skin. It's also quite time-consuming to have to give your dog frequent baths.
4: Antihistamines
Safety rating: 4/10
Effectiveness rating: 8/10
Convenience rating: 7/10
Total Score: 19/30
Most of us have taken Benadryl at some point in the past. It's an effective over-the-counter medication that can help relieve allergy symptoms like itchy skin, runny nose, swelling, and sneezing.
Benadryl (also called diphenhydramine) is one of the few drugs that is commonly given to dogs. As long as it's given as directed, it's a safe and effective treatment for allergies. But it's not an ideal long-term solution, and here's why:
First of all, like all medications, it can have side effects. Benadryl can cause drowsiness, dry mouth, increased heart rate and/or rapid breathing, urinary retention, and more. Plus, it's also possible for dogs to overdose on Benadryl.
Then there's the practical consideration of time. A dose of Benadryl only lasts for 6 hours or so. Which means that unless you're willing to give your dog 3-4 doses a day, every day, Benadryl just isn't a good long-term solution.
But for temporary relief of acute symptoms, it makes a great band-aid.
5: Immunotherapy
Safety rating: 8/10
Effectiveness rating: 10/10
Convenience rating: 2/10
Total Score: 20/30
If you've never heard of immunotherapy for allergies, it's the process of receiving a series of shots that contain the allergen(s) your dog is allergic to. So if your dog is allergic to pollen, for instance, they might get a weekly shot that contains small amounts of pollen. Over time, the veterinarian gradually increases the pollen in the shot.
This helps your dog to build up a tolerance to the substance so that they're no longer bothered by the natural pollen they might encounter outside.
It's a very effective treatment. However, it's also incredibly inconvenient (not to mention expensive). It also takes time to see results—anywhere from 6-9 months before you'll start to notice a difference.
6: Blood Plasma Injections
Safety rating: 10/10
Effectiveness rating: 8/10
Convenience rating: 3/10
Total Score: 21/30
Blood protein injections are one of the lesser-known treatments for dog allergens, and that's a shame—because blood proteins are one of the most revolutionary advances in animal health over the past 100 years.
Blood protein injections started as a treatment for farm and work animals. They've been used to help keep piglets alive during times of stress, and to help keep work horses healthy during times of extreme physical exertion. It's also been used to improve the health of calves, lambs, kids, goats, fish, and more.
Blood proteins work by reducing inflammation, which is one of the primary causes of health issues contributing to allergies. They're highly effective and safe—the major downside is that you'll have a hard time finding a vet who is able to provide this treatment.
But fortunately, you don't have to. Because there's a new way to give your dog the benefits of blood proteins, and it takes the top spot in our list:
7: Plasma-Infused Soft Chews
Safety rating: 10/10
Effectiveness rating: 8/10
Convenience rating: 10/10
Total Score: 28/30
Now there's a way to give your dog the highly effective, safe, and healthy benefits of blood proteins—without having to seek out an expensive and hard-to-find treatment from a vet. The solution: blood plasma-infused soft chews from WINPRO.
By taking delicious & healthy dog treats, then infusing them with blood protein-rich plasma, we make it easy to give your dog the tremendous benefits of this revolutionary treatment. Just give your dog two treats a day…and that's it! Your dog will start feeling the benefits of this life-giving treatment within a few days.
Here at WINPRO, we're the only company in the world to offer a line of plasma-powered health products formulated especially for dogs.
And we've formulated an all-natural soft chew intended specifically to provide relief from itchy, irritated skin. Plus, order from this page today, and we'll automatically add a FREE Pre + Probiotic Meal Topper to your cart - a $24.99 value. Go here to learn more about our product, secure your free gift, and purchase now.
WINPRO Allergy helps reduce inflammation, relieves itchy and irritated skin, and promotes healthy skin and coat.
And unlike most of the other treatments on this page, these plasma-infused chews target the source—not just the symptoms. They're backed by over 40 years of conclusive scientific research and proven to work in over 300 university studies.
There are thousands of dog parents like you who continue to post rave reviews like these:
Try WINPRO Allergy Today - And Secure Your FREE Bonus!
If your dog is suffering from allergies, we can't recommend WINPRO Allergy highly enough. It contains the blood plasma that travels through your dog's circulatory system to deliver healing antibodies to inflamed areas of the body and reduce symptoms like itching and sneezing.
It works as both a remedy that relieves symptoms now, and a preventative measure that helps stop them from coming back.
In addition, our Allergy formula also contains:
Pineapple stem to promote healing and calm inflammation

Nettle root extract to minimize pain and soothe irritation

Plant-based quercetin to act as a natural, side-effect-free antihistamine
But that's not all. For a limited time, we're also including a FREE Pre + Probiotic Plasma Meal Topper with your order. This premium supplement, a $24.99 value, is not only convenient to use, but is also specifically formulated to support optimal digestion, improve gut flora, and combat inflammation in your dog's gut.
Plus, with a healthier gut, your dog's immune system gets stronger, further aiding in the fight against allergies.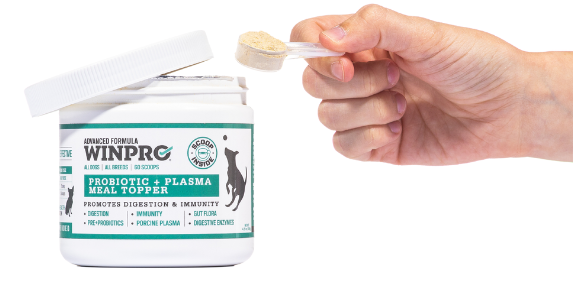 Both these 100% natural and safe products are tested under strict USDA & FDA regulations to guarantee you're giving your dog the safest, healthiest treats we can create.
And remember, when you order WINPRO Allergy from this page today, the Pre + Probiotic Plasma Meal Topper will be automatically added to your cart - you don't need to do a thing to claim this $24.99 value gift!
Don't miss this unique opportunity to enhance your dog's health - Order WINPRO Allergy now to secure your free bonus!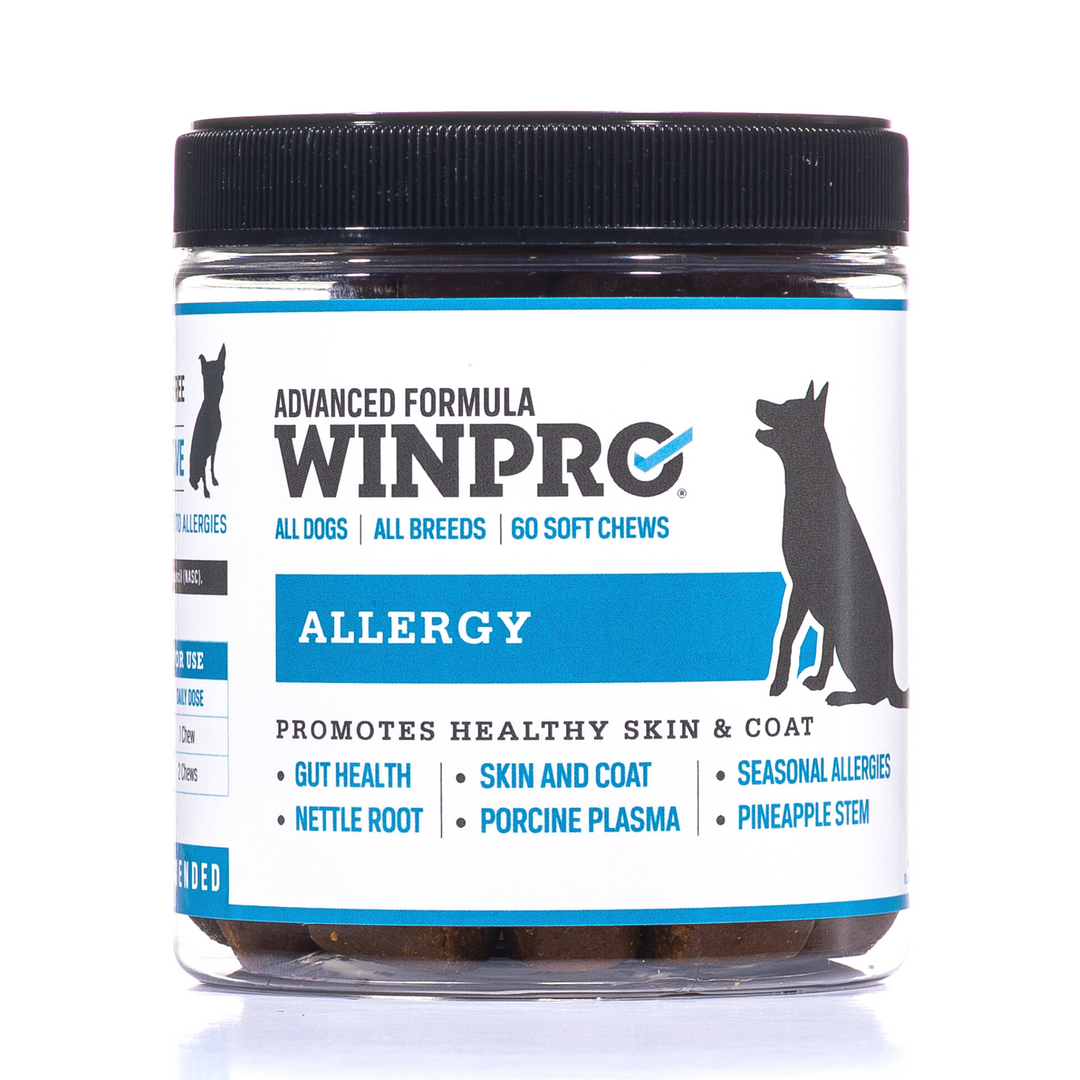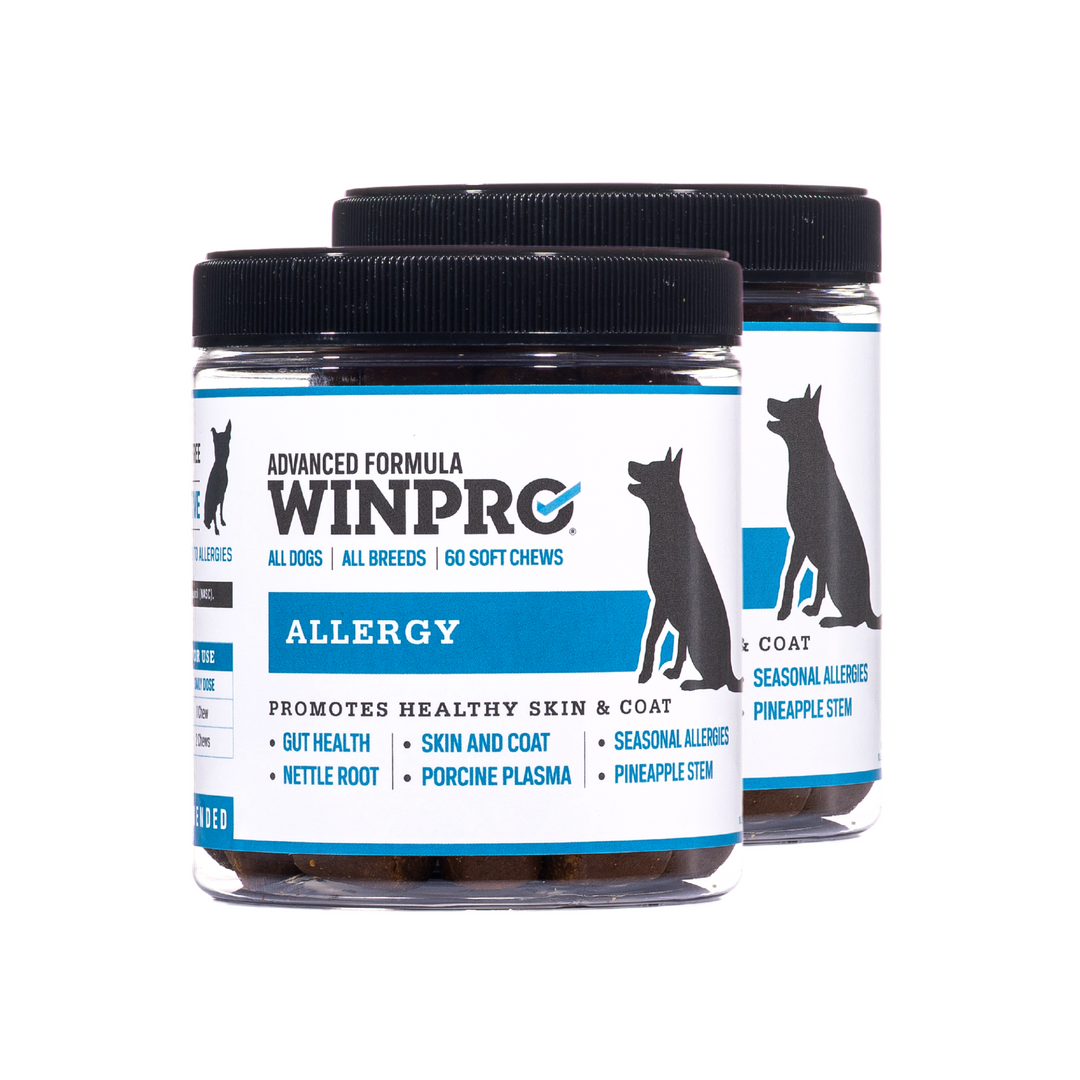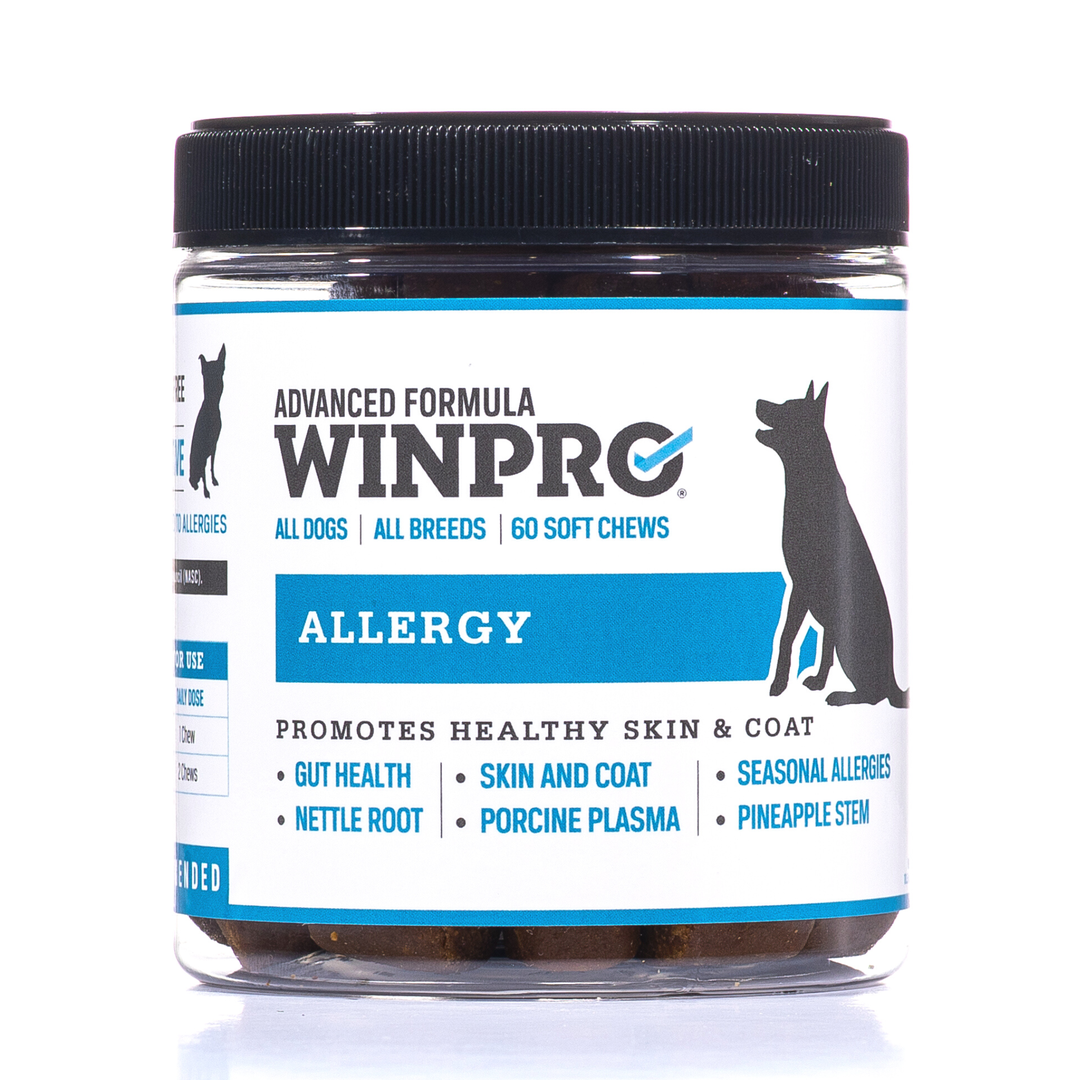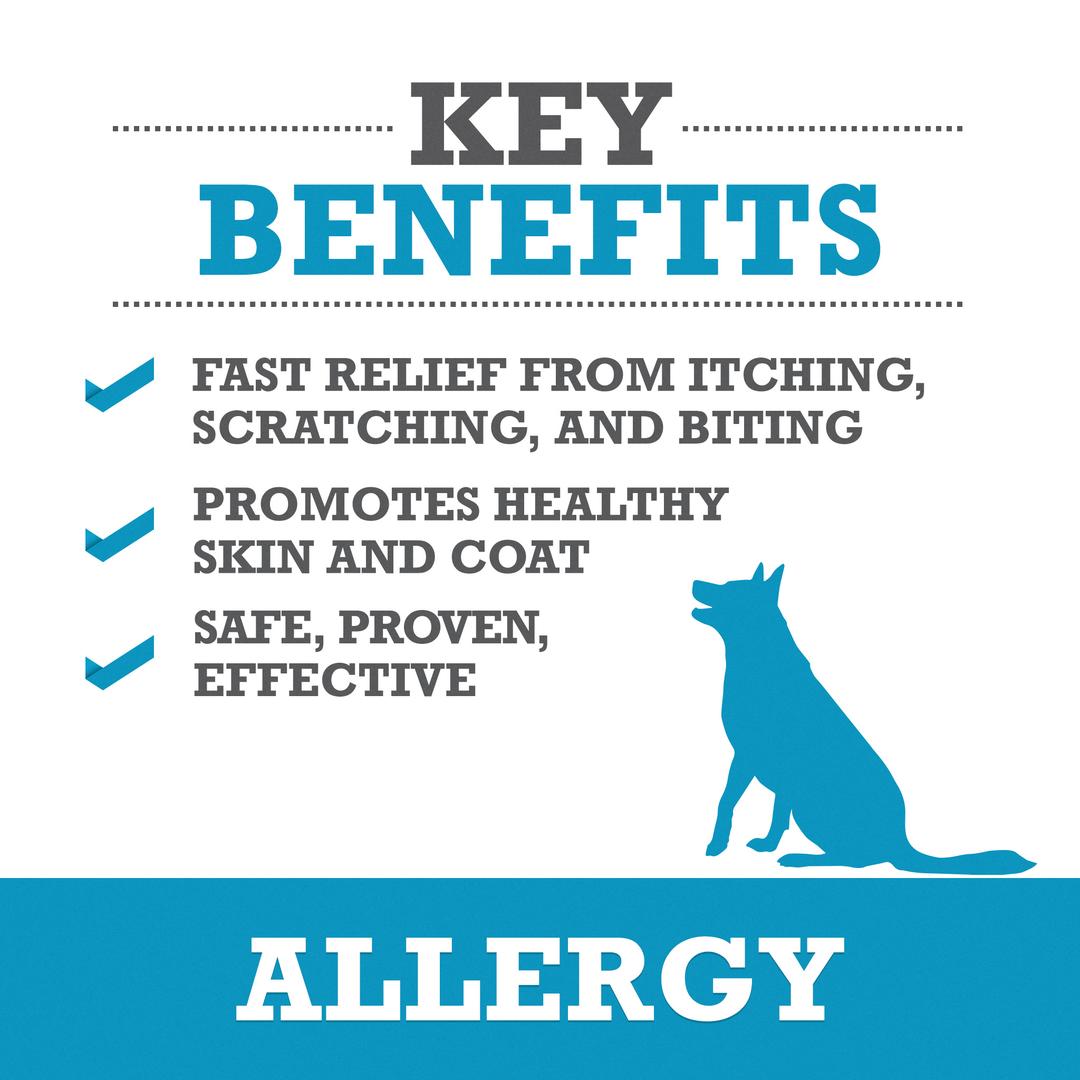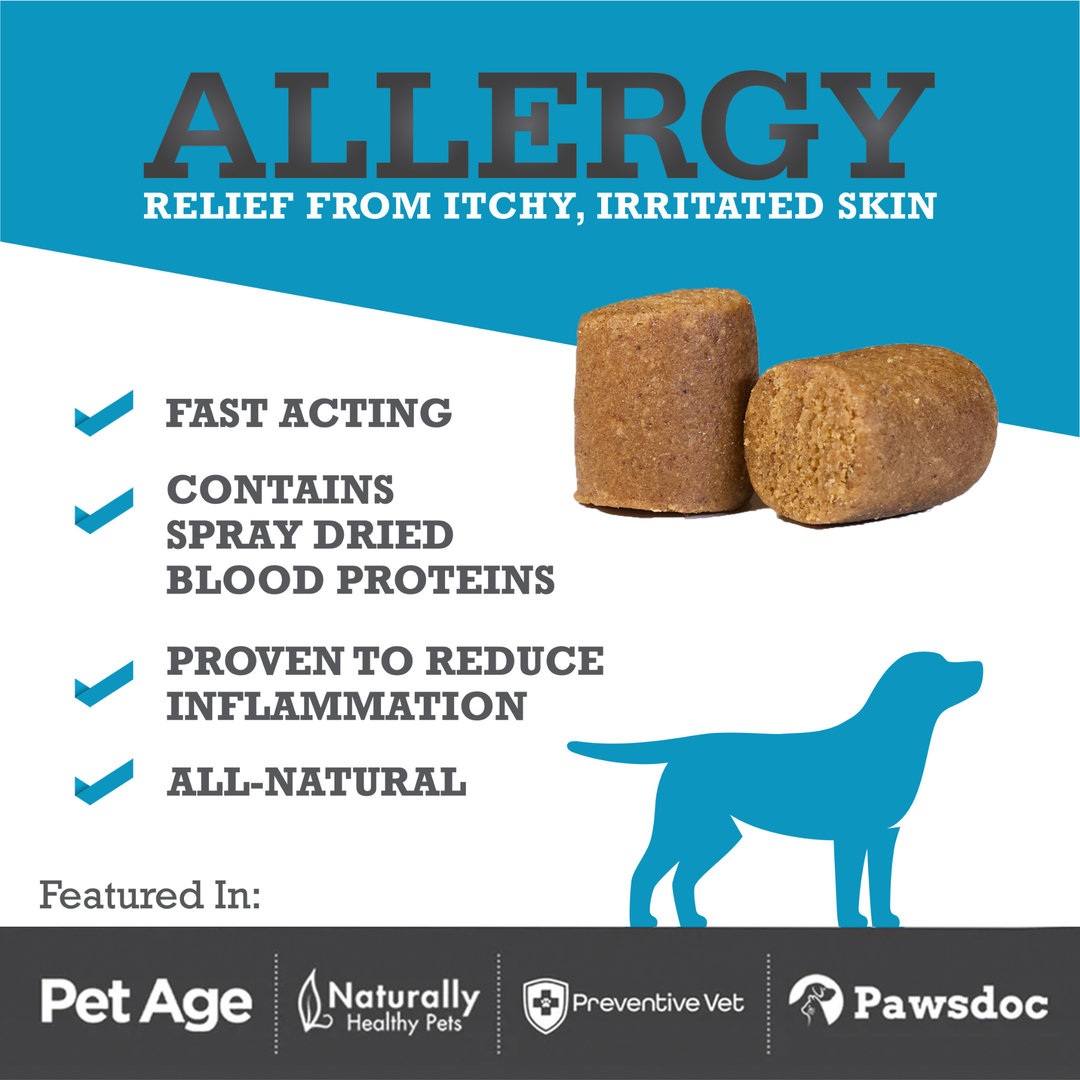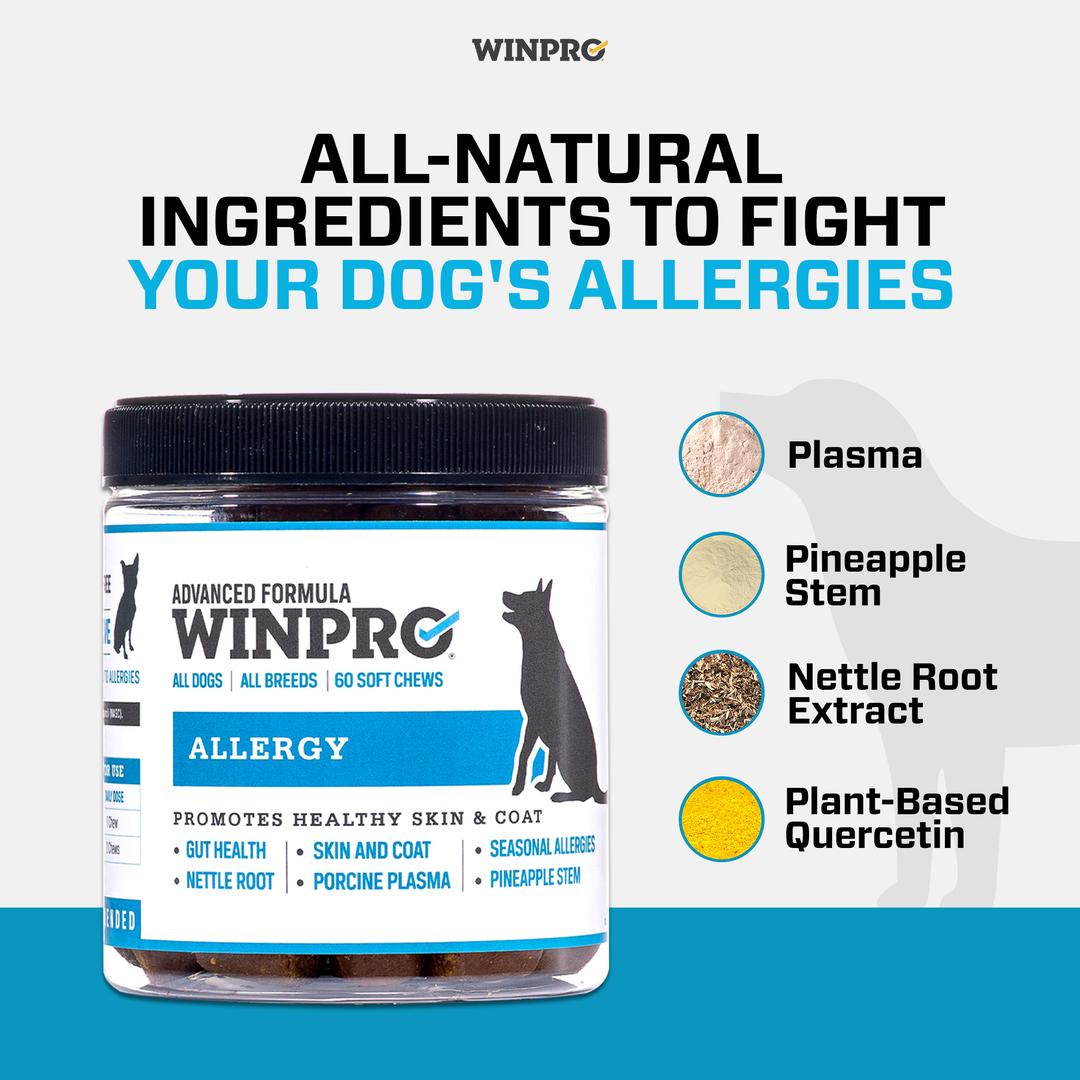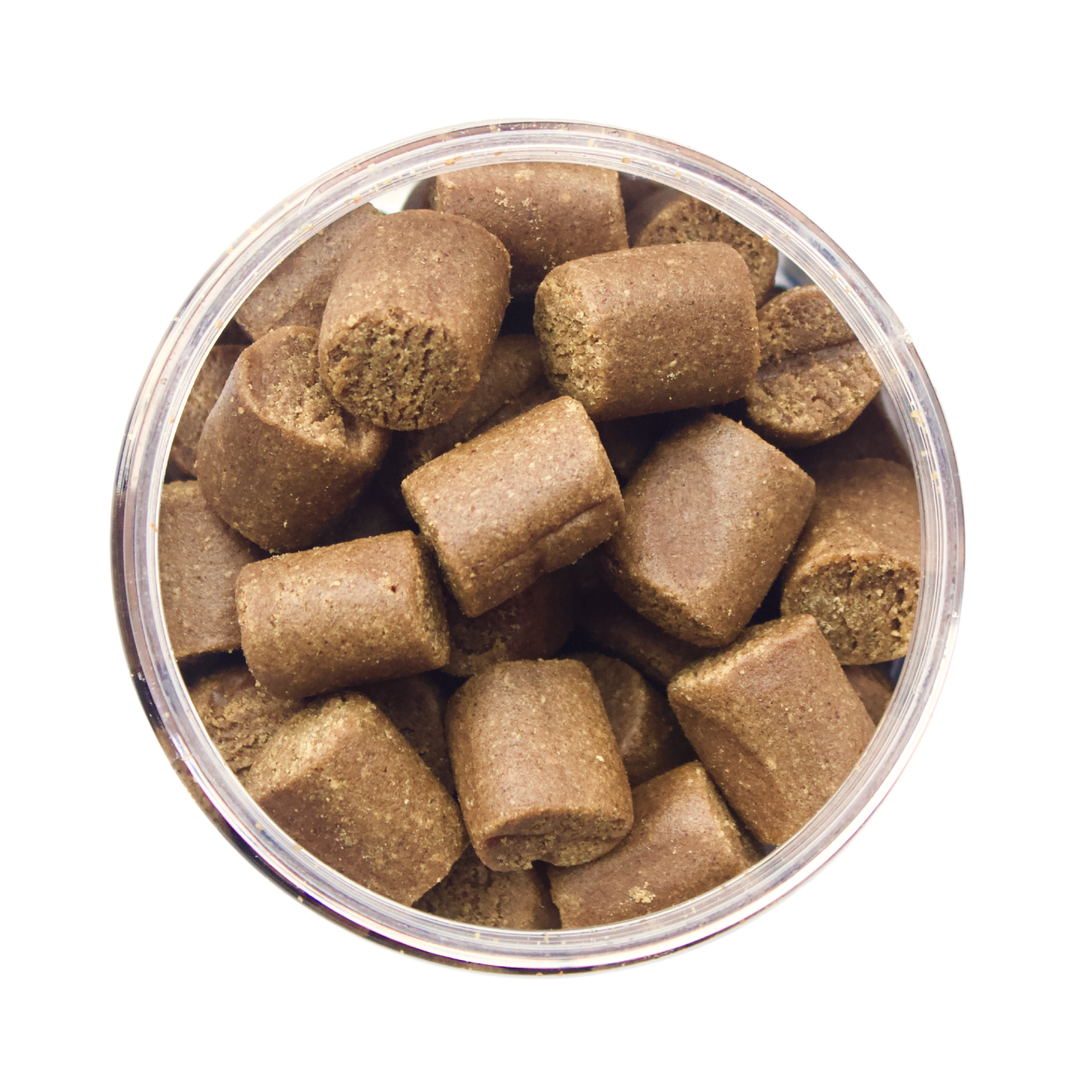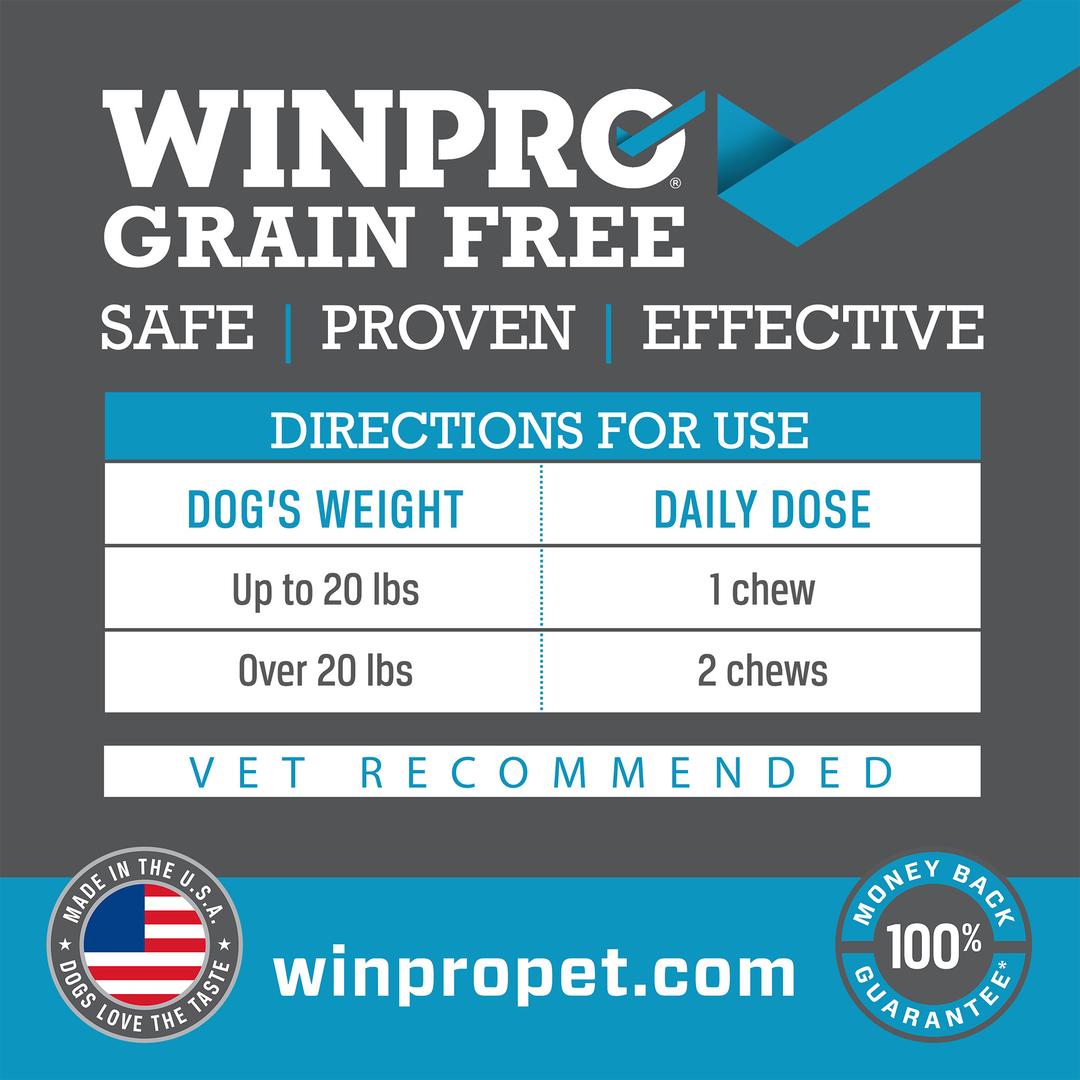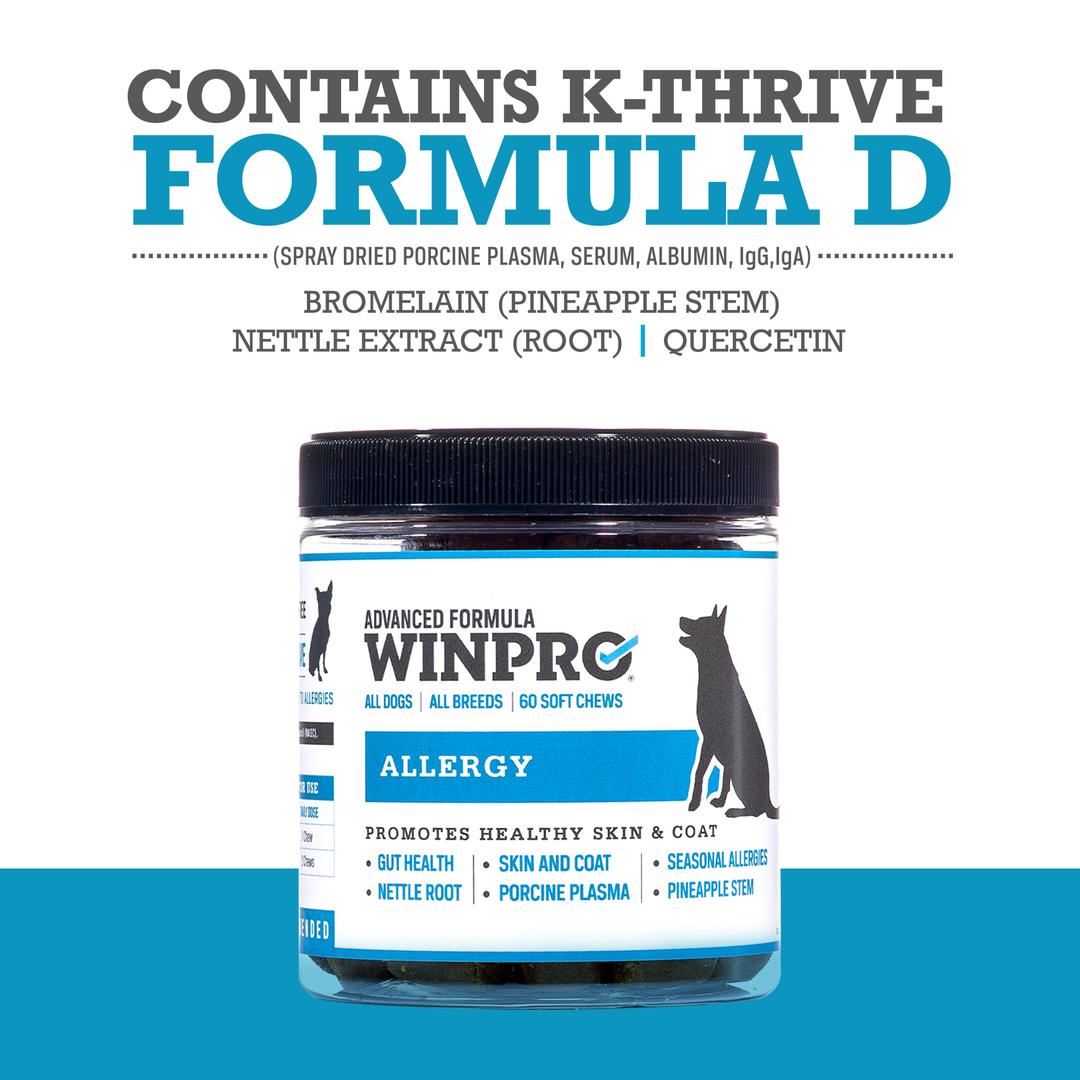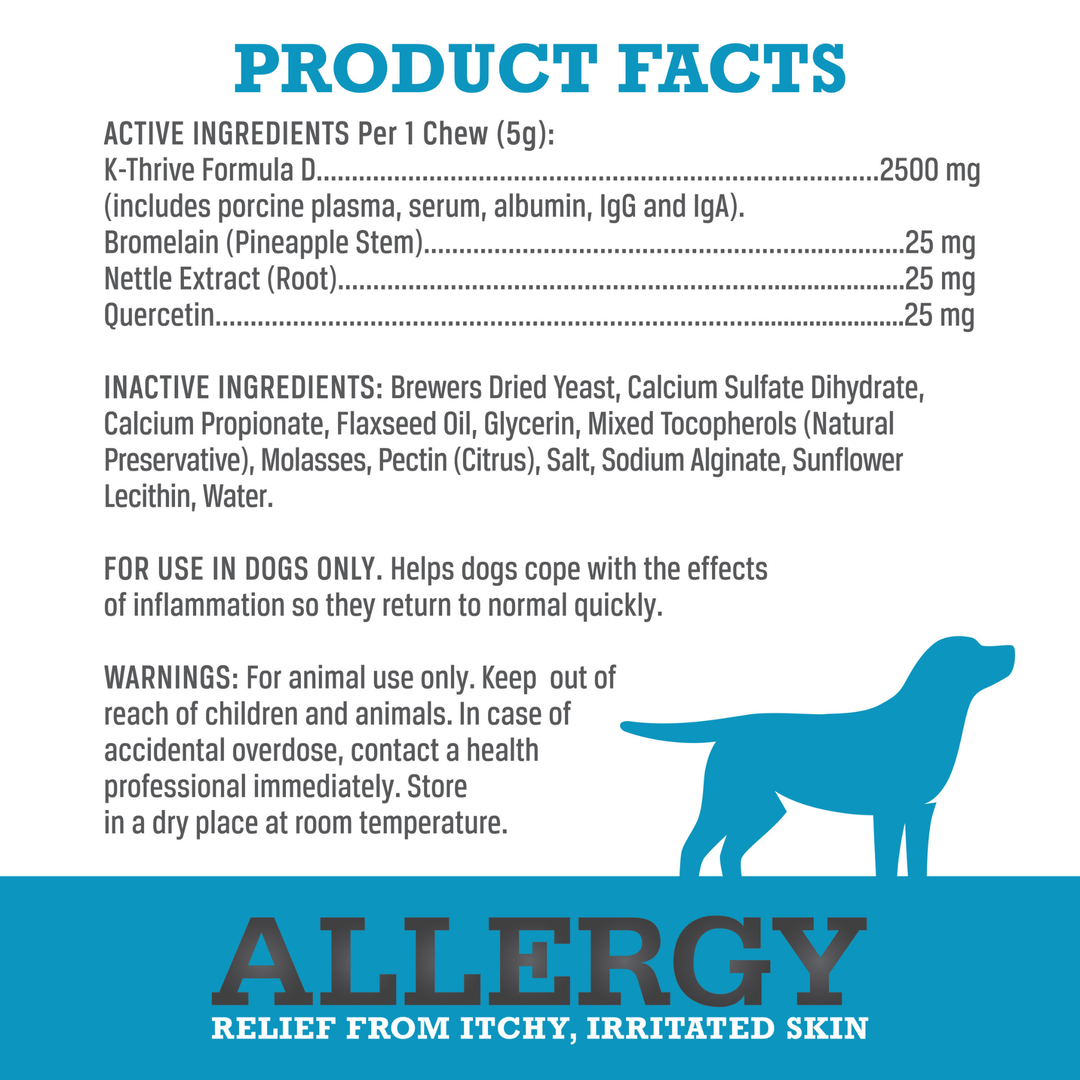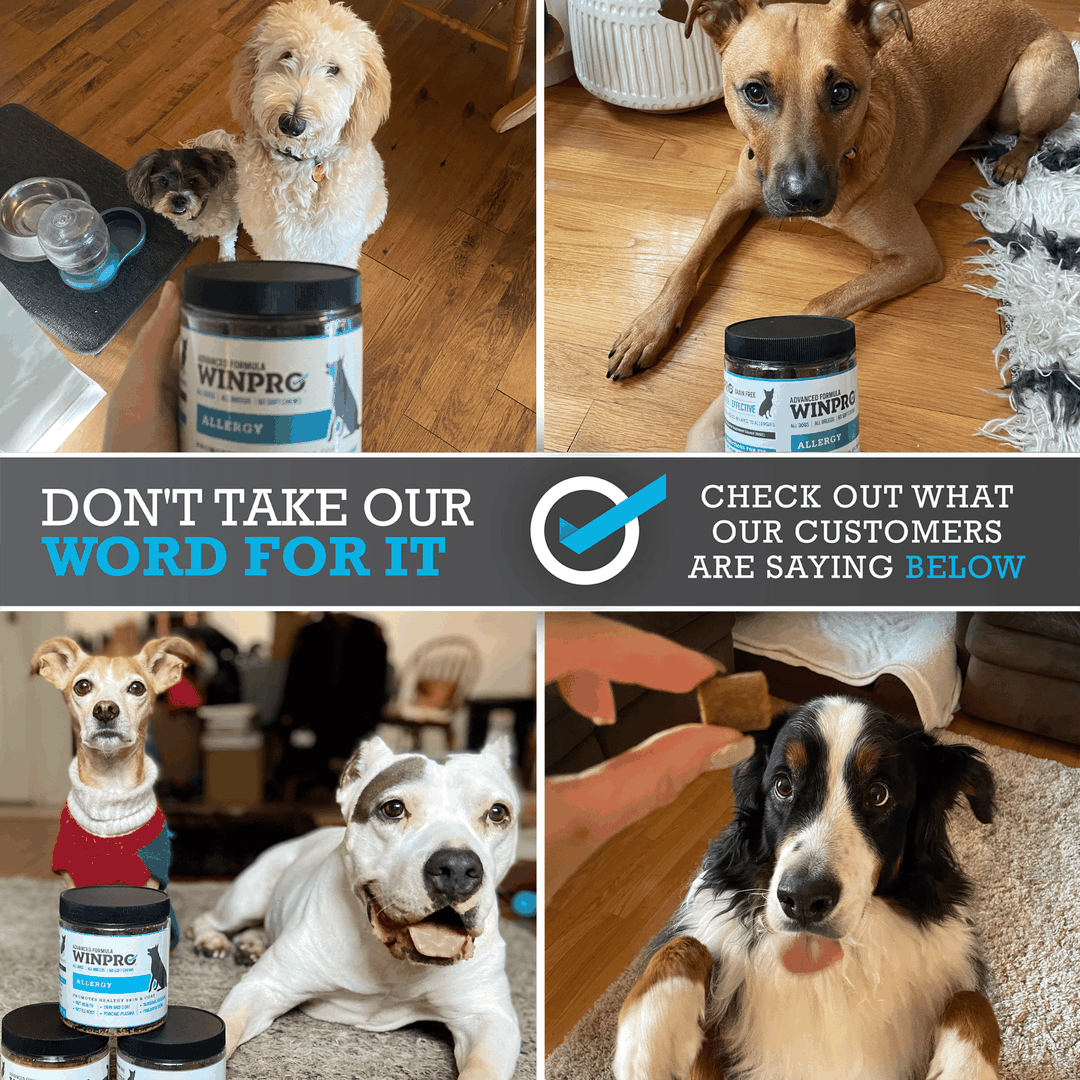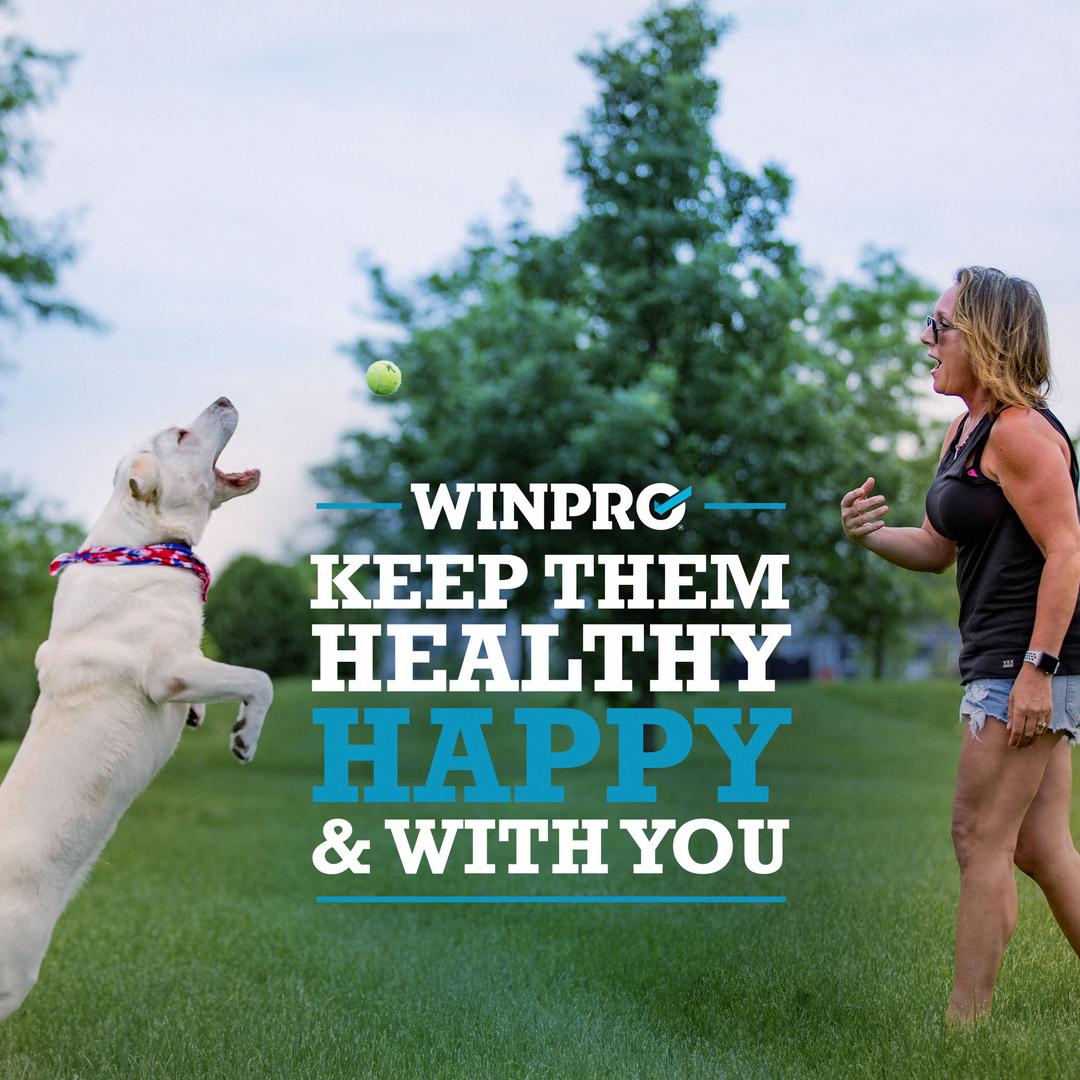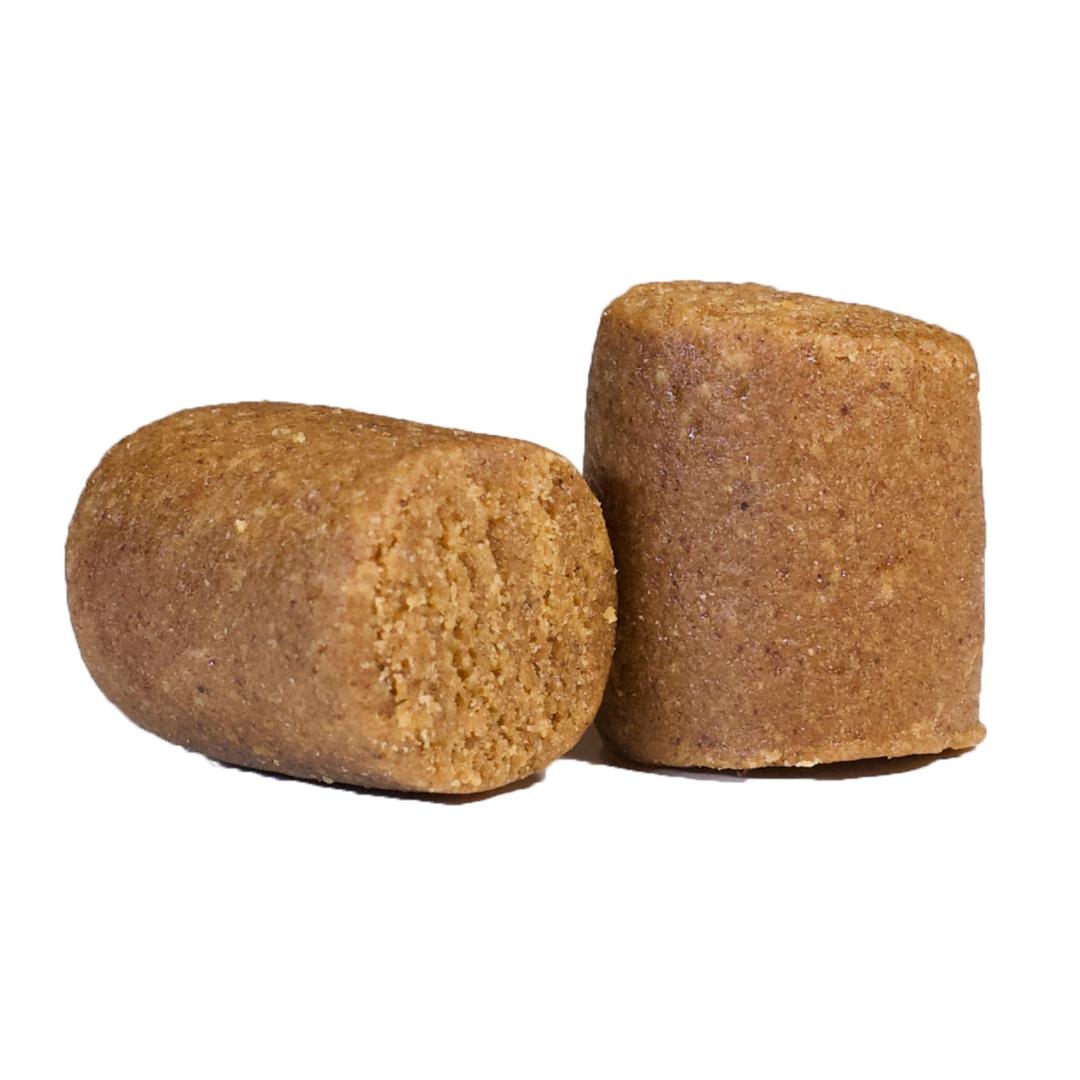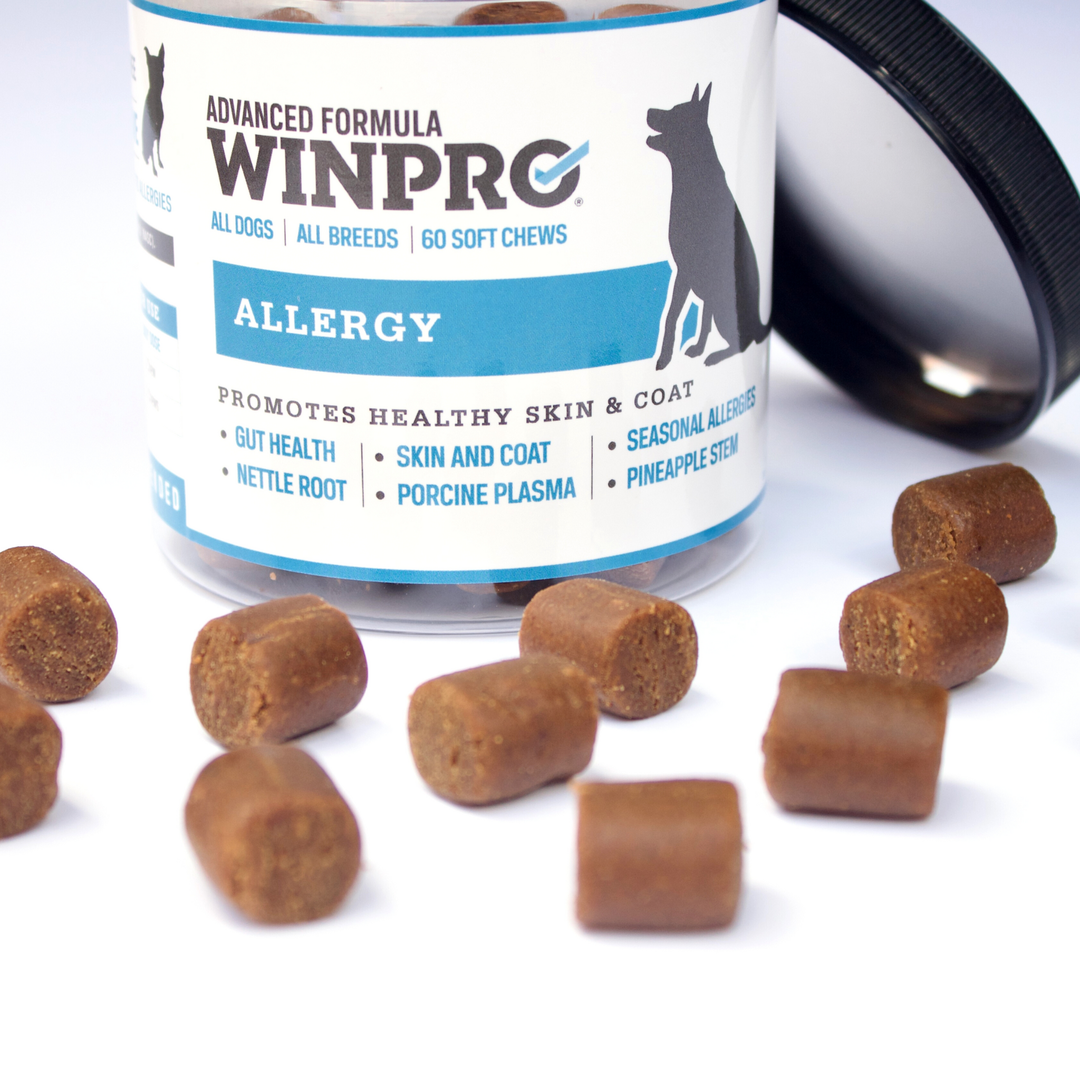 Fast-Acting
Allergy Relief Chews
100% Money Back Guarantee • Made in the USA 🇺🇸
Helps soothe itchy, irritated skin

Promotes healthy skin & coat

Supports healthy eyes, ears & nose

Calms inflammation triggered by stress, environment & seasonal allergens

Plasma naturally fights inflammation

Pineapple Stem promotes healing & calms inflammation

Nettle Root Extract minimizes & pain and soothes irritation

Plant-based Quercetin acts as a natural antihistamine




Inactive Ingredients: Brewers Dried Yeast, Calcium Sulfate Dihydrate, Calcium Propionate, Flaxseed Oil, Glycerin, Mixed Tocopherols (Natural Preservative), Molasses, Pectin (Citrus), Salt, Sodium Alginate, Sunflower Lecithin, Water.




Please note: Because our plasma-powered formula works on the biological level, they are not considered a food, but a pet health product. Therefore, our products have no significant nutritional value, and are not a source of fat or calories, and are not included in our labeling.

Dogs under 20 lbs: 1 chew in the morning, daily

Dogs over 20 lbs: 2 chews in the morning, daily

Can be used with other supplements, medications, and WINPRO Products
Loved By Pet Parents Like You
Customer Reviews
See more
Worked!!!
My white poodle was constantly chewing and licking her legs and feet. I learned that saliva made the fur turn a dirty looking dark red. I started using the Allergy formula and it took several months, but no more chewing and licking. Her fur grew out and after two haircuts, we can now see her white fur again. It worked!
Review left on: Allergy - 3 Canisters (180 Chews)
Response from WINPRO Pet:
This is SO wonderful to hear, Rebecca! We're glad your poodle's fur is back to being healthy and beautiful! Thank you for leaving us a review!
A Glimmer of Hope for My Dog's Allergies with WINPRO
We haven't been using these chews long, but I can see a difference in my dog's allergies. She is allergic to almost everything and she's mostly an inside dog because of how bad her allergies are. We've tried everything under the sun as well as allergy testing and nothing helps. Well, yesterday I decided to take her outside in our backyard. Usually, when we bring her in, her ears and paws are red a...
Read more
Quick Results for My Small Dogs' Seasonal Allergies
My dogs suffer from seasonal allergies and they are on cytopoint and Zyrtec. I just started giving them a half a chew (they are small dogs so making sure their stomach's can handle it before they get a full chew) and I've noticed a difference already just in four days. I'm so excited that this product is working! Thank you!
Review left on: Allergy - 1 Canister (60 Chews)
Adopted Terrier Mix's Skin and Eyes Improve Dramatically
I am thrilled with the results of your allergy chews. I recently adopted a 6 mos. terrier mix puppy from Sarasota Humane Society. She had been treated for mange and an upper respiratory infection. When I brought her home she had a rash all over her body, chewed herself raw in places and had a heavy yellowish discharge from her eyes. The vet prescribed Benadryl for skin & eyes …. Absolutely no impr...
Read more
Review left on: Allergy - 2 Canisters (120 Chews)
Saving Money on Prescriptions with WINPRO
My dog was suffering with horrible allergies. She was itchy and constantly chewing on her paws. I tried Winpro because the prescription meds were so expensive. To my astonishment, she is now off of her expensive meds. Winpro allergy and another product called Dinovite have helped immeasurably. Thank you for making such a great product.
Review left on: Allergy - 1 Canister (60 Chews)
No more Zyrtec, staying on WINPRO
Vet has had my pup on Zertec for allergies for 5 years. I always felt uncomfortable giving him human medication but without it he was an itchy mess. Saw an ad for Winpro and decided to give it a try. He has been on Winpro for about a month. He loves the pills (no more masking pills in peanut butter) and he has not had any allergy symptoms. I am very pleased with this product and will continue to u...
Read more
Response from WINPRO Pet:
We couldn't be happier to hear this! Thank you so much, Juliann for leaving us a review!
Record Time Without Needing Cytopoint Shot Thanks to WINPRO!
It seems to be helping my little yorkie with severe skin allergies quite a lot. She has been able to go 2 months without her cytopoint shot, which is a record. She loves the tastes and runs over when she sees me open the tub. I will continue to purchase this productm
Review left on: Allergy - 1 Canister (60 Chews)
Helped my Yorkie so much!
These have helped my yorkie so much! Well worth it!
Review left on: Allergy - 2 Canisters (120 Chews)
No more Apoquel or Cytopoint shots needed
My dog has been taking the allergy supplements for about a month and I have noticed a remarkably positive change. So much so that she is not taking Apoquel anymore or getting a cytopoint shot. I am so happy for her and for my pocketbook!
Response from WINPRO Pet:
We couldn't be happier to hear this! Thank you so much, Penny for leaving us a review!
Helped Our Lab Tremendously
This has helped our lab tremendously. He had lost a lot of hair due to constant scratching. We are on our 2nd bottle and he is much better.
Frequently Asked Questions